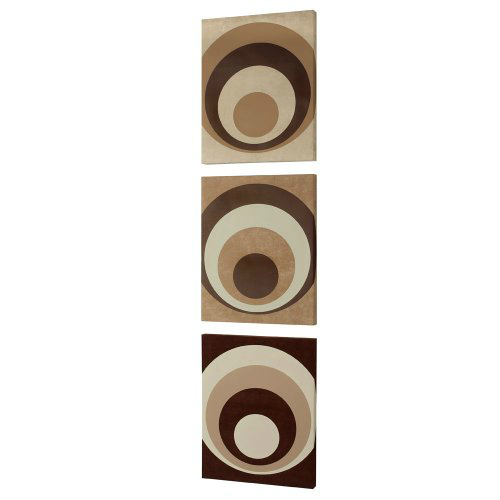 Wall hangings can refer to any item hung from the wall. Primarily used for aesthetic purposes, they have also been used by several cultures for religious purposes as well as status and more practical functions such as insulation. Typical items include fabric hangings, carved panels, canvas prints, and sculptures. They can range from tiny charms to large fabric hangings that take up an entire wall. They can be simple items easy to make or intricate embroideries requiring many months or even years of work.
More About Wall Hangings for the Home Office
Wall hangings can be classified according to style. Contemporary wall hangings might include items such as fabric hangings, carved wooden panels in simple designs, canvas prints in light or bold colours and sculptures, especially metal sculptures. Contemporary style is often quite minimalist, so wall hangings need to be carefully chosen for high impact, remembering that less is more. A more traditional scheme, on the other hand, might have several wall hangings chosen to complement each other and the existing decor. Traditional and antique styles are often used interchangeably. Traditional wall hangings might include tapestries, especially those depicting traditional or religious scenes, paintings in antique style frames and decorative mouldings. Traditional style may also overlap with ethnic style and with country style. Oriental or ethnic wall hangings are some of the most vibrant and interesting wall hangings available. They include various types of fabric hanging, from Indonesian batik to Rajasthani embroideries, as well as items like decorative fans and puppets or Chinese calligraphy pictures. Country and farmhouse styled wall hangings complement more rustic decor and include items such as bunting, pictures of flowers and farm animals, willow sculptures, padded fabric or hessian hearts, wooden cut outs, and tapestries of farm animals. Country and farmhouse are often used interchangeably and refer to similar styles.
Wall Hangings for the Home Office
With more and more people opting to work from home, either full time or part time, there is an increasing need to have a dedicated space in the house that is separate from the rest of the home environment. A home office may be an individual room or it may be a corner, hallway, recess, or part of a larger room. Organisation and storage are two of the most important elements of the home office. It is important to keep clutter to a minimum, especially when the home office shares legroom with spaces dedicated to living. But an often overlooked element of the home office is decor and ornamentation. Though it is often preferable to keep decoration to a minimum, there is often scope to incorporate beautiful objects that complement the space and aid creativity and relaxation. Especially where the home office is an individual room, it can be decorated just as any other room of the house.
Choosing Wall Hangings for the Home Office
With such an array of wall hangings to choose from, it can be helpful to have some idea of the type and size of wall hanging required. Browsing the Internet for ideas and inspiration can be a good way to come up with ideas.
Style
Some typical wall hangings of the more popular styles are described in more detail below, along with a description of the style itself. Whether designing a room from scratch or fitting in with existing decor, have an idea of the kind of style and effect to be conveyed.
Contemporary

Light, airy spaces that emphasise natural light and openness. Light, neutral colour schemes, or bold colours. Simple or geometric patterns. Clean lines and minimalism. No clutter.

One or a few high impact items, depending on the space
Carved panels in light wood
Simple canvas prints in light or bold colours e.g. flower photographs, abstract designs
Metal sculptures and metal art e.g. deer heads, wine bottles, simple shapes
Wood sculptures e.g. plywood deer heads

Traditional and Antique

Rich, colourful spaces that emphasise elegance and quality. Dark wood and fabrics. Plush textures. Intricate patterns and ornamentation.

Several items that complement each other
Tapestries in rich colours, especially of religious or historical themes
Paintings in antique style frames
Decorative mouldings
Sculptures e.g. cherubs
Candle sconces
Antique style maps
Wreaths

Oriental and Ethnic

Rich, vibrant patterns and geometric or intricate designs. Nature and animal motifs e.g. birds, elephants, tigers.

One or several items
Fabric hangings e.g. batik or other dyed fabrics, embroideries, tapestries
Palm leaf paintings/etchings
Chinese symbol pictures
Decorative puppets e.g. Indian wood and silk puppets
Decorative fans e.g. paper, silk and lace fans
Wooden masks
Dream catchers
Charms

Farmhouse and Country

Homely, cutesy decor. Pastels including dusky pink and sky blue and bright colours such as green and yellow. Distressed white wood and natural materials. Floral patterns and gingham. Shabby chic. Home made and personalised items.

Combine several complementing items to create a homely environment
Bunting e.g. gingham, pink florals, polka dots
Still life pictures e.g. fruit, flowers, herbs
Pictures of farmyard animals in rustic wooden frames
Willow sculptures e.g. hearts
Padded fabric hearts embroidered with "HOME" or similar messages
Tapestries e.g. flowers, farm animals
Wooden cut outs e.g. cats, farm animals

Nautical

Light, airy spaces with distressed white wood and blue and white colour schemes. Natural materials and metal.

A few well-placed items to emphasise light and space
Driftwood, twigs, and shells
Shell wreaths
Painted slate
Fabric canvas and prints of coastal scenes, beach huts
Beach hut and seagull wooden cut outs
Porcelain seagulls
Metal art e.g. boats, anchors

Novelty

Playful and fun spaces with quirky elements and bold, bright colours. Materials might include wood, plastic, paper, and metal.

Items placed in unusual places
Mottos, jokes, and inspirational or humorous quotes
Wall stickers
3D pictures
Quirky items e.g. oversized Scrabble letters, playing cards
Cartoons and comics

Retro and Vintage

Style ranges from funky retro with bold, bright colours, plastic furniture and animal prints to shabby chic with pastel colour schemes, distressed woodwork and white metal. Organic lines.

Several items to create an interesting environment
Tin signs e.g. mottos, campervans, products
Union Jack themed hangings e.g. bunting
Dried flowers
White metal e.g. birdcage
Some of the above items may not be suitable for all tastes, as a home office is as much a personal space as any other part of the home. Unusual and unique items can add interest and aid creativity. Contemporary style wall hangings may be appropriate for many home offices, where the aim is to create a light, streamlined, and harmonious environment conducive to clear thinking. On the other hand, a cutesy country environment may be just the thing to create a relaxed and casual space. A shabby chic workspace may be ideal for a vintage textiles business. But the style is very much a matter of personal taste and there are no hard and fast rules.
Practical Considerations
When choosing a wall hanging for the home office, also consider practicalities such as size and available space and wall fixtures. Is the item taking up space required for shelving or organisation? Bear in mind also that the item(s) should be appropriate if clients and colleagues visit the office. Some types of wall hanging may be more appropriate than others if the aim is to convey a modern and professional environment.
Conclusion
Wall hangings can be the ideal addition to liven up or create interest in a home office. There are many different types of wall hanging available, from ethnic textiles and bunting to contemporary sculptures and canvas prints. Whichever wall hanging(s) are chosen is largely down to personal taste, but practical consideration of the space and function is also essential. Browse listings to find ideas and to find the best items at the lowest prices. The home office, just as any other room of the house, should be a place to feel comfortable and relaxed in. Finding the perfect wall hanging will help to create a unique and personalised environment to aid creativity and inspiration.