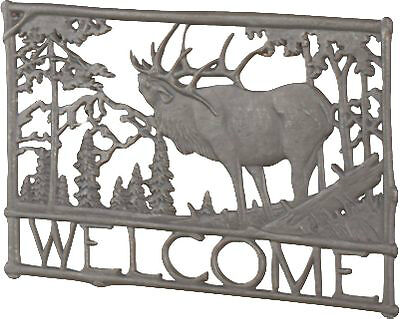 Wall hangings are a great way to liven up a porch area. Wall hangings are pieces of material or sewing that hang against a wall. This guide focuses on hangings for the inner walls of a porch. The porch is external to the house, yet connects to the main structure. Buy wall hangings for the porch based on factors such as decor of the space, durability requirements, and size of the wall.
About Wall Hangings for the Porch
The primary purpose of wall hangings is to beautify the porch and surrounding area. In addition to being decorative items, the objects can also add warmth and character to a space. The hangings are usually flat so that they suspend easily and stay in position. Wall hangings date back to ancient times. The Egyptians hung tapestries, one type of wall hanging, in wealthy homes. The tapestries were a tool for explaining historical events and intricate concepts. Today, there are many types of wall hangings, made of a variety of materials and with customisable options.
Choosing Wall Hangings for the Porch
There are many types of wall hangings available on eBay. Common types of wall hangings are tapestries, quilts, and metal wall art, although there are other kinds as well. While personal taste plays an obvious role in purchase decision, select a type of hanging that is durable enough for the porch area and fits the decor too. The following table lists the types and descriptions of each kind.
| | |
| --- | --- |
| Tapestry | A tapestry is a heavy, woven piece of fabric that often tells a unique story through the images on its surface. There are many styles available for tapestries, such as a Native American design. The patterns vary as well, ranging from geometric to abstract designs. Choose a tapestry that has a style, pattern, and colour that enhances the porch decor. |
| Quilt | Hang a handmade or manufactured quilt to display its beautiful pattern or unique stitching. Pick a quilt with material durable enough to withstand the porch conditions. For example, a quilt made of cotton or down fabric will not fare well in a porch with moist air that has risk of leaks and mildew. Along with the quilt, buy a tapestry rod or quilt hanger to suspend the object from the porch wall. |
| Rug | Hang a rug on a porch wall to display an attractive design or fabric. Add a frame and mount it behind glass to create a professional look. Choose a porch wall that does not get direct sunlight as rugs are susceptible to sun damage. |
| Antique Map | An antique map is usually a large piece. It, therefore, requires a wide porch wall to hang properly. Fit a mat and frame to the item to add further interest to the item. The maps vary in look as they display different continents and different periods of history. |
| Wood Sculpture | A wood sculpture is another option for a porch wall hanging. The sculptures come in many types of designs and kinds of wood. Choose a design that fits with the decor of the porch. For example, an elephant wall hanging suits a porch full of natural plants with other animal pieces to match. |
| Metal Wall Art | A piece of metal wall art is a unique wall hanging that has intricate detail. The pieces range from a cultural mask to an abstract design. Match the wall hanging to the style of furniture and other wall art already in the porch. An abstract metal piece, for example, suits a porch with Modern style of decor. |
| Silk Flower | A silk flower wall hanging usually has an oriental design and is representative of a custom or culture. The floral design is a classic style that adds femininity to the porch decor. |
Wall hangings of each type listed above may also have ethnic designs. Examples are Moroccan, Indian, and Oriental wall hangings.
Materials for Porch Wall Hangings
The different types of porch wall hangings are made of different materials. The following table lists common materials for the decorative objects and descriptions of each one.
| | |
| --- | --- |
| Thread Type | Common threads for the fabric of wall hangings are cotton or polyester. Different thread types often blend to form one wall hanging. Sewing of the threads occurs in manufacturing plants for some hangings, while other ones come hand-sewn. Choose a material durable enough to withstand the specific porch requirements. For example, polyester is a more durable fabric than cotton, and is also stain proof and waterproof. Silk is another material option. A silk wall hanging adds luxurious unique style to a porch. Disadvantages, however, are that the fabric is delicate and it can fade in sunlight. Avoid hanging a silk object on a wall with direct sunlight so that the colours stay vibrant. |
| Wood | Buy wood for a wall hanging to create an organic, earthy look for a porch area. Wood hangings are available in eBay in natural form or already stained and varnished. Choose a type of wood that has a shade that matches the furniture and other items already in the porch. Redwood, for example, is a deep red colour that complements orange or yellow decor. A large advantage of choosing wood as the material for a porch wall hanging is that it is highly resistant to rot. |
| Metal | Common types of metal for wall hangings are steel, aluminium, and wrought iron. The metal objects range in style from Contemporary to Abstract. The items also vary in colour, as many of them receive a coat of paint after assembly. Buy the metal wall hanging that matches decor of the porch and compliments the colours of the room. |
Options for Porch Wall Hangings
There are many customisable options available for wall hangings for the porch. The key options are size, shape, and colour. The table below explains each feature and its description.
| | |
| --- | --- |
| Size | Wall hangings are generally quite large. To ensure the item fits onto a particular wall, measure the length and width of the space where it will hang. Match these dimensions to item measurements as listed on eBay in the description section of the listing. Choose a wall hanging that will fit onto the porch wall. |
| Shape | Tapestries and quilts are usually rectangular in shape. Common shapes for wood and metal wall hangings are square, rectangular, or round. Ensure the wall hanging will fit on the porch wall by measuring the wall area prior to purchase. |
| Colour | Tapestries and many other types of wall hangings are often vibrant in colour. There are many shades available as well. As part of the porch decor, wall hangings are bright colours and can add interest to an otherwise dull room. Select the wall hanging that accents both the colours of the porch furniture and the paint on the walls. |
Conclusion
A wall hanging is a great item to freshen up the porch and add warmth to the space. Common types are tapestries and quilts, available in various materials. Select type and material of object that matches porch decor and that is durable enough for the room conditions. Pick a hanging that is of a shape and size that fits within wall space while also adding character to the porch. Wall hangings can last several years with good care and add value to a home, so choosing the right object is an important decision.