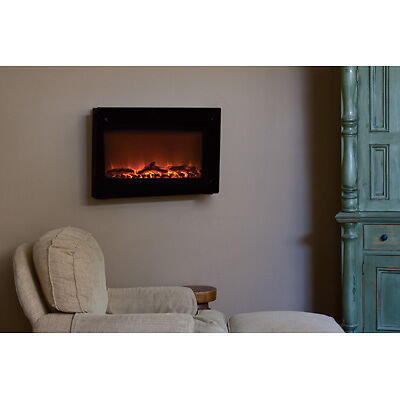 The sight of a burning fire is always welcoming on a cold winter day, evoking cosy and comforting memories. In homes without traditional fireplaces or central heating, it's not surprising that there has been a rapid take-up of wall hung electric fires. Where portable floor heaters (electric radiators, oil column heaters and fan heaters) were once dominant, wall mounted heating is now commonplace, and becoming more so. Interior design shows regularly include stylish modern wall fireplaces as a key element of living room functionality and decoration.
About Electric Fires
Wall mounted electric fires provide visual displays of flames and burning materials, while pumping heated air around nearby surrounds. These appliances have evolved rapidly from basic models in the early 80s to sophisticated models that take advantage of modern LED and lighting technologies. They come in numerous sizes, materials, framed panel designs, and colours. The sheer volume of design options and differing technical specifications can make it difficult to choose the best model to buy for a household. This guide assists in covering essential aspects of purchasing a new electric fire.
Pros and Cons
The first step in deciding whether to buy a wall-hung electric fire is to consider the pros and cons related to these appliances. Some of the benefits of these fireplaces are listed below.
Flueless

Wall-hung electric fires are flueless, i.e. they don't require a chimney to operate. Heat is not lost through outside emissions as happens with traditional chimney fireplaces, and stays within the room.

Portable

These appliances can be readily moved and installed in other rooms. They usually just need a wall hanging mount installed and access to an electric power point.

Safety

Traditional open fireplaces can be a safety concern for households with young children. Electric fireplaces are safer as they usually have cool touch safety glass, and children can't accidentally touch a naked flame or blazing hot surround and burn themselves.

Maintenance

Electric fireplaces are a dream to clean and operate. There's no emptying of ashes, cleaning of chimneys, or buying and stacking of wood or coal. Just a wipe over with a damp cloth and mild cleaning agent every now and then, is all that's required.
A few points to consider about the disadvantages of electric fireplaces are listed in the following table.
Energy Efficiency

Energy efficiency may not be particularly good with specific brands and models of electric fireplaces.

Cost

Wall-hung electric fires are generally more expensive than portable floor heaters.

Ambience

While flame simulation in electric heaters quite realistic, for many people the true ambience of a real open wood fire cannot be matched. The sight, sound, smell, and radiant heat are just not the same.
Selecting a Wall-Hung Electric Fire
As the fireplace is usually a strong focal point of the room it occupies, the aesthetic features need to be understood and evaluated along with the technical features, before any purchase is made.
Design and Style Features
The design and style of a new electric fireplace needs to be carefully thought through. Consider how it will fit with existing living room furniture, and the overall interior design style of the room.
Surround Colours

There are quite a large number of surround colours for wall mounted electric fireplaces, some of the most popular include:

Black
White
Silver
Brushed stainless steel
Grey with black trim
Wood veneers

Consider matching or complementing the panel colour of the family flat screen TV if it resides within the same room.

Styles and Shapes

Styles to consider include:

Flat screen
Curved tinted mirror glass panels
Widescreen
Bevelled edge mirror glass

While the shape is generally rectangular, there are some models with oval shapes.

Take into account how the style will complement or clash with the style of mirrors, picture frames and other décor in the room.

Materials

There are many options to consider, including:

Ceramic
Chrome
Glass
Stainless steel
Wood veneer

Marble, granite and stone options are available but are generally more expensive.

Consider how the chosen material will fit with other materials and textures in the room.

Flame Simulation and Lighting

There are many flame and lighting effects to consider, including:

Realistic flame simulations on different material beds (e.g. pebbles, logs or coal)
Dynamic flames (constantly changing)
Glowing Coals
Glowing Logs
Special flame effects such as Ribbon Flames, Lava Lamp or Volcanic Flow effects.
Dimmable flame chambers
Ambient back lighting in different colours

A fireplace with a range of flame effects can help create versatile room looks for special occasions and different seasonal effects. Several electric fire models have a 'flame only' setting, so they can be used for ambient lighting only if desired.

Interchangeable Frontage

Some brands and models have interchangeable front panel surrounds.

Can be useful when the room decor is changed, and the homeowner wants to keep the same electric fireplace.
Technical Features
Blower/Fan

Evaluate how the electric fireplace circulates heat:

Does it have a variable speed fan?
Does it have an auto on/off function so that overheating doesn't occur?
Can a timer can be set?

Size

Consider the different sizes that the fireplace model comes in:

Small
Large
Extra large
Extreme Wide

Evaluate whether the size of the wall-hung electric heater will fit the proportions of the room and the other items in the room. A big bare wall can look stunning with a narrow and extremely wide screen fire.

Heat Control

Consider the range of heat settings and controls, including:

Low, medium and high heat settings
Touch-screen controls
Remote Control unit.

Heat Direction

Study the direction that the electric fire emits heat from.

If heat comes from the top of the fire, no items should be hung directly above it, e.g. no paintings, wall decorations or wall mounted TVs that can be affected by direct heat. Similarly if the heat is vented to the side of the electric fire, think about placement with other wall features or hanging items.

Heat Output and Efficiency

Evaluate the level of heat energy output, and whether the wall-hung electric fire will effectively heat the room space. As a rule of thumb, an average heater will have an output of between 1 kw to a maximum of 2kw. This would be expected to heat an average room of approximately 37 square metres. Other points to consider are the energy efficiency rating of the fire, and impact on heating bills.

Safety Features

Look at the safety features of the electric fire. For example, does it have a thermal cut out switch, so that overheating and damage does not occur? Does it have toughened safety glass, that is also 'cool to touch' when the fire is on?

Certifications

Check that the electric fire meets industry certifications and manufacturing specifications. Labels on certification and standards of the appliance should be available.

Installation

Most wall-hung electric fires should be easily installed with a power drill, some screws, and mounts, and a nearby electric power point. Exceptionally large fires or non-standard models however, may be a little trickier to install and require professional assistance.

Showing the power cord and electric power point for the fire may detract from the overall visual impact. In these cases an electrician could be employed to place a new power point and cords out of sight.
Purchasing Decision
Once the design and technical features have been decided upon, the final step is to include the cost of any Shipping and Insurance. The seller's return policy and warranty should also be examined.
Conclusion
Stylish, modern wall hung electric fireplaces are a practical way to bring the look and feel of a cosy fire into the home. They can also enhance the overall design of a room, complementing the existing living room furniture, while warming the whole room. With a little research by the home owner, finding a model that will suit their home decor and heating needs should be easily achieved.