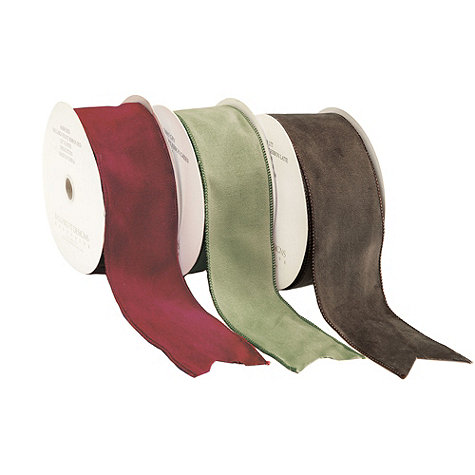 Wired ribbon, or wire edged ribbon, is any ribbon that uses a thin wire on the edges to help the ribbon keep its shape. The wire is excellent for forming bows and designs made of ribbon and can be used as an alternative to fabric stiffening sprays. Some wired ribbon is also sold as 'wired' even though it has been treated with fabric stiffeners. These options are better for anyone who does not necessarily need the edges of the ribbon to be stiff, but require the ribbon to hold its shape.
Wired ribbon can be purchased in a variety of colours, fabrics, shapes, designs, and a great deal of different materials, from silk and lace to polyester. Buyers must also choose how much ribbon they have to purchase, and where they would like to buy it. Wired ribbon can be purchased in many craft supplies stores, both local and online.
Choosing Ribbon for a Sewing Project
There are many different types of wired ribbon but it is important to choose a style that suits the project it is being purchased for. Some ribbon is designed for very small projects while other ribbon is designed to create flowers, large bows, and even to be sewn on dresses or hats. Buyers should consider the project the ribbon is intended for to decide on colour, design, and width before making a purchase. Ideas include choosing a colour, pattern, thickness, and ribbon style that suits the project at hand.
Wired Ribbon Colour
In many cases, the colour of the ribbon should either match or go well with the craft project. For example, a ribbon bow is likely to look good as either a contrast or matching piece, but the colour must be chosen carefully in order to flatter the whole. There are many different colours and shades of ribbon so most buyers can find literally any colour. Online stores are likely to have more options than smaller boutique craft shops but it is possible to look at both options to select the ideal ribbon colour for any sewing project.
Wired Ribbon Design
Most wired ribbons are simply solid colour without any design or pattern. Many ribbons also feature designs, patterns, and even lace overlay, which can greatly affect the overall design. Ribbon with patterns such as white on black can be used for a variety of projects because the different colours allow the ribbon to offer more visual contrast. Using lace overlay can help the ribbon to blend in with other fabrics such as on a wedding dress, or on a hat, while a range of shapes and coloured embellishments can be used to add design and colour to anything.
Wired Ribbon Width
Wired ribbon comes in multiple sizes, usually specified in millimetres. Most ribbon, including wired ribbon, is sold in a series of standard sizes and widths that range from the very thin to the very wide. Ribbon can be sized in inches, centimetres, or millimetres, and buyers can use the following table to identify the ribbon width they need for their project.
| Ribbon Width in Millimetres | Ribbon Width in Inches |
| --- | --- |
| 1 1/2 | 1/16 |
| 3 | 1/8 |
| 4 7/10 | 3/16 |
| 6 | 1/4 |
| 9 | 3/8 |
| 12 | 1/2 |
| 15 | 5/8 |
| 19 | 3/4 |
| 22 | 7/8 |
| 25 | 1 |
| 38 | 1 1/2 |
| 50 | 2 |
| 63 1/2 | 2 1/2 |
| 76 1/5 | 3 |
Because of the nature of wired ribbon, it is most often available at a medium width, which supports the wire without being too small or too large. Buyers can find very wide wired ribbon in specialty stores or craft supplies stores. However, most very thin wired ribbon is stiffened using fabric stiffener, rather than wire, which can slightly change the look if it is being integrated with wired ribbon.
Ribbon with Wire Edges vs. Stiffened Ribbon
Wired ribbon is sold with both wire edges and fabric stiffeners, but each has its own advantages and disadvantages. Wired ribbon with wire edges is the most true to its name and is usually what buyers are looking for. This ribbon has wire inserts in the side seams of the ribbon, allowing it to be bent, shaped, and positioned in any way the owner likes. Stiffened ribbon is any ribbon that has been sprayed with a fabric stiffener to help it keep its shape. Benefits include that it is usually more lightweight than standard wired ribbon, usually less expensive, and can be purchased as standard ribbon, shaped, and then sprayed into any permanent shape. Both options are excellent for most sewing projects and crafts involving wired ribbon.
Wired Ribbon Material
There are many materials used to make wired ribbon and buyers should usually choose a material that goes well with their project. For example, many hat bows are intended to go on hats made of specific materials. Matching the fabric of the bow to the fabric of the project helps bring everything together and create a professional look. Different materials have their pros and cons so buyers should consider value, properties, and durability of the fabric before purchase. The material can greatly affect the look of the final project so it is important to consider what does and does not complement the final result.
| Wired Ribbon Material | Wired Ribbon Properties |
| --- | --- |
| Chiffon | often sheer, very soft; medium price range |
| | often similar to silk; medium price range |
| Silk | low durability; high quality fashion wise; high price range |
| | rougher blend of sheer silk similar to chiffon |
| Polyester | manufactured silky blend often used instead of silk; very affordable |
| Lace | can include lace and crochet; semi sheer; features patterns |
| Suede | napped cotton or leather fabric |
| Taffeta | shiny fabric often used to replace silk in formal crafts |
| Metallic | shiny ribbon worked with metallic threads; usually polyester |
| Grosgrain | very heavy and stiff nylon and silk or taffeta weave |
| Twill | ribbon with a diagonal cross weave |
| Velvet | napped fabric with a soft pile |
There are many different factors to choosing the correct materials but some of the most common materials include polyester, satin, organza, and taffeta. Other materials are, of course, easy to purchase almost anywhere, so buyers can essentially look for anything they need based on needs, budget, and preference. Importantly, some materials are not suitable for being washed frequently, so checking the durability of the ribbon might help with making a decision.
Wired Ribbon Length
Most wired ribbon is sold in meter lengths of halves or whole meters. For many people, a single meter or less might be enough for the entire project. For others, it might be necessary to purchase an entire wheel of wired ribbon, which can include five to thirty meters of ribbon. Buyers should consider how much ribbon they need for a single project, if they plan to use the ribbon again, and whether or not it is necessary to have extra ribbon around in case of a mishap or mistake.
Buyers can then purchase ribbon in any length they like, from half or less of a meter to as many rolls as they like. Importantly, many buyers who would like to purchase a great deal of ribbon might have to purchase multiple rolls and lengths rather than a solid piece. Some rolls come as long as 50 metres so most buyers who need a great deal of ribbon can simply purchase a long roll rather than look for individual small pieces.
Buying Wired Ribbon on eBay
eBay is a good place to purchase most craft supplies because there are sellers from around the world offering their craft supplies, wholesale supplies, and even cuttings and end pieces that can be utilised for small projects. Buyers should decide what type of wired ribbon they are looking for and have a basic idea of colour, pattern, and material before searching on eBay.
Type the search term into the search box on eBay to find the wired ribbon you are looking for. 'Velvet wired ribbon', or 'chiffon wired ribbon' would both work to bring up those specific materials. Buyers can also choose to specify length, width, or even a pattern or colour. Once you find the ribbon you are looking for, you should read the description on the listing to ensure that the size, width, length and colour are what you need and then make your purchase. If you are not sure about the listing or want to know if you can purchase more or less ribbon than is listed, you can ask the seller.
Conclusion
Wired ribbon includes any type of ribbon that has been stiffened with wire in the seams. Some wired ribbon is also sold with fabric stiffener instead of wire but the result is mostly the same. Buyers should check the project they need the ribbon for and then decide on a matching colour, pattern, and material before making a purchase. Choosing the length and width based on project needs is also important to do before looking for wired ribbon.
Wired ribbon can be suitable for a lot of different crafts but buyers should remember to check and make sure the specific ribbon they are purchasing is good for the task. Velvet and silk are typically best left to flowers and clothing crafts, while organza, satin, twill, and other durable materials can be used on clothing that is washed and worn frequently. Finally, buyers can take all of the necessary information about their project and the ribbon they need and purchase wired ribbon at a crafts store or on eBay.