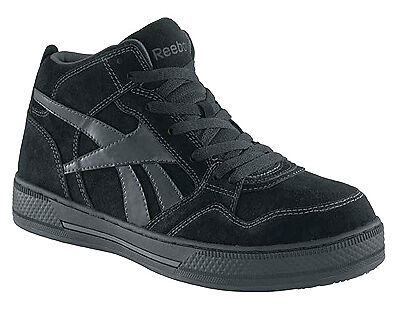 Hi tops are an athletic type of shoe that extends up the leg, covering the ankle completely. Hi tops are very popular with basketball players and other athletes, but are also commonly worn by the general public, whether they are athletes or not. Not to be confused with the mid-top, the hi top goes much farther up the leg to provide a higher degree of support.
In addition to athletic style hi tops, there are also some dress and casual shoes that are known by the same name. Hi tops are very popular and are worn by both men and women. Because of their massive popularity, you can find hi tops in many high street shops and at online venues such as eBay. When you are looking for a pair of hi tops for yourself or someone else, consider eBay. This online marketplace has a wide selection of hi tops in a variety of colours, patterns, and materials. When shopping for a pair of hi tops a shopper will have an array of hi tops to choose from that range from the skater hi top to the retro hi top. Hi tops can also be paired with a variety of outfits.
A Bit of Hi Top History
Early in the 1900s, athletic shoes of all types were made by rubber companies in the UK and US. They were made with flat, smooth soles, traction soles and as cleats. Before sports became popular, there was little market for athletic shoes, however, after World War I, sports became hugely popular. Athletes needed specialized shoes that would support their feet and ankles while participating in their sports.
By the 1980s, athletic shoes were so popular that they were being worn by those at every level of society, from the average person to movie stars. Today, athletic shoes have become a huge business. The style, type and material of athletic shoes is scientifically engineered for the best fit and protection of athletes feet and legs. Because of the superior manner in which they are made, these shoes have become standard wear for adults and children who want an excellent shoe that will not only support their feet, ankles, and legs, but look good while doing so.
Types of Hi Tops
Due to their huge popularity, hi tops are seen everywhere today, from the supermarket, to the club, to the theatre. There are a variety of styles to choose from. Some hi tops come with designer labels, but there are many hi tops that are mass produced and available to anyone seeking a fashionably comfortable shoe.
Skate Hi Tops
Although skate hi tops are considered a fashion statement, they were originally created for skateboarders. Skaters needed to be able to control their boards and as such, these shoes are very capable of supporting the ankles and lower legs. Today, hi tops modelled after these specialised athletic shoes are available in an array of colours, patterns, and fabrics for any woman who is looking for a very stylish as well as highly supportive shoe. Women often pair skater hi tops with skinny jeans and a t-shirt for a casual, skater look.
Solid Hi Top
This type of hi top is usually found in black or white, with jersey knit uppers and low rubber soles. They are made with extra padding for improved comfort and support. Choose a pair of colourful tights and a bright skirt to wear with solid hi tops, for a fashionable and upbeat look.
Leather Hi Top
Leather hi tops have leather uppers and textured rubber soles and feature a side zipper that makes it easy for this hi top to be put on and taken off. Along with the innovative new style of closure, this hi top has remarkably superior interior cushioning for insole and lining.
Wedge Hi Top
The wedge hi top has a 10.16 centimetre wedge heel with a distressed rubber toe cap and sole. The buckles are trimmed with soft leather and cover the majority of the shoe.
Retro Hi Top
Retro hi tops are available in an array of colours and fabrics from canvas to suede uppers and rubber soles. Other hi tops are available as well, all featuring modern designs and fabrics that are not only fashionable, but extremely comfortable as well.
How to Find the Perfect Size Hi Top
Before buying shoes it is a good idea to know what size shoe you will need, and how wide it should be for absolute comfort. You can go to a shoe store and measure your foot, or for a simple and effective way to find your measurements, you can do it yourself from home. All you need is a paper, measuring tape, pencil and some tape.
First, Trace Your Foot
Begin by taping a sheet of plain white paper to the floor. Sit on the edge of a chair, with your leg bent slightly and your shins facing front. Put on some thick socks and put your foot on the paper, in the middle. Using the pencil, trace the outline of your foot.
Second, Measure the Traced Outline
After you have completed tracing your foot, use the measuring tape and measure from the top of your drawn foot to the heel and write down this number. Next measure your foot's width from side to side at the widest point and write down this number. Avoid rounding either up or down, just record to the nearest centimetre. Repeat this with your other foot.
Finally, Finding Your Shoe Size
Take the recorded measurements and subtract 0.48 centimetres from each number as an allowance for the difference between your true measurement and the traced line. The resulting numbers are your actual shoe size and width. Take these figures and compare them to a sizing chart to determine your perfect shoe size.
| Size | Measurements |
| --- | --- |
| 2 | 20.8 cm |
| 3 | 21.6 cm |
| 4 | 22.5 cm |
| 5 | 23.5 cm |
| 6 | 24.1 cm |
| 7 | 25.1 cm |
| 8 | 25.9 cm |
| 9 | 26.7 cm |
| 10 | 27.6 cm |
If purchasing hi tops online, read over the description carefully to determine if the sizes are US or UK standards. If the listed sizes are US standards, be sure to look at a comparison chart to determine whether the shoe will actually fit your feet. Remember to remeasure your foot before buying any shoe if you have gained or lost any weight, because either will cause your shoe size to differ. Also, you should consider measuring your feet at the end of the day. Feet tend to swell during the day and they will be at the largest in the afternoon or early evening.
Caring for Hi Tops
Caring for hi tops is easy and requires very little of your time. Simply put your white hi tops in the washer with a very small amount of bleach. Put a few towels in with them to prevent them from banging against the drum but also to help scrub them in the wash. Use a cool cycle and one washing tablet. For coloured hi tops, use the same method as above, but do not use the bleach. You can throw your hi tops in the dryer, but it is better to let them air dry to avoid any shrinkage.
Styling Your New Hi Tops
A pair of black hi tops with concealed wedge soles and velcro closures and a pair of black tights, a white mini skirt, and a black flowy shirt will make you look as hot as you feel. Or try a pair of tartan hi tops with jeans and a heavy cable knit pullover for a casual look that is perfect for a picnic in the park.
For everyday attire, try a pair of skater hi tops and a pair of carpenter trousers paired with a print t-shirt. No matter what look you are going for, wear hi tops for added comfort and exceptional support. Hi tops are the perfect footwear for morning or evening jogging, and will work as well for a casual date with a friend.
How to Find Women's Hi Tops on eBay
Start your search on eBay's home page by typing in keywords in the search bar at the top of the page. For example, if you type in 'leather hi tops' the search engine on the site will create a results page with potentially hundreds of listings for leather hi tops. If you are looking forspecific hi tops, such as a pair of fur trimmed hi tops, you can enter a specific word into the search parameters so that listings with only those specifics are generated, making your search much easier.
It is important that you read the item descriptions carefully to determine if the hi tops you are interested in are the right size for you, and if the shoes are new or used. If any of this essential information is missing, go to the seller's member profile by clicking on their username in the item description. From there you can access their contact link to ask them for more information. You should also consider asking for better photos from different angles. Oftentimes, better photos can help you arrive at a purchasing decision. While on the seller's member profile, read their feedback scores to learn about how other buyers have rated their experiences. Remember that you can also sort listings to only show those posted by sellers with high feedback scores. They are known as eBay Top-Sellers .
Conclusion
When you are looking for hi tops that will provide excellent support while running or playing at any sport, check eBay for the best prices and largest selections. You will be able to choose a pair from amongst thousands of pairs of hi tops for women. You can sort your search by colour, style, fabric or type of sole or any other criteria. Search for orange, turquoise or hot pink hi tops or choose a pair of striped hi tops to wear with a bright and stylish t-shirt for a fun look. When superior support is your number one priority to protect your feet, ankles, and legs, choose a pair of padded hi tops with a shearling lining for superior comfort and exceptional support. No matter what your primary objective may be for buying a pair of hi tops, remember to choose styles that are the right size to prevent athletic injuries, and the right style and colour to prevent a fashion faux pas.