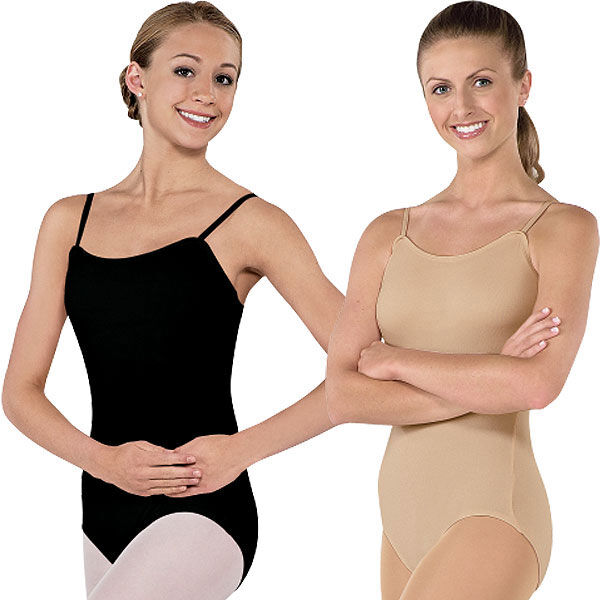 Women's leotards are typically worn by dancers, gymnasts and fitness fans. They are designed to ensure safety while performing intricate body movements, when other forms of clothing would get in the way. They come in various styles, fabrics, and colours, but the most popular leotards are often a block colour and made of a stretch, lycra-based material or smooth velour, which is designed to keep gymnasts cool during their workouts. Leotards for gymnastic competitions are usually made from brightly coloured foil lycra and are often adorned with glitter, sequins or crystals to distinguish the gymnast from her competitors.
In order to make a successful purchase of a woman's leotard, it is necessary to consider the purpose of leotards, their various styles, how to find the right one based on body type, and how leotards are sized. Leotards are available from specialist dancewear shops, fitness clothing shops, and from online retailers, such as eBay.
The Purpose of Women's Leotards
Many gymnastics organisations require leotards to be worn in place of more traditional fitness clothing because loose fitting garments can become entangled in the apparatus and lead to an injury. In fact, the International Gymnastics Federation has specific rules set in place regarding a gymnast's kit. These rules must be followed at all international competitions or women risk points being deducted from their routine. If women are buying a leotard for a competition, then they should adhere to these rules.
Sometimes dance teachers require their students to wear certain styles and colours of leotard, so women should always find out about specific dress codes if they need leotards for this reason. For women who are purchasing a garment to take part in a fun dance or fitness class, then they can focus on satisfying their personal taste and matching the right garment to their body shape and size.
Styles of Women's Leotards
The style and cut of the leotard should be chosen based on a woman's body type. Leotards are designed to perfectly contour to the shape of a woman's body, without fitting too tightly or loosely.
Type of Leotard

Description

Flatters many body types

Easy to change in and out of

Reveals the back and shoulders

Spaghetti straps

Creates a soft and delicate appearance

Popular among ballet dancers

Thick shoulder straps

Ideal for larger busted women who require increased stability and coverage

Various neckline styles

T-shirt style sleeves

Best for woman with toned arms

Sleeves often considered a distraction

Ideal for colder weather

Gives the illusion of longer, flowing arms

One Shoulder Leotard

Ideal for dancers looking for a unique style

High neckline

Gives a classy and sophisticated appearance

Gives the illusion of a longer neck

Zip at the front near the neckline or at the back

Changing in and out of the leotard is quick and easy

Mainly decorative

Embellished Leotard

Decorative details such as sparkly sequins

Ideal for woman hoping to draw attention during a class or an audition

Adds style and flare to an otherwise plain garment
It is important to choose a leotard that fits properly in order to optimise a woman's level of performance. Feeling comfortable and confident in a leotard is the key.
Finding a Leotard for a Woman's Body Type
With the wide array of leotards available, it is helpful to have some guidance on how to choose the perfect one. Buyers should always consider their body type when determining the right style. By following the dress tips below, a woman is destined to look and feel her best in her leotard.
Broad Shoulders
Woman with broad shoulders should consider a camisole or cap sleeve leotard that blends their shoulders with the rest of their torso. A leotard that features a boat neckline also complements the woman's collarbone, while a V-neck draws attention downwards, away from the shoulder area. It is best to avoid halter leotards that make already broad shoulders look even wider.
Large Bust
Women with a large bust should consider a leotard with a built-in shelf support. Mock neck leotards feature a more conservative neckline and can help draw attention away from the bust area, while a tank leotard's wide straps offer increased support. Women should avoid camisole leotards and any with plunging necklines that draw attention towards the chest. It is also a good idea to avoid embellished leotards with sequins and glitter near the bust area.
Wide Hips
A woman with wide hips should wear a leotard that emphasises her shoulders, thus balancing out her proportions. Embellished leotards and one shoulder leotards will draw attention upwards, away from the problem area. Detailed prints, brightly coloured tops, and plunging necklines will also help to keep attention on a woman's upper body. Women should avoid block coloured leotards with plain necklines as the lack of visual stimulation will draw attention to the hips.
Short Arms
Women with short arms should consider a camisole leotard with a lower neckline. The thin straps will lengthen the appearance of the arms, neck, and shoulders. It is best to avoid tank leotards and those that have sleeves as they cut the line of the arms, making them appear shorter.
Women's Leotard Sizing
When determining correct sizing, women should take their chest, waist, hips, and torso measurements. Torso measurements should be taken from the shoulder through the crotch and back up to the same shoulder.
| Size | Chest (cm) | Waist (cm) | Hips (cm) | Torso (cm) |
| --- | --- | --- | --- | --- |
| Extra Small | 28-78.7 | 58.4-63.5 | 28-78.7 | 121.9-127 |
| Small | 76.2-83.8 | 61-66 | 76.2-83.8 | 129.5-137.2 |
| Medium | 86.4-94 | 63.5-68.6 | 86.4-94 | 139.7-147.3 |
| Large | 91.4-99.1 | 68.6-73.7 | 91.4-99.1 | 139.7-157.5 |
| Extra Large | 96.5-104.1 | 71.1-76.2 | 96.5-104.1 | 157.5-162.6 |
Buyers should consider that sizing and fit tend to vary between brands. Those that fall in between sizes should always purchase the larger size. Some leotards may even feature adjustable straps or a concealed drawstring in the chest area, allowing women to attain a better fit.
Buying Women's Leotards on eBay
Buyers who would like to purchase a woman's leotard on eBay can start by going to eBay's home page. From there, you can enter any related key terms into the search bar such as "women's leotards". For a more precise search, try entering more specific key terms such as "women's black leotard". Once on a search results page, you can continue to follow the subcategories to further narrow down your choices.
For those who wish to browse listings within a certain price range, eBay offers an advanced search feature to help buyers to select a budget limit. This can help you to determine which sellers are offering the best deal for the leotards that you are interested in buying.
Know the Seller
Before purchasing a woman's leotard, you should get to know the seller. You can always ask to see a photograph of the leotard if one is not readily available in the listing. This is best accomplished through the "Ask a question" link. Check to see if other customers have left positive feedback on the seller's profile. Positive feedback indicates that sellers have proved that they offer good customer service and quality products. You can also look for listings from Top-Rated Sellers. These sellers are known by the eBay community for providing the highest levels of reliability.
Return Policy
Before making a purchase, buyers should always familiarise themselves with a seller's returns policy. If the leotard does not fit well, it can pose a problem for the wearer and interfere with her dance or gymnastic routine, or her fitness class. Buyers should ensure that in the case of a poor fit, the seller will offer a refund or exchange. Buyers should bear in mind that postage and packaging fees are generally non-refundable.
Conclusion
Leotards allow dancers and gymnasts to perform their routines safely and with confidence. Gymnastics can be a very dangerous sport since a single missed step can easily send a gymnast falling off the apparatus. For even the most experienced gymnast, it is important to invest in the right leotard. Dancers looking for clean, elegant lines should also ensure that they are not in an overly tight or baggy leotard. Leotards are designed to fit a woman's body snugly, eliminating the possibility of loose clothing getting caught during intricate routines. They come in various styles, colours and sizes.
Choosing the right leotard is based on both personal taste and on the way it fits a woman's body. If looking for a leotard for a specific dance or gymnastics purpose, it is always a good idea to be familiar with the rules and guidelines regarding acceptable attire before investing in a specific leotard. Even some gyms can be strict about the types of leotards that they allow. With such a huge variety of leotards, it is more than possible to choose the right one if the body type is taken into account. After all, while the wearer is moving elegantly in her leotard her mind should be on her routine and not on worrying about how the leotard fits.