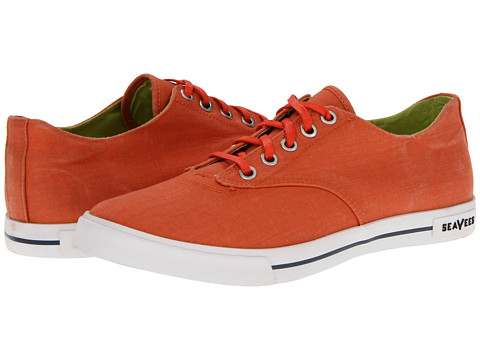 Plimsolls are a kind of athletic shoe that is manufactured with rubber soles and canvas uppers. These shoes have Velcro fasteners, or gussets that allow you to easily slip them on and off. Originally, plimsolls were made for wearing on outings to the beach, and even today, they are still called 'sand shoes'. By the 1870s they were generally called plimsolls because it was noted that the line across the top of the shoe resembled the plimsoll line or waterline mark on ships.
In many schools throughout the UK, plimsolls were and to a certain extent still are the traditional footwear of school children. However, today, the humble plimsoll is no longer relegated to the ranks of school children. Plimsolls are worn in a variety of settings and for occasions that range from casual to almost semi-formal.
Because this shoe is so popular, it is available in a variety of traditional shops as well as at online marketplaces like eBay. When shopping for a pair of plimsolls, the buyer should know that plimsolls are available in an array of colours and patterns. They are shoes that are easy to care for, and women will find that they can be paired with a variety of outfits.
Different Types of Plimsolls
There are at least 11, maybe more, types of plimsolls on the market today. If you wore a standard issue plimsoll as part of your school uniform, don't fret. Today's plimsolls are light years away from the plain styles your school probably demanded that you wear. Plimsolls are so widely accepted and fashionable that they can easily be worn with almost anything you own. Each type of plimsoll is different, with unique characteristics.
Lace Up Plimsolls
The lace up plimsoll is probably one of the mainstays of the shoe world. This plimsoll has the traditional rubber sole and canvas upper and laces up the front. Buy lace up plimsolls in any shade you desire, or in a number of cute patterns. Today's woman can style lace up plimsolls with jeans, shorts, skirts and, well, pretty much any item in her wardrobe, other than maybe an evening gown.
Top Flap Velcro Plimsolls
Velcro flap closure plimsolls are attractive and make slipping into your shoes quick and easy. Wear these fashionable plimsolls at work, or at play. They are equally suited to any occasion. You can buy velcro plimsolls in any shade that strikes your fancy.
Yachting Slip On Deck Plimsolls
Slip on yachting deck plimsolls are similar to yachting gusset deck shoes, but instead of two gussets, there is a single central gusset in the middle of the canvas upper. These classic plimsolls are available in a range of colours. This slip-on style may feature faux laces on the gusset.
Gusset Plimsolls
Like the slip on deck plimsolls, the gusset plimsoll has a central gusset on the canvas upper, making it extremely easy to kick them off or put them on. Wear this classic plimsoll at the beach or at a party when you want to dance with your shoes off. Wear these plimsolls with capris and a cute vest for a cool and casual summer look.
Lace Up Yachting Plimsolls
Like gusset deck plimsolls, the lace up version is available in a variety of colours and patterns, but rather than the twin gussets framing the centre of the shoe, this style is laced up.
High Top Boot Plimsolls
High top boot plimsolls resemble other types of trainers but retain the characteristic rubber sole and canvas upper. Like the platform boot plimsoll, this type of shoe can be worn for casual or semi-casual wear and would look great with a pair of nice trousers and a t-shirt. You can choose from amongst many different colours to find the shade that best matches what you have planned for any specific occasion.
Rubber Toe Plimsolls
These plimsolls are reminiscent of keds, with a toe shield of rubber to protect your toes. You can find rubber toe plimsolls in colours ranging from red to grey and blue to beige, with stripes, dots and other designs thrown in for good measure.
Gusset Yachting Deck Plimsolls
Yachting deck plimsolls are made with gussets on either side of the centre top of the shoe, and may come in a variety of colours as well as striped canvas uppers. These plimsolls are a good choice for days at the beach or lake.
Oxford Plimsolls
Oxford plimsolls are made like their namesake, except that they are only made from canvas uppers and rubber soles. These plimsolls are casual, yet nice enough to wear to work. Generally if you plan to wear an oxford plimsoll to work, it would be a good idea to wear white or black colours.
Lace Up Platform Plimsolls
Lace up platform plimsolls are like other kinds of platform shoes in that they will increase your height, however, unlike other platforms the uppers are made of canvas and the soles are made of rubber. These plimsolls are a good choice to wear with skirts or dresses and a pair of fashionable tights. Platform plimsolls are available in a variety of colours.
Lace Up Platform Boot Plimsolls
These plimsolls have a thicker rubber base than a traditional plimsoll. This type of plimsoll would look especially good with skinny jeans and a blazer. Choose from an array of colours to match whatever you plan on wearing.
How to Determine the Proper Size Plimsolls
Before buying any shoe it is recommended that you measure your feet. A simple way to determine the size of your foot is to go to any shop that sells shoes and measure your foot with a measuring form. But if you are pressed for time and cannot make it to a shop, you can still measure your foot following a few guidelines. All you need is paper, measuring tape, pencil and some sellotape.
Trace Your Foot
First, tape a piece of plain white paper to the floor. Then sit on a chair with your leg slightly bent, keeping your shins in front of your ankle. Place your socked foot on the paper and trace around it with the pencil.
Measuring the Traced Outline
Once you have drawn the outline of your foot, measure it with the measuring tape from the top of the outline to the bottom and record this number to the nearest centimetre. Try not to round up or down too much. Then measure the width of your foot at the widest part from one side to the other and record it in the same manner.
Determining the Final Shoe Size
After you have recorded the length and width of your foot, take the size measurements of the larger foot and subtract 0.48 centimetres from it to allow for the difference between the actual measurements and the tracing. The final numbers are your actual shoe size and width. Compare your size with a chart to determine the correct shoe size and width.
| Sizes | Centimetres |
| --- | --- |
| 2 | 20.8 |
| 3 | 21.6 |
| 4 | 22.5 |
| 5 | 23.5 |
| 6 | 24.1 |
| 7 | 25.1 |
| 8 | 25.9 |
| 9 | 26.7 |
| 10 | 27.6 |
Be sure to read the description of the plimsolls you are planning to buy very carefully. If they are in US sizes rather than UK sizes, be sure to consult a conversion chart to ensure you are buying the correct size for your foot. Any time that you buy shoes of any type it is a good idea to remeasure your foot and compare the measurements with a sizing chart.
How to Care for Your Plimsolls
Plimsolls are possibly one of the easiest types of shoes to care for. To clean them, simply put them in a pillowcase and put throw them in the washer. It is a good idea to put a towel in the washer with them, to keep the rubber soles from banging on the drum. Set the water for a cool wash and add only one washing tablet. No need to add any fabric conditioner at all. Once the wash has finished, instead of tumble drying your plimsolls, stuff them well with newspaper so that they can air dry and maintain their shape. Canvas is an easy fabric to care for, making plimsolls one of the most popular choices for everyday footwear.
How to Style Plimsolls
A pair of yachting gusset plimsolls, corduroy trousers and aknitted cardigan is a perky and comfortable look for a day out at the lake. Or, for a casual look, try a pair of lace up plimsolls, a tartan skirt and green pullover. Because plimsolls have all canvas uppers, your feet can breathe, making them comfortable as well as stylish.
Try kicking your look up a few notches by wearing more sophisticated clothing such as a nice dress, black platform plimsolls, tights and a blazer. For everyday wear pair brightly coloured skinny jeans, a t-shirt and a fur vest withboot plimsolls for a cheeky and progressive look. No matter what you choose to wear with your plimsolls, you can take comfort in the fact that they will feel good and make you look great. You simply cannot go wrong wearing plimsolls, because they can be worn with nearly any kind of clothing, but evening wear.
How to Buy Women's Plimsolls on eBay
When you are looking for an excellent pair of casual shoes, start your search for plimsolls on eBay's home page by simply typing in keywords at the top of the page. For example, you can type in "lace up Converse plimsoll" and you will be presented with a large selection of shoes from which to choose. If you are specifically looking for orange plimsolls, you can use the search options available to narrow down your criteria so that only those shoes matching the description you enter are shown to you, making your task much easier. Be sure to go over the description of any item you are interested in to determine if the item is the correct size for you, what the seller's refund or return policies are, and if the item is new or used. If any of the information is missing, go to the seller's member profile by clicking on their name. From there you can access their contact link and ask any questions you may have. While there you can review their feedback profile to determine how they do business on eBay, and have a more informed idea of whether you want to buy from them or not.
Conclusion
Knowing what you want when you start your search will allow you to browse the selections of plimsolls much easier. Choose a striped, nautical-looking yachting plimsoll and navy blue jeans for a seafaring look, or for a casually relaxed look, you can wear a pair of slip on platform plimsolls to wear with a dress if you are headed out to a baby shower. Fortunately, because plimsolls are so versatile, there is no need to dash home and change if you get a call from that special someone, because you can wear the same ensemble for a night out, If you have picked out an outfit to wear but cannot find the right shoe to wear with it, look for your plimsolls. Because, like all good back up plans, plimsolls will provide the perfect solution to let you get on with your plans while maintaining a fashionable look. No matter what the occasion, or where you will be going, plimsolls are a great choice of shoe to wear.