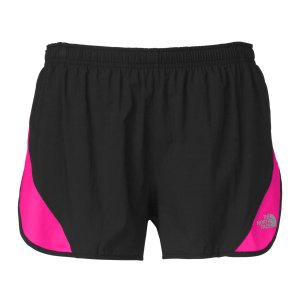 Women's running shorts are much like men's running shorts; the first is a good pair of shorts, and they differ in length and fit, but otherwise, they are close to the same thing. In fact, many women run in men's running shorts. The material from which they are made and the style of running are the same. The activities for which they use running shorts are primarily jogging or running track. These shorts can be found at sporting goods retailers and on the popular auction website, eBay.
The style of a pair of running shorts is up to the individual owner. The variety of styles coincide with the various colours, styles, and shapes designed for running. Individuality of the shorts is best left up to the person purchasing the running shorts. Most women have certain styles, colours, and shapes that they prefer. If you are just starting out in running, looking into a good pair of running shorts is a must. Remember that a pair of running shorts can cause chafing and irritation. These conditions are horrible to deal with, especially if the chafing is at the juncture of the legs. The three things that need to be looked at before buying women's running shorts are the climate, the material of the shorts, and their size.
Styles of Running or Jogging Shorts for Different Climates
In one city there can be different climates in which a person runs. Even though most people use a few pairs of running shorts, getting a style that suits most of the conditions in your area is wise. If you live in a hot or humid climate, something lighter is appropriate. If you live in a typically cooler climate, wearing something heavier may be best. The same applies to a wet climate.
Warm Climate Running Shorts
If a person lives in a predominantly warm climate they may want cool running shorts that suit that climate. This means shorts that are lightweight and breathe easily. Since running is a workout in which a person generally sweats, the running shorts have to fit well to keep the legs from chafing. A person also wants a pair of shorts that allow air to flow past the legs to help dissipate some of the heat and moisture. Moisture wicking fabrics are good, but some of the lycra-based fabrics prove to retain heat. A pair of cotton shorts with a moisture wicking lining may be best for warm climates. There are many types of running shorts available. For warm climate running, comfortable light coloured running shorts are the preferred running shorts.
Cold Climate Running Shorts
Cold climate running shorts should have two properties. They should keep a person both warm and dry while running. A problem with warm running shorts that are meant for cooler climates is that many companies make shorts that are meant to be worn over a pair of tights or leggings. This is something to watch for if you are purchasing cold climate shorts. Some shorts have a design that has an over pair of shorts and an underlining. This makes them less versatile, and therefore, less useful.
Many shorts that are meant just for cold weather have a polyfibre over-short with a moisture wicking under-short. These shorts are optimal for shorts that are meant just for cold climates. If it is very cold you may want to consider wearing layers. Many runners wear a good pair of tights or leggings under shorts while running in cold weather. This allows a person to take layers off as he or she runs to reduce heat.
When layering, you want an outer waterproof or windproof layer, a middle insulating layer, and a base layer that has moisture wicking properties. Moisture wicking is a cloth that draws moisture away from the skin. These are generally polyfibre synthetic blends. This works similar to the way a wick pulls oil from the bottom of an oil lamp. The layers can be found in one pair of shorts, or in a combination of different pairs of shorts and leggings.
Wet Climate Running
Although most people do not purposely run when it is raining or in particularly wet circumstances, there are times when running in a wet climate is preferable. The main thing when selecting shorts for wet climate running is to find a pair with a windproof and waterproof outer layer. Many times wet climate running is done on the beach or near another body of water. Wind is usually present in both of these places. An outer layer that is windproof and waterproof is desirable for both of these situations.
One of the major problems with wet climate running is chafing. A pair of running shorts with a comfortable lining prevents this. Every person has different tolerances and skin tenderness. If you do not know which type of material is best for you, then it is best to find a material like moisture wicking polysynthetic to start. There are also powders that can reduce chafing if you have particularly sensitive skin.
Treadmill Running
The one type of running that does not depend on climate is indoor treadmill running. A light pair of shorts is best for this type of running since you are not running in extreme heat, cold, or wet conditions. Chafing, however, can be a problem. This is where finding a comfortable pair of shorts that do not chafe is the best way to go.
Materials for Running Shorts
There are many materials for running shorts. The materials that are used depend a lot upon the climate and individual style of the shorts. Companies often make several pairs of women's running shorts each from a different material to compensate for different running conditions.
For cold weather climates, the layered pair of shorts is a good choice as long as the layers are made to keep moisture away from the skin, rather than trapping it. The moisture wicking properties of polysynthetic cloth works well for this, so a moisture wicking bottom layer, with an insulating cotton or wool middle layer, and a windproof outer layer works best. The outer layer should be made from synthetic fibre that contains a light but close knit.
For warm weather, it is important for a pair of women's running shorts to breathe. They need to be light and loose enough to let air flow through, but not loose enough to chafe or stick to the skin. For the average pair of warm weather shorts, breathing synthetic materials work the best. Unlike the tight weave of a waterproof or windproof pair of shorts, warm weather shorts should be a light weave to allow air in and water out.
The materials that a person wants to avoid in running shorts are cotton and cotton blends. These cause excess chafing and can cause a person to become very sore. Wool is another material from which running shorts should not be made, unless it is a soft wool used for an outer layer. Wool, although warm, can cause chafing like cotton. It is not suitable for an inner layer.
Sizing Women's Running Shorts
The size of women's running shorts is very important because a pair of shorts that is too tight or too loose can cause pain, rubbing, chafing, and general soreness. No matter what the material, if the shorts are not sized correctly, they can become uncomfortable very quickly.
To size shorts, a person must take three measurements. The first measurement is the waist. This is the narrow part of the torso. A tailor's tape measure is wrapped around the waist to obtain this measurement. The next measurement is around the hips. Finally, the last measurement is from the groin to the knee or where you want the shorts to end. The size of the shorts is calculated by taking these three measurements and comparing them to a size chart.
| Size | Numeric Size | Waist (cm) | Hip (cm) |
| --- | --- | --- | --- |
| Extra Small (XS) | 6 - 8 | 90-95 | 88-93 |
| Small (S) | 10 | 100 | 98 |
| Medium (M) | 12 | 105 | 103 |
| Large (L) | 14 | 110 | 108 |
There are many different sizing charts available. When purchasing any name brand shorts, most of the companies have their own size charts so take your measurements with you and ask for a size chart. If you are shopping online at a website, like eBay, then there are charts available or you can ask the seller for the measurements of the shorts.
Buying Women's Running Shorts on eBay
When buying women's running shorts, eBay can be a good resource. They have a varied selection of different styles, conditions, and materials of running shorts. If you put the search term "women's running shorts" into the search bar and click search, the results show you which shorts are available. This may provide you with some ideas that may not have occurred to you.
A buyer can also take the opportunity to ask the seller questions about the products they are selling. This helps avoid confusion when it comes to size and fit of the shorts. Pay particular attention to the description of the shorts to make sure they are what you want. Another advantage to purchasing on eBay is the ability to see real feedback for the sellers. This can help you make a decision between two of the same products, which have different sellers. eBay also has sellers who are considered top sellers. This means that they have consistently offered high-quality merchandise and complied with eBay's strict policies.
Conclusion
Of the many things to be taken into account when purchasing women's running shorts, type, material, and size are the most important. These features can mean the difference between a comfortable run and a painful one. Comfort is the predominant factor when deciding on a pair of running shorts but there are other factors to look at as well. Many pairs have small pockets for change or ID, as well as elastic for a better fit. It is important to remember that the running shorts have to suit your needs. Some big name running shorts may not suit all of your running needs. eBay can provide a way to look at different features, different materials, and purchase a pair of running shorts that suit an individual style.
When buying running shorts, make sure to take a look at the environment as well. Running in shorts that are not suited to you or your environment can cause chafing and other problems. Although some of these problems can be circumvented by using powder or other aids, there is no substitute for good materials and a good fit.