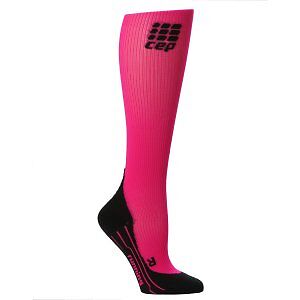 Socks are not just something that cover your bare feet, they are essential to foot health and good foot mechanics and can mean the difference between success and failure in any sport. While most runners do not concern themselves with the socks they wear, they should. Today, it is widely accepted that good running socks play an enormous role in performance. A good pair of running socks keeps the wearer's feet dry, and this prevents the formation of painful blisters.
Knowing what type of running sock to wear is an important piece of the puzzle when searching for socks. Whether you are buying them on eBay or at a brick and mortar shop, understanding the benefits and drawbacks of specific fabrics enables you to choose the right running socks for your needs. There are specific running socks that are made from materials that will protect a runner's feet against everything from blisters to mechanical injuries. Every female runner considers her choice of running shoes very carefully, but she should put as much effort into her search for women's running shoes.
Types of Running Socks
For running socks, the best style to wear is a crew sock. Be sure to find thin or double layer outdoor liners to wear in your running shoes. Socks that are mid-calf or over-the-calf are intended for sports such as skating, baseball, basketball and soccer, not running.
The exception to this rule are compression socks. Many marathon runners have started wearing compression socks to aid in blood flow to muscle tissue when running and aid in faster recovery times. Although many runners might think that these socks will make their legs feel heavy and suffocated, the opposite is true. Marathon runners have reported that compression running socks make their legs feel energised. If you have had any problems with foot or leg pain during or after running, consider buying a pair of compression socks to run in.
Running Sock Materials
Running socks are made from various materials. each type of material has its benefits and limitations. Specific fibres absorb moisture or repel moisture in different ways. Sock materials that keep feet drier prevent blisters and foot infections. Fibre composition has been found to have quite a lot to do with helping to dispel negative forces on the foot depending upon its composition and how it was manufactured.
Cotton Socks
Hydrophilic fibres absorb moisture away from the foot. Cotton fibres absorb up to three times more moisture than acrylic fibres, but at the same time cotton fibres swell, keeping that moisture locked inside the sock, close to the foot. When cotton socks are exposed to the air surrounding runners' feet, these have been noted to retain moisture up to ten times longer than acrylic fibres. Socks made from cotton fibres are much less able to keep feet dry because they retain moisture and swell, which then keeps moisture from wicking away and evaporating.
Acrylic Socks
When running, your feet perspire at a rate of one pint per foot, and with moisture of this quantity, no sock can it absorb it fast enough. This means that a runner need a sock that is able to wick moisture away from the foot and toward the shoe sole or upper. A wicking gradient is created when water vapour is funnelled toward the shoe upper where that vapour can evaporate, keeping the foot dry. Usually the lining of athletic shoes contains hydrophilic fibres that wick moisture from the sock as well. Acrylic socks are much better at moving moisture away from the foot and toward the shoe upper or sole. When you go running, you want to wear a sock that does not bunch or wrinkle. Runners socks should keep feet dry and protect against friction injuries. For all of these reasons, synthetic fibre socks rather than cotton fibre socks are the best choice for runners.
Socks made from a fabric like Coolmax are the best option for running socks. Coolmax is a synthetic material made of polyester fibres. Coolmax running socks are more breathable than natural fabrics such as cotton or wool, even though they are natural materials. The Coolmax fibres are unlike traditional material fibres in that they have an oblong rather than round structure. The importance of this shape it creates a capillary action that wicks moisture away from the foot.
How to Prevent Blisters
One of the most common and painful issues that runners contend with are blisters. Blisters are the result of sweating feet moving around in the shoe and rubbing up against the inside of the shoe. This friction causes painful blisters to develop. To minimise the formation of blisters, runners should wear socks that wick sweat away from feet, keeping them dry. As stated above man-made synthetic fibre socks are much better at preventing or minimising blisters than cotton or wool fibre socks. When selecting a pair of sock, a runner should consider the following tips for preventing blisters.
Do Not Wear Cotton Running Socks
Avoid wearing cotton or wool running socks. Choose synthetic socks such as those made from acrylic, polypropylene, or Coolmax. Running socks made from these synthetic fibres are better able to wick moisture away from your feet, keeping them drier and free of blisters.
Wear Double Layers
Double layer sock construction prevents blisters in two ways. The inner layer wicks moisture away from the foot, while the outer layer provides a second layer of cushioning that will pad the foot for added comfort.
Wear Padded Running Socks
Wear well-padded socks or two pairs of crew socks instead of one thin pair. If your feet feel uncomfortably tight in your shoes with the padded socks, you should get a larger pair of shoes rather than thinner socks. A good idea is to wear your padded socks when measuring for new shoes to ensure the correct fit.
Change Your Running Socks
Take a tip from marathoners and change your socks often. This one simple action will keep your feet dry when running a long race.
Find the Rub
One way to avoid getting blisters is to find any area on your socks where seams may be rubbing against your foot. It might seem like a good idea to wear tube socks as they have no seams, but in actuality, experts do caution against them. After all, your feet are not tube shaped, so why would you want to force them into a tube-shaped sock.
Buy High Quality Running Socks
Even though good running socks can be more expensive to buy, they last much longer than cheaper, low quality socks. You will actually save money in the long run. A really good quality running sock can remain in good condition up to 10 years. Consider buying several packs of running socks so that you always have a pair handy when you need them
There are a number of conditions that can affect your feet if you wear inferior or socks that are not means for running. These conditions affect various parts of your feet and can be painful and keep you from being able to perform at your best.
Toenails can be affected by bruising, fungal infections or thickening and curvature of the nail. Skin on the feet can form friction blisters, thicken, or develop painful corns or calluses.
Feet can develop bursitis, wasting away of the fat on your heels, inflammation of the spaces around the joints in the foot, or a variety of other injuries or conditions that are caused by a combination of pressure and shear related issues resulting from ill-fitting footwear. Wearing the proper running socks will prevent these types of conditions in most people. Just as you need to have the appropriate running shoes for your sport, you also need the right running sock.
How to Find Running Socks on eBay
To begin looking for running socks, type in "running socks" into the search bar at the top of any page on eBay, and you will be rewarded by hundreds of listings matching that search phrase. Of course, the more specific the search phrase, the fewer the results. You can always sort the listings and hone your search by selecting or deselecting various search filters. First specify the gender, and then sort the listings according to brand, colour, and material. You can also sort the listings to only show those posted by eBay top-sellers.
Top-sellers are those eBay member that have earned the highest feedback scores. This number is located next to their username in the item listing. If you need more information about the socks, simply contact the seller by looking for the contact link in their profile. Make sure to read the item description very carefully and ask any questions. You may not be able to exchange the socks if you buy the wrong size or socks that are not in fact running socks.
Conclusion
If you are considering buying running socks in any material, from cotton to CoolMax, remember to check the material from which they are made, the type of fibre and overall quality of the running socks before you buy them. Along with a pair of high quality running socks, consider buying a pair of running shoes to wear with them. You might want to consider buying a reflective vest to keep you visible and safe so that others can clearly see you when you are running in low light conditions.
Socks that provide excellent wicking qualities, great comfort, and support are not just a good idea, they are necessary for runners who want to avoid a variety of skin and muscle conditions that can be caused by ill-fitting and low-quality footwear. Although you can buy any kind of socks to run in, Coolmax socks or other acrylic fibre socks will provide the best protection and offer the highest level of comfort. Runners will find a huge selection of running socks and other accessories on eBay.