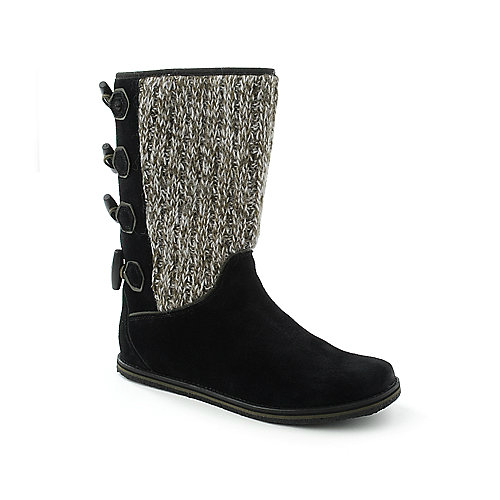 One of the more recent innovations in women's footwear is the slipper boot. These are boots made of softer material than most other boots. They can be furry, embroidered, or made with knit fabric and lined inside with soft material, like fleece or fur. They do not look as sturdy as other boots, which is why many people prefer to use them indoors, like slippers. It is also possible to use them for outdoor wear, however. They are excellent for cold weather when fuzzy slippers just do not suffice.
So when the weather starts to become a little chilly, it is good to know that slipper boots can be bought from any department store or shoe boutique. They can be found offline or through online shopping sites, like eBay. In order to make the best choices, any buyer wanting to save time and energy shopping for warm weather gear, like slipper boots, should understand the types of material available, the embellishments or other options possible, even the styles and how to size them.
Why Buy Slipper Boots
There are warm boots for cold weather; there are also warm slippers that serve well enough. So why buy slipper boots? For one, they are easy footwear to add patterns or coloured designs when compared to other kinds of boots.
Slipper boots are meant to be worn indoors, like ordinary fuzzy slippers. One of their advantages is that the boots extend past the ankle. Not that many people have problems with toasty toes and freezing ankles, but the fact is that the wearer remains warmer with slipper boots than ordinary slippers.
Slipper boots do not fall off the foot as easily as slippers. Some may say that there is little vigorous activity done indoors when it is raining or snowing outside so that is of little concern, which is true. However, when slippers get old, sometimes they just slip off when a person is walking or they drag off the foot and get left behind with every step. This problem is addressed and solved with slipper boots.
Options for Women's Slipper Boots
Women should not just purchase the first pair of slipper boots they see. There are a number of things to take into account before buying; things that make the purchase more satisfactory to the customer.
Material
The materials used in slipper boots are not that much different from those used in slippers. Natural fabrics are recommended, as they allow air to circulate more freely within the boot, allowing for natural insulation during cold weather and cooling air during warm weather.
Material

Description

Cotton

Comfortable and inexpensive

Easier to clean than other fabrics

Dense cotton fabrics do well for tougher boots

Thinner cotton needs additional lining to warm the feet

Suede

Soft leather used in many conventional outdoor boots

Not as expensive as full-grain leather and not as tough

Perfect for indoor slippers or slouchy boots

Requires additional material to line the interior of the boot to make it warmer and more comfortable

Sheepskin

Has the fur or fleece of the hide turned inward before sewn, immediately adding insulation and padding

Top-quality synthetic wools are just as warm, though without the high price of real sheepskin

Wool

One of the more readily available materials for warm clothing in history

Contains some moisture-absorbent properties, which make it great for keeping feet warm but not too hot

Knit Fabrics

Mothers have been knitting baby booties for decades

Wool and acrylic fibres are popular when knitting warm slippers

Knit slippers may have straps and buckles to keep them in place

Knit boots are warm and very comfortable on feet
There are a number of other materials that are used to make slipper boots, from the rubber or canvas of the soles to the suede or knit of the uppers. A boot may be warmer or cooler depending on the fabrics, it may also be possible to take slipper boots for walks if the soles are tough enough.
Soles
Slipper boot soles made out of rubber and other synthetic materials are common. Generally, stitched soles are better, because most slipper boots are for indoor use, the soles are generally soft and flat. Aside from rubber, felt and leather are also used for slipper soles, as is canvas. Choose soles that have a good grip on them or are made with materials that dissuade slips, but carefully choose materials that do not do damage to floors, such as wood floors, for instance. If the buyer prefers a thicker sole, there are soles that are made of sponge rubber or foam rubber.
Lining
Slipper boots are lined to provide more comfort to the wearer, in addition to increasing warmth. Sheepskin and fleece are popular linings because they do exactly that. Some manufacturers also line slippers with soft cottons or, for the more luxuriously-minded, silks. Some linings are thin and some are thick. Choose slipper boots with thicker lining when in colder climates so as to better protect the feet.
Quality
Quality does not only mean the grade of the materials, but the craftsmanship and design that went into the slipper boot as well; for example, the difference between lining that is sewn into the boot compared to lining that has just been stuffed between the outer material and the foot. In the latter, when the foot is pulled out, the lining may be dislodged at the same time, and the boot ruined. Check seams to make sure they are sewn and not glued, especially the soles. Also check the difference between wool lining, foam lining, and other materials.
Sizing a Slipper Boot
Many people prefer slipper boots that are a little loose, others prefer them to be a comfortably snug fit. Either way, knowing which size fits you is helpful. Sizes can be determined by measuring the foot and comparing it to various pre-determined data.
| Size | S | M | L | XL |
| --- | --- | --- | --- | --- |
| UK Size | 2.5 to 3.5 | 4.5 to 5.5 | 6.5 to 7.5 | 8 to 8.5 |
| EU Size | 35 to 36 | 37.5 to 39 | 40 to 41 | 42 to 43 |
| US Size | 5 to 6 | 7 to 8 | 9 to 10 | 10.5 to 12 |
| Foot Length (cm) | 22.8 to 23.5 | 24.1 to 24.8 | 25.4 to 26 | 26.7 to 27.3 |
Remember that when sizes or lengths do not correspond exactly, then choose the size that is larger. If it turns out to be a little too large, then wearing socks solves the problem while adding extra insulation. If too small, there is little that can be done. Also, one of the attractions of the slipper boot is its wearability. It can easily be slipped on and off, more so than any conventional boot. A slightly larger size can make taking the slipper boot on and off even easier.
How to Buy Women's Slipper Boots on eBay
The local shopping centre or shoe store can stock a selection of slipper boots in many designs, though if you want more variety then check online stores, like eBay, where it is easy to browse a larger array of the item for which you are searching. Simply navigate to any eBay page and type in your keywords. Typing in more specific terms, like "red sheepskin slipper boots for women" gives you results more relevant than just searching for "slipper boots". The latter is useful if you do not have a concrete idea of the type of slipper boots you want, because the results shown are every type of slipper boots available.
There are many kinds of embellishments and options for slipper boots; a less generic search term provides you with relevant colours, materials, or lengths.
You can also narrow down the results from hundreds or thousands to more manageable numbers by using the site tools to filter out items that you do not want. When shopping on eBay, remember to always evaluate sellers and products. Make sure to take note of shipping policies or return policies in case the item shipped to you is not exactly what you expected.
Conclusion
Slipper boots are soft boots that look bulky and are, more often than not, used as indoor replacements for warm slippers. They are one of the top choices for indoor wear during cold weather or rainy days. It is possible to find this footwear type in varying heights, from just above ankle-length to mid-calf length, and knee-length. As with most footwear, the buyer should remember to look for soles that are slip-resistant. Many soft rubber materials have excellent traction, while gentle on floors. While slipper boots are not generally outdoor wear, there are outdoor boots with similar designs, which are made of tougher materials.
For a buyer to acquire boots that provide both comfort and warmth, it is a good idea to do a little research into things like the type of material used to make the boot, or whether a loose slipper boot would be more comfortable than a snug one. Researching places to buy them is also helpful; they can be found in both offline and online stores. Try eBay for a wider selection of slipper boots, and more chances of getting exactly the boot design and colour you want.