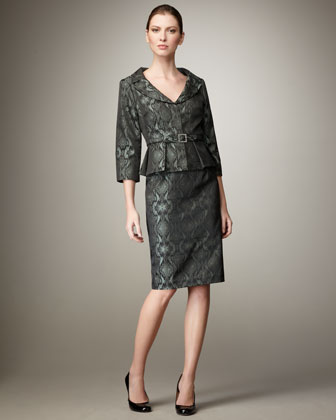 When a woman is searching for the right suit to buy, she is no doubt seeking out that perfect suit that exudes professionalism, sophistication, and is flattering to her figure. But the plethora of choices can prove daunting. A suit that fits perfectly and is priced just right can seem like something completely beyond your reach at times. Where do you start?
Dress suits, professional suits, and casual suits can all be found at high street shops that stock women's apparel, as well as charity shops or online venues. eBay has the largest collection of women's suits to choose from, making it easy and convenient to search for a women's suit online. Whether shopping for a women suit on the high street or online, a woman should consider every aspect of the suit, such as the style, whether it is a jacket paired with skirt or a jacket paired with women's trousers. There are also the the three-piece sets to consider. You should also keep in mind the fabric and tailoring, and know to choose the proper fit.
Types of Women's Suits
There are many different styles and cuts of suits on the market today. Therefore, having an idea of the type of suit you need is important. Look at different brands of suits and think about what type would best fit your body proportions and suit your personal tastes and style. The type of suits are skirt suits, pant or trouser suits, and three piece suits.
Skirt Suit
A skirt suit consists of a jacket and skirt, rather than a jacket and a pair of trousers. This type of suit is a twist on the classic pants suit, and presents a conservative and tailored look for a woman who want to broaden her wardrobe options while maintaining a professional look and feel to her clothing. Explore styles of skirt suits from slim skirts to full skirts, and choose from a variety of fabrics, colours and designs.
Trouser Suit
The classic and original women's trouser suit was fashioned after men's suits, with alterations to make them fit women's bodies better. A tailored suit is perfect for nearly any occasion, from a professional office meeting to a wedding. Wool trouser suits are standard for formal wear, however lighter fabric suits are appropriate for less formal occasions as well.
Three Piece Suits
If you are the kind of woman who likes variety and insists on a wardrobe that can accommodate that sentiment, a three piece suit consisting of trousers, skirt, and jacket, is perfect for you. As well as adding additional options to your wardrobe, buying a three piece suit set is less expensive than buying separate jacket and skirt or pants, and will ensure an exact match between the pieces.
Women's Suit Styles
You can choose a suit for any occasion, from a variety of colours and fabrics, and accessorise it with the right dress shoes, handbag, and even a smart hat. The styles for women's suits include professional suits, evening suits, and business-casual suits.
Professional Suits
If you have an interview with a potential employer, you should definitely wear a suit. Even if the office has a casual dress code, wearing a suit will present a professional image. Choose a dark colour wool suit, black heels and a light coloured blouse for a look that tells the interviewer that you are serious about getting that job. For a classy and professional look at the office, suits in solid and neutral colours are your best bet. A knee-length skirt suit is a very professional look as well as straight leg suit trousers. For the best look, pair a professional suit with a crisp white blouse and a pair of leather, heeled dress shoes.
Evening Suits
Women's suits are not just made for the office, some are created with special events in mind, such as weddings, dinner parties or a night at the theatre, all of which require a more elegant, sophisticated look. Choose a suit style that incorporates fabrics such as silk, satin, or taffeta, and one that has feminine detailing such as beading, larger lapels, or ruffles. You can wear a shimmering satin blouse and gold strappy heels with an evening suit for a look that will show off your excellent sense of style and good taste.
Business-Casual Suits
Although wearing a suit is more formal than everyday clothes, some suit styles are more casual than others. If you have an office dress code and need to find suits in lighter fabrics to wear in warmer weather, you can mix and match skirts and jackets or trousers in a variety of cotton or linen fabrics. Try wearing a white linen skirt with a blue silk blouse and blue wedge heels for a smart and office-appropriate look. Massimo Dutti offer a great range of smart yet casual items ranging from shirts to trousers.
Fitting and Accessorising a Woman's Suit
Choose a suit that has details that will complement your look. For instance, a double-breasted suit is more dressy than a single-breasted one, and tailored jackets with an inset waistline and wider lapels will help to emphasise your curves.
Cut and Fit
Any suit you choose should be comfortable for standing as well as sitting and fit you perfectly with no tugging or sagging. Your jacket should feel comfortable and lay across your shoulders smoothly. Make sure your jacket is long enough to reach your waist and hips, and your skirts and trousers should be loose enough that two fingers can fit inside the waistband.
Accessorising a Women's Suit
It is just as important to style great accessories in order to pull off a great looking suit. Choose a sunny yellow suit to wear with a white floral patterned blouse and white pumps. Perhaps chunky jewellery complete with earrings for a look that is utterly amazing for the office, as well as dining out.
Tips to Finding the Perfect Women's Suit
When you are looking for a suit to wear to work or for a formal occasion, follow these six easy steps to finding the perfect suit.
1. Choose the Style of Suit
Choose a skirt suit, trouser suit, or button to the collar style. If you wear suits often, consider buying more than one so that you never have to worry about what to wear when your suit is at the dry cleaners.
2. Select a Suit Colour and Pattern
Dark or neutral colours like black, navy and grey are classic choices for suits. If you would rather wear a patterned suit, be sure to look at the seams on the shoulders and lapel to be sure that the patterns line up.
3. Check for Wrinkle Resistance
Take the suit between your thumb and fingers and crush it to see if it will bounce back or wrinkle. If it wrinkles, a different suit would probably be a better choice.
4. Determine Jacket Length
A jacket that extends past the hips is a good idea. There are pocket options as well, such as besom, or slit, pockets for formal suits, or patch pockets for a more casual look.
5. Select Trouser Style
Cuffed leg trousers are a more formal look, while un-cuffed trousers will lend an elongated look to the leg. Choose a pleated trouser for a dressy and more formal look and to allow for a looser and more comfortable pair of suit trousers.
6. Test for Jacket Fit
If the collar of the jacket lies flat on the back of the neck or shoulders, the jacket is probably a good fit, but make sure that the shoulders are lightly padded and are neither too boxy nor too sloped. Sleeves should fall 2 cm above the tip of the thumb.
How to Care for Your Suit
Most suits will need to be dry cleaned, but because the chemicals used in the dry cleaning process can shorten the life of fabrics, try to dry clean your suit only when it really needs it, such as when it has a spot that needs lifting. You can steam clean in between dry cleanings to keep your suit looking neat. Never clean pieces separately, as you want the suit to wear evenly.
Storage
Be sure to hang your suit on a sturdy wooden or heavy plastic hanger to keep the suit's shape. Suits should be hung in such a way that they are not pressed by other clothing. This avoids any wrinkling. The more room you are able to give your suit in your closet, the less wrinkles you will have when you pull it out to wear. Wool suits are particularly susceptible to moths, but a cedar sachet will keep moths and other pests out of the closet.
How to Buy a Woman's Suit on eBay
To start your search for the perfect women's suit, type keywords describing what you are looking for into the search bar at the top of any page on the eBay website. For instance, if you type "skirt suit" into the search bar, the site's search engine will generate a results page that has all the current listing that match that description. Browse the listings or, if you are looking for a specific type of suit, such as a casual white skirt suit, you can narrow the search by typing in a more specific search query or using a generic search query and using various search filters to sort the results.
Be sure to go over the item descriptions of any suit you are interested in to determine if the suit is the correct size for you, what the seller's refund or return policies are, if any, and if the suit is new or used. If any of the information is missing, go to the seller's member profile by clicking on their name and then access their contact link to request information. If the suit listed is used, ask the seller for close-up photos of the suit that you can examine for wear and tear. While in the seller's member profile, you should review their feedback profile to see how other buyers have rated the seller's performance on eBay.
Conclusion
When considering a women's suit to buy, think about where you will wear it and how dressy your attire should be. If the occasion warrants a more formal look, choose a formal skirt suit with a white blouse and stylish heels. For a more casual occasion, select a skirt or dress trousers and a cute blouse to wear without a jacket. Make a statement with a grey wool pant suit and spiked heels with a silk blouse, because this look is not only stylish, but extremely sophisticated as well. No matter what the occasion, suits that are well tailored and made from the finest fabrics will allow you to put your best foot forward. Whether you are going for that all important first interview or for a night out at the theatre, choose a suit that is just right for that specific occasion. For the largest variety of suits from which to choose, eBay offers an extensive collection of skirt suits, trouser suits and suit sets of all sizes, colours, and designs.