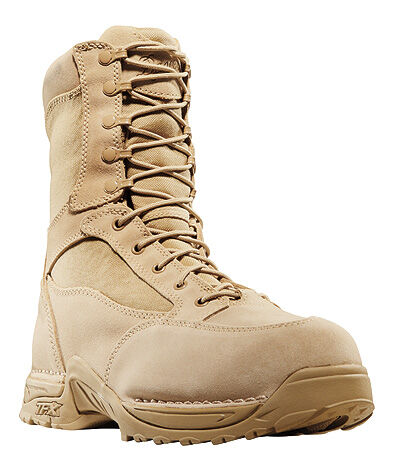 Women need to shop for work boots with the same mindset as men. Work boots are not constructed to look chic or stand out as fashion statements. They are constructed to protect the feet from water, heavy objects, electrical shock, and wet surfaces. The difference in women's work boots depends upon the primary objective of the protection. Women who work in road construction crews need work boots that protect against heavy objects and possess the flexibility to provide comfort for walking long distances. Women who work in hot, humid climates need work boots that absorb and expel sweat.
While the women's shoe section of major department stores may have the right work boots, women are better off shopping for work boots in person at a shoe store or a shop that caters exclusively to the heavy labour industries. Women should also consider shopping for work boots on the leading online auction site, eBay. Before shopping for work boots, women should consider how work boots are constructed, work boot fabric options, women's work boot features, and how to find the right size work boots.
Types of Work Boot Construction
Women who need a pair of work boots choose boots that have been constructed in one of three ways. Regardless of how work boots are constructed, they are all constructed to last a long time.
Stitch Down
As the traditional way to construct boots, stitch down construction stitches the outsole to the upper part of the boot. This type of work boots construction features a continuous stitch around the boot perimeter. Some companies require their workers to wear stitch down work boots, since they believe they are the most reliable of all work boots. This is the only work boot construction method that allows the boots to be resoled.
Cement Construction
Instead of stitches, cement work boots construction glues the boot outsole to the upper part of the boot. Hand stitching requires more labour, and thus, cement-constructed work boots cost less than stitch down work boots. The quality of cement-constructed boots depends upon the quality of glue used to secure the outsole. While highly durable, cement-constructed boots typically do not last as long as stitch down work boots.
Direct Attach
Also known as moulded construction, this type of work boots construction moulds the outsole directly to the work boot fabric. This creates an almost impervious attachment that gives work boots a long lifespan. Direct attach boots last longer than cement-constructed boots and they approach stitch down work boots in terms of reliability.
Materials Used to Make Women's Work Boots
Women need to consider the materials used to make work boots. Each material provides different levels of comfort, breathability, and durability. Work boots manufacturers blend materials to maximise the benefits of each material.
Nylon Mesh and Leather
This combination has become the preferred choice for constructing work boots. Nylon provides the strength required for work boots to withstand abuse and leather gives the boots their flexibility and breathability. Nylon mesh and leather boots are perfect for workers who toil in hot, humid climates. They are lighter and softer than any other material or combinations of materials. However, nylon mesh and leather work boots do not possess strong water-resistant properties.
Full Grain Leather
As the most expensive material used to construct work boots, full grain leather provides more foot support, durability, and water resistance than pure nylon work boots. This long-lasting material is worn by workers who walk long distances in harsh conditions. Full grain leather requires the longest breaking in period and it is not as breathable as the nylon-leather combination.
Waterproof Leather
Women who work around water choose waterproof leather work boots to keep their feet dry. Manufacturers coat waterproof leather boots with silicon to repel moisture. The boot seams are taped from the inside to prevent water seepage into the boots. On the other hand, silicon clogs boot pores, which drastically reduces the capability of the boots to breathe. Therefore, the capability to prevent water from soaking the feet is somewhat diminished by boots that cause sweat to build inside of the boots.
Waterproof Liners
Gore-Tex work boots contain a built-in waterproofing barrier that protects the feet from moisture. The liners increase the cost of the boot, but the cost is worth it since the boots not only repel water from the outside, but they also absorb and expel sweat that forms on the inside of the boots. Workers who spend time in standing water prefer Gore Tex waterproof liners.
Features of Women's Work Boots
The features that women choose in their work boots depends on the type of environment in which they work. Water company workers want boots that resist moisture. Excavation employees wear boots that prevent rocks from injuring their feet and toes. Some work boots incorporate features that both protect the feet from injury and prevent water from entering the boots.
Boot Toe
The tip of work boots should protect the toes from injury. Work boots differ in their level of protection. Tempered steel toe caps exceed government standards for impact and compression. Steel can endure the impact from heavy objects that fall significant distances. Manufacturers have developed steel toe work boots that can also provide the flexibility needed to walk up steep inclines. Women can also wear work boots made with lightweight, non-steel materials that do not trigger metal detectors.
Water Resistance
Gore-Tex is just one fabric that manufacturers utilise to bolster the waterproofing properties of work boots. The outer layer of this fabric prevents water from entering boots and its microporous structure encourages the body's natural cooling process, which allows perspiration to evaporate. Another waterproof alternative is to insert waterproofing membranes that absorb internal moisture, while providing the same water resistance properties as Gore-Tex fabric. Waterproof membranes, also referred to as Sympatex, are the cheaper way to provide water resistance.
Shock Resistance
Workers who repair or renovate electrical systems should wear boots that prevent electrical currents from entering the boots. Moreover, women who deal with disaster relief should protect themselves with electrical hazard boots. Manufacturers insulate electrical hazard work boots to repel electrical charges up to 600 volts.
Non-Skid
Slip-resistant work boots are mandatory for women who work in commercial kitchens and in water treatment plants. This type of boot features specially constructed soles that provide traction on wet or oily floors. Vibram soles ensure maximum traction in high temperature work environments. This sole is also recommended for slip-resistant work boots to increase longevity.
Finding the Right Size Women's Work Boots
Women should treat a work boots fitting the same way they treat other types of shoe fittings. First, slide one foot all the way forward into the boot. The middle finger should comfortably slide down to touch the heel. Move the foot into a secure position, and then lace or buckle the boot. The boot should be snug enough to secure the ankle, but not too tight to create pressure points that can lead to injury. Walk around the store for a few minutes and then ask the salesperson if you can take a walk outside. Work boots need to be flexible enough to navigate hill terrain and sharp turns. Neither heel should move more than a half of an inch and toes should not touch the front of the boots. Any discomfort requires women to change sizes until the correct size is discovered. Buying a heavily insulated work boot means women should purchase boots that are at least a half-size larger. Here is a general women's foot size chart to use a reference.
| Size | Centimetres |
| --- | --- |
| 2.5 | 22.8 |
| 3 | 23.1 |
| 3.5 | 23.5 |
| 4 | 23.8 |
| 4.5 | 24.1 |
| 5 | 24.5 |
| 5.5 | 24.8 |
| 6 | 25.1 |
| 6.5 | 25.4 |
| 7 | 25.7 |
| 7.5 | 26 |
| 8 | 26.7 |
| 9.5 | 27.3 |
| 10.5 | 27.9 |
| 11.5 | 28.6 |
| 13 | 29.2 |
Shoe sales professionals, especially those who carry an extensive line of work boots, recommend that women wear two pairs of athletic socks or one pair of wool socks to ensure the feet do not become too constricted inside of the boots. The sock fitting system promotes strong blood circulation in the feet.
Buying Women's Work Boots on eBay
eBay is the best shopping option for women who know which size of work boots to buy. Some eBay sellers offer mint condition work boots because they either bought the wrong size or have shoes that lack the features they need in a pair of work boots. To find the right work boots for you, type keywords into eBay's search engine. Use specific keywords that eliminate search results that do not meet your shopping criteria. For instance, type "leather women's work boots" or "waterproof womens work boots" to reduce the amount of time you spend performing an eBay search.
Buy work boots from one of eBay's Top-Rated Sellers. These sellers have earned strong reputations for offering superior products at reasonable prices. eBay places a ribbon icon by each of their sellers' product photographs. You can also review seller customer feedback that appears within seller product pages. Look for sellers who have garnered positive feedback over the past year and preferably have received some positive feedback for selling some type of women's boots. Moreover, look for eBay sellers who offer at least a 30-day window for returning work boots.
Conclusion
Women who work in industries that present the potential for foot injury need to wear work boots that protect their feet. The type of work boots chosen depends upon the type of work performed. Women who help construct tall buildings need work boots that are slip-resistant, flexible enough to bend in small spaces, and impervious to impacts from heavy objects. On the other hand, women who work in agriculture wear boots that are both water-resistant and possess the capability to absorb and expel internal moisture. While the method of construction plays a small role in determining the effectiveness of women's work boots, the materials used to construct work boots should be a woman's primary concern.
Technology has enhanced the utility of work boots and experts expect that technology to further improve the design and construction of work boots in the future. Look for women's work boots to incorporate all of the features that determine which type of work boots women should buy. Women should be able to find affordable work boots that have lightweight synthetic toes, slip-resistant soles, electrical shock prevention capabilities, and waterproofing protection. Just do not expect women's work boots to offer chic colour or pattern designs.