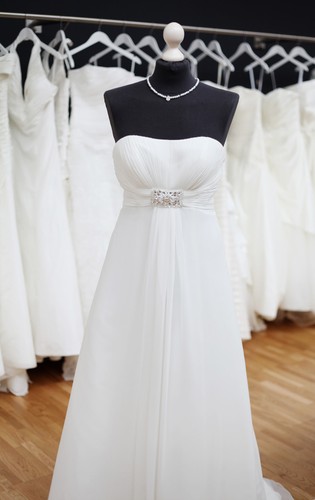 A wedding dress might be worn only once, but the memories created of it will last forever. A wedding dress, therefore, must fit the body perfectly, show up beautifully in photographs, while all fitting within the bride's budget. There are many different ways to classify wedding dresses, whether according to their fabric, length, neckline, sleeve shape, and silhouette. The combination of all of these create a wedding dress that is best suited to the bride's body.
You can actually find your dream wedding dress online. eBay can be considered the ultimate bridal shop because it brings brides and sellers from all over the country and the world together in one online venue. However, you need to be aware of the various factors that affect the choice of wedding dress. You also need to set your budget before you start shopping, so that you can buy your dream wedding dress without breaking the bank.
Factors That Determine the Choice of Wedding Dress
A wedding dress does not exist outside of the wedding itself. It needs to suit the occasion, the theme, and the budget. The following section lists these important factors in detail.
The Dress Code and Theme
Both church and beach weddings are popular, but each has a different feel. For instance, a ball dress might be suited for a church wedding, but would look ridiculous on a beach. A train would set off a church wedding grandly, but that same train would just get in the way at a beach wedding. Moreover, some churches and religious venues will be strict about the design of the wedding dress, so this needs to be considered before a purchase is made.
Bridal Accessories
The bride's bra, underwear, shoes, jewellery, and veil all need to go together with the dress. While some bridal shops might offer these accessories readily, there might not be the same advantage when a bride makes the purchase online. A wedding dress will need to be compatible with all the bride's accessories in order to create a pulled together look
The Dress Budget
Brides are often advised to set their budget before shopping for a dress. This will allow them to narrow their search easily, so that even if they do find a dress that has the right theme, look, silhouette, and cut, they can find alternatives that will fit their budget. That is, they can ask for alterations, less expensive fabrics, and less detail that could still allow the bride to buy and use the same dress.
Classifying Wedding Dresses
Like other dresses, wedding dresses can be classified according to their cut, necklines, sleeve styles, sleeve lengths, and other characteristics. Each of these features needs to be considered along with the bride's specific body type.
Dress Silhouette
The silhouette is the overall shape of the wedding dress. Certain dress silhouettes flatter certain body types more than they do others. An A-line dress is shaped like an 'A', with seams running down from the waist or shoulders to the bottom of the dress. The bodice fits the body closely, making this silhouette very popular amongst contemporary brides.
A column dress suits modern weddings, and follows a bride's curves. It will suit tall, thinner, or smaller brides. On the other hand, a mermaid wedding dress silhouette will the hug the body even more closely, with the dress flaring out at the bottom. This shape certainly accentuates the curves on curvaceous brides. Finally, the fishtail is similar to both column and mermaid dresses, but will have more fabric at the back, which fans out.
A ball dress suits more traditional weddings, and will consist of a fitted top, and a full skirt. It suits a wide range of women's figures. Also suited for traditional weddings is the empire line, which is cut below the bustline and goes down in a column. It is a look suited for smaller busts, slimmer figures, and even pregnant brides.
Sleeve Shapes
Traditional weddings might favour sleeves such as bell-shaped ones, which fit the arm and then flare out to the wrist, Juliet sleeves, which puff at the shoulder and fit through the arm, and balloon sleeves, which are large on the upper arm, but fitting in the lower arm through to the wrist.
Modern, chic wedding dresses work better with cap sleeves, which cover the shoulders, and short sleeves, which go till the upper arm. Both these styles work well with brides with well-toned arms. Elbow-length and three-quarter length sleeves are suitable for modern weddings and for the the bride with less-toned upper arms.
Wedding Dress Fabric
Heavier fabrics can mean more expensive, but hotter dresses. Brocade and velvet are suitable for period-theme weddings, where dresses need heavier skirts and trains. Silk is slightly lighter, but flows better. Lighter fabrics include crepe or georgette, which have a softer flow. Duchesse satin is strong but not as heavy, and is the most common material for wedding dresses, especially when beading is required. Tulle is a lighter mesh, and although it can complement heavier fabrics like satin, it is not as fine as chiffon. For a stiffer look, organza can be used, especially to add a shimmer to skirts.
Necklines of Wedding Dresses
Necklines need to accentuate the bride's assets without making a bride look vulgar. Larger bustlines, for example, are suited to a 'V'-neck. Smaller bustlines work well with jewel and spaghetti strap necklines. Medium bustlines are best accentuated, on the other hand, by a Queen Anne or sweetheart neckline. Necklines such as the square, bateau, asymmetrical, and scoop are suitable for all brides. A halter top, in particular, is best for a bride with good shoulders. The same is true with off-the-shoulder and strapless dresses, although this type is best suited for medium or large-chested women.
The following table conveniently summarises and compares the different fabrics, silhouettes, sleeve lengths, and necklines.
| Wedding Theme | Fabric | Silhouette | Sleeve Length | Neckline |
| --- | --- | --- | --- | --- |
| Classic/Traditional | Silk, chiffon, crepe, georgette, tulle, organza | A-line, ball gown, empire line | Bell-shaped, Juliet sleeves, balloon sleeves | jewel, sweetheart, square, bateau, scoop, off the shoulder, strapless |
| Period | Brocade, velvet | Ball gown, empire line | Juliet sleeves | Queen Anne, square, bateau, scoop |
| Modern/Chic | Duchesse satin, chiffon, organza | Column, mermaid, fishtail | Cap, short sleeves, elbow length, three-quarter length | V-neck, spaghetti straps. asymmetrical, halter, off-the-shoulder, strapless |
This table is by no means complete or exhaustive, but it can still help narrow down a bride's choices, especially when she has to search for and purchase a wedding dress online.
Finding a Wedding Dress on eBay
Before you conduct your search on eBay, try on wedding gowns in a brick and mortar store. Look at what specific size fits you, and what necklines, silhouettes, and sleeve lengths suit your body type. Take note of the dress prices so that you can properly set your budget. Take your accessories with you as well in order to create an overall consistent look. When you have some candidate gowns, then you can start your search by visiting the main eBay site.
In the search window, type the search query 'wedding dress' or 'wedding gown' but supplement it with specific types. You can add a specific designer, if you already have a specific designer in mind whose styles you like. If you already know your dress size, you can also add your dress size to the search query. Finally, if you have a specific fabric, neckline, silhouette, or even sleeve length in mind, then you can type it into the search window in order to narrow your search beforehand. You can try, for instance, a search phrase like 'bateau wedding gown size 4'.
If you use the generic search query 'wedding gown' you can hone the search by selecting one or several search filters found on the results page. You can select the specific dress size that you want by ticking the corresponding boxes. You can also select wedding gown designers by ticking their corresponding boxes. You can choose whether to filter the search to include only new, or only used wedding dresses.
Conclusion
A wedding dress might be used for just a few hours, but it must be beautiful enough to make the memories last forever. A wedding dress needs to fit a woman's body well, but it must also fit her budget, work with her accessories, tie in with the overall theme, and suit the location of the wedding. A combination of all these factors go into deciding which wedding dress to purchase. For example, a bride looking for a contemporary dress should consider a column or mermaid dress made from duchess satin, with cap or elbow length sleeves, depending on how much of her arms she would like to show.
The eBay marketplace can provide many different choices of wedding dresses, spanning the range of sleeve lengths, fabric, necklines, and silhouettes, as well as sizes, themes, colours, and even brands and designers. With a wide selection of wedding dresses on offer, the eBay marketplace helps a bride save time and money.