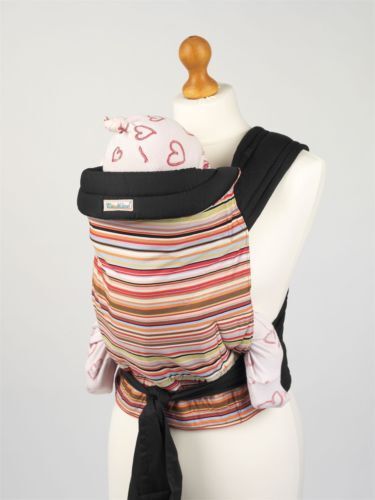 Baby slings, wraps, and other types of carriers have been used around the world for a very long time. Traditionally, women used the carriers to hold their babies safely and close to their bodies while going about their daily business. In more modern times, 'babywearing' has gained popularity in part due to people following research showing that babies who are held develop a stronger attachment to their parent and that babies who are held more cry less. Other parents choose baby carriers or slings for a practical, hands-free way to hold the baby while getting other things done. There is a large number of different options for baby carriers or slings and a number of things to keep in mind when choosing between the two. First of all, there are a multitude of carriers to choose from. Secondly, each type of carrier or sling has benefits and downsides in terms of positioning, comfort, and how much weight can be carried. Finally, there is safety and research on proper positioning to consider.
Different Baby Carriers
Sling , wrap, pouch, hip carrier, backpack are all different types of baby carriers. Each type of baby carrier has certain features to consider. Not only are there different types of carriers, but there are many different brands. Buyers should know the features of the main types of slings and baby carriers available as well as some of the more well-known brands to make a wise purchase decision.
Slings
A sling is a wide piece of fabric that is worn across the body and over one shoulder. They give you the ability to wear the baby close to the body, and can even allow you to discreetly nurse your baby. Slings can come padded or not, and with or without rings for adjustment. Slings come as pouches that are fitted to the body or with an adjustable ring. One factor to keep in mind when considering slings is that carrying the weight of the baby on one shoulder can quickly become uncomfortable as the baby grows. You may also want to look at the advice from different agencies about the safety of different types of slings and the best position for babies that do not have muscle control yet.
Wraps
Wraps are a variation of baby slings. They are long, wide pieces of fabric that are draped over the body in different configurations. They can be worn as backpack carriers, or in a front carrier design. In certain configurations, wraps can be used similarly to slings and can also allow you to breastfeed discreetly. Although wraps are very versatile, they can take some time to learn how to put on and take off. It may take time to learn how to place a baby in a back carry without help. Also, wraps may not be comfortable for carrying children older than infants since the support depends on the wrap style and they do not have any padding.
Baby Carriers
Baby carriers, or baby backpacks, come in many different styles. In general, they allow users to carry a baby on the front or on the back. The weight of the baby can be placed on the shoulders or hips of the adult, depending on the design of the carrier. The different types of baby carriers include backpacks, front carriers, and wraps. Each of these designs has its own benefits that may be of interest to caregivers.
Backpack and Front Baby Carrier
A backpack and a front baby carrier have similar features. Both have two shoulder straps and a seat for the baby. They are strapped close to the body. Newborns face inward toward the body for extra neck support, while older children can face outward. Some carriers, such as the Ergo, can be worn on both the front and the back. If you are considering a front or backpack style carrier, consider looking for one that has specific newborn attachments or inserts for extra support. While many carriers have buckles and straps, there are some, such as Mei Tais, that have pieces of fabric that can be tied.
Brands and Price Ranges
Prices for baby carriers and slings can vary widely and depend on whether they are purchased new or used. As babywearing has regained popularity, certain brands of baby carriers and slings have become more commonly known. These brands may have started out with just one type of carrier but have evolved to have several types, including wraps and slings.
| | | |
| --- | --- | --- |
| Brand | Types | Price Range |
| Ergo | back and forward carriers | expensive to very expensive |
| | back and forward carriers | moderately priced to expensive |
| BabaSling | slings | cheap to moderately priced |
| Maya | wrap | moderately priced to expensive |
| Mei Tai | wrap or sling style | cheap to moderately priced |
The above are only some of the brands of baby carriers and slings that are available to the public. There are other brands on the market, each with its own types and ranges of carriers. The above information is simply meant to help narrow down the number of baby carriers and brands to consider.
Baby Carrier vs. Sling Features
When looking for a baby carrier or a sling for your child, there are a number of different features to consider. While reading reviews of products can give you a good idea of what a product is like, it is also important to consider how you will use some of the features. You can always try a few different styles of carriers or slings in a shop or borrowed from friends before making a purchase.
Besides looking at safety of carriers, comfort can mean the difference between using a carrier and leaving it on the shelf. Padding, wide straps, and adjustable sizing are all features that can make a carrier or sling more comfortable. It is also possible to find larger sizes in some models of carriers so that a taller or larger caregiver can be more comfortable. At the same time, you should also look at features that might make a carrier or sling more comfortable for your baby. Look for breathable fabric and a padded headrest or newborn insert. A baby can get very warm next to a caregiver's body, even on cooler days. Padded leg holes can make your baby more comfortable since much of his or her weight will be resting on the bottom and legs.
In addition to specific features, there are some general advantages and disadvantages to both slings and baby carriers. Versatility, weight limitations, weight distribution, and ease of breastfeeding for mothers are all considerations when making a final decision. Some of the advantages and disadvantages of both types of babywearing devices are summarised below.
| | | |
| --- | --- | --- |
| Characteristics | Baby Carriers | Slings |
| Versatility | Many carriers can be used front facing or backpack style; wraps can be configured in many different ways | Can be used over one shoulder or to sit the baby upright, close to the body |
| Weight Limitations | Can carry children up to 18 kg | Generally used for smaller children in first months |
| Weight Distribution | Over shoulders, middle, and sometimes on the hips | Over one shoulder |
| Ease of Breastfeeding | Usually not possible | Easy for practiced mothers |
| Adjustability | With straps and clips for quick adjustment | Only some with rings or ties are adjustable |
| Safety | Generally safe with proper use of newborn inserts; choose ones with proper spine support and that allow 'squatting straddle' | Caution should be used with positioning for newborns; rings can slip, loosening fabric |
The advantages of slings or baby carriers depend on the individual intending to carry the baby. In addition to the general advantages and disadvantages, you can also think about how long you intend to use the product. Babies grow and gain weight very quickly in the first year. A carrier that is designed specifically for newborns may not be appropriate after a few months. Some caregivers choose to purchase a sling or wrap for a newborn and switch to a carrier for older babies. At the same time, some carriers are designed to be appropriate for newborns through toddlers.
Proper Positioning of Baby Carriers and Slings
There has been much research regarding the proper positioning of a baby in a sling or baby carrier. The main things to consider are the positioning of the legs and spine. Baby carriers and slings should allow babies to sit in a 'frog leg' or 'squatting straddle' position. The bottom should be lower than the knees in order to allow the baby's spine to sit in a curved shape. Baby carriers that try to straighten the spine can lead to spinal development problems.
Baby Carrier and Sling Safety
As with all baby products, if you are interested in buying a baby carrier or a sling you should check with the appropriate agencies for product safety advice. A quick Internet search can yield product information for baby slings and baby carriers. Product safety advice can come in the form of recalls, meaning the manufacturer either voluntarily or involuntarily accepts responsibility for fixing a defect in a product. You may also find advice about how to wear or use a product like a baby sling.
Buying a Baby Carrier or a Sling on eBay
Once you have decided on a baby carrier or sling, you can find a wide variety available on eBay. To start your search, you can enter baby carrier or sling in the search box on any page. You can further narrow down the search by ticking one of the filter options. If you know of a brand or type of carrier you are interested in, you can also search for a specific product such as 'Mei Tai' or ' hip seats'.
Once you have a listing for a baby carrier or sling in mind, you can inspect the listing carefully to ensure it suits your needs. Read the item description and inspect the photographs carefully. If there is any missing information or if you would like to see more images, you can always contact the seller. Used baby carriers and slings for sale are common. If you find a listing for a used carrier that you are interested in, make sure to check all photos carefully for signs of wear and make sure it is not a recall item.
Conclusion
Once you decide to wear your baby for any amount of time, choosing between a baby carrier and a sling can be a significant proposition. Besides the different types of carriers and slings, there are important factors to consider. Slings and baby carriers each have very different weight bearing capabilities. It is a good idea to check the manufacturer's recommendation for the maximum weight allowed in the carrier as well as consider the design.
Slings are typically more comfortable for smaller and younger babies while baby carriers that are front or backpack style can usually carry more weight due to wider distribution of the load on the shoulders and even hips. You can choose to wear your baby in a sling for the first few months, then move to a carrier, or purchase a carrier with in infant insert if you would like to use one device for a longer time. Features such as padding, straps, and breathable fabric are other factors to consider. Finally, you can always check the latest research on proper positioning for a baby in a carrier as well as the latest safety information. No matter what type of baby carrier or sling you choose, there is a wide variety to choose from on eBay.