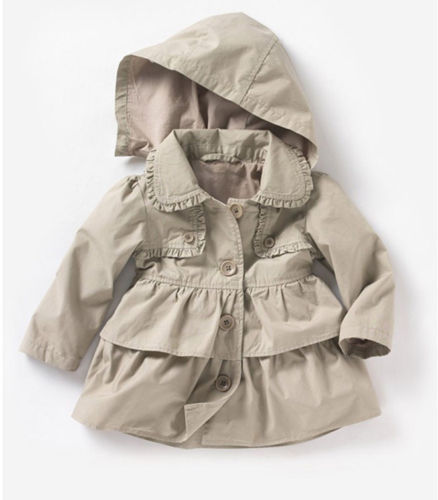 A coat is a necessary item of clothing for a baby girl when heading outdoors into the cold winter weather. Coats designed for baby girls come in all different shapes, sizes, thicknesses, colours, and styles. The type of coat that best suits a baby girl depends on her age, the buyer's budget, and the temperature.
Baby girls' coats are sold at specialty children's clothing stores, department stores, and second-hand or charity clothing stores. Also available for sale online, buyers can head to eBay to find a new or used coat for a baby girl. eBay has a wide selection of coats from all the major brands at competitive prices.
Learning about the different types of coat styles available for baby girls, the various fabric options available, and how to identify what size coat is best is necessary for buyers to make an informed purchase decision. It pays for buyers to identify how much they want to spend on the coat as baby girls' coats can vary significantly in price from brand to brand.
Different Types of Baby Girls' Coat Styles
Consumers have the option of buying their baby girl a coat for practical use, something to keep baby warm and protected against the cold weather, or buying a coat for how it looks. Before heading out to buy a coat for a baby girl, it is recommended consumers decide what style of coat they want.
Baby Girls' Coats for Warmth
When keeping baby warm in winter, a coat is an ideal top layer to protect the child from wind, rain, and snow. For comfort, it is best to keep a child warm and comfortable by using layers, with the top layer being a protective coat. Layers keep the child from overheating and feeling bulky and uncomfortable. Look for water resistant materials that are lightweight and soft against the baby's skin.
If taking the baby girl out into snow or very cold weather, a snowsuit may also be an option. Similar to a coat, a snowsuit is an all in one outfit that also covers baby's legs and feet.
Baby Girls' Coats for Look
Coats for baby girls come in a range of colours and styles. When the weather is not too extreme, a coat that is designed more for its cute look and comfort may be something buyers are looking for. These types of coats often feature lovely patterns, buttons, and cute frills. Be sure to consider the coat's safety, ensuring that the fabric is soft and that there are no loose buttons, decorations, or closures that may be considered a choking hazard. Coats designed for look are usually thinner and less bulky than thick winter coats.
Choose a Baby Girls' Coat Fabric
The type of coat fabric one chooses affects how warm, waterproof, comfortable, durable, and expensive it is likely to be. Each type of fabric also requires different care and maintenance to keep it clean and in good condition.
Woollen Baby Girls' Coat
Woollen baby girls' coats offer warmth, comfort, and breathability. Soft against baby's skin, a woollen coat is ideal for use in cold weather. Coats with woollen inner lining and waterproof outer lining protect the baby from wind and rain. When considering a woollen coat, buyers can choose between 100 per cent wool and wool blend fabrics. It is important to note that woollen fabric coats tend to be more expensive than other types and may require special care and maintenance to keep clean.
Cotton Baby Girls' Coat
A popular choice of fabrics, cotton coats for baby girls are lightweight, comfortable, breathable, and soft against baby's skin. One hundred per cent cotton coats are more expensive than cotton blend coats and more likely to shrink and wrinkle compared to cotton blend or polyester fabrics. If considering cotton knit fabrics, be aware that they can shrink quite significantly.
Polyester Baby Girls' Coat
Polyester baby girls' coats are inexpensive, durable, and less likely to shrink or wrinkle. Polyester coats can be heavily insulated and ideal for cold temperatures, or lightweight and ideal for those brisk autumn days. One of the benefits of a coat made from polyester is that there are so many fabric colours and patterns to choose from.
Find the Right Baby Girls' Coat Size
Babies grow quite fast and, although the baby may only get one season's wear out of their coat, it is important to get a coat that fits correctly. A properly fitting coat provides comfort and safety for the child. When looking for the right sized coat, buyers should be aware that baby clothing is usually sized by the child's age. The following table provides a list of the general baby clothing sizes for baby girls' coats.
| | | |
| --- | --- | --- |
| Size | Weight | Height |
| Newborn | 2 kg to 4 kg | 25 cm to 51 cm |
| 0-3 months | 4 kg to 6 kg | 51 cm to 61 cm |
| 3-6 months | 6 kg to 8 kg | 61 cm to 66 cm |
| 6-9 months | 8 kg to 9 kg | 66 cm to 71 cm |
| 12-18 months | 9 kg to 10.5 kg | 71 cm to 76 cm |
| 18- 24 months | 10.5 kg to 12 kg | 76 cm to 84 cm |
| 24 months plus | 12 kg to 13 kg | 84 cm to 91 cm |
The above table is only a guide, and buyers should be aware that sizing can vary significantly between brands. Many parents like to purchase baby clothing one size up from the baby's current age. For example, some choose to buy a size 6 to 9 month size for a baby that is 3 to 6 months of age. This allows the baby to grow into the size and get maximum use out of the coat.
Decide on a Budget
Baby clothes can be expensive to buy, especially considering children grow out of them so quickly. Often, a coat may only last one season before it is too small for the baby to wear. As the baby gets older, the child may get two season's wear out of their coat. For this reason it pays for consumers to have a budget in mind of how much they want to spend on a coat for their baby girl. Buyers always have the option of purchasing either new or used baby girls' coats .
Moderately Priced Baby Girls' Coats
When looking for a moderately priced baby girl's coat, consider less expensive materials like polyester, microfibre, and other synthetic fibres. These fibres offer good value for money. Brands such as George, Mothercare , and BHS offer good quality coats that are inexpensive. Next, Marks and Spencer , and Gap coats are stylish, moderately priced, and offer good value for money.
Designer Baby Girls' Coats
For the consumer who does not mind how much money they spend on a coat may like to consider designer branded coats, such as Burberry, Monsoon, Ralph Lauren , or Ted Baker . Designer baby girls' coats are made with top quality fabrics, designed with style, comfort, and safety in mind. They are durable and stay looking in top condition even after much wear. Although designer coats are expensive to purchase, they can make a lovely gift for that special baby girl.
Find a Baby Girls' Coat for Sale on eBay
Finding coats for sale on eBay is easy. You simply type ' baby girls' coats' into the search bar on eBay's home page to see an overview of what is available. Because there are some many items listed for sale, it helps to narrow down your search criteria to something more specific. eBay allows you to search by coat size, brand, colour, pattern, material, condition, or price range. If you know exactly what type of baby girls' coat you need, such as a Ladybird size 12-18 month baby girl's coat , you can also find it using the search bar option.
To make your buying experience more enjoyable, eBay offers eBay Mobile, an application for Android, Apple, Blackberry, and Windows Phone users. With eBay mobile applications you can shop anywhere anytime from your mobile device. You can keep updated with your eBay alerts, messages, and notifications through your Smartphone or iPad so that you do not have to miss out on that great deal. Easy to access, the mobile application is quick, simple, and free to download.
Conclusion
Consumers choose to purchase baby girls' coats for many different reasons, whether it is as a gift or as part of their little girl's winter wardrobe. Some buyers want a coat that provides protection from cold wind, rain, and snow, while others want a small, stylish coat that looks cute on their little girl. Buyers have the option of choosing what type of fabric they want the coat to be made from. Popular fabrics include wool, cotton, and polyester. Each type of fabric varies in quality, durability, thickness, and cost. Moreover, finding the right sized coat is important for baby's comfort and safety and in order to stick to a budget, buyers are recommended to identify how much they want to spend.
eBay provides a useful online buying experience for those looking to purchase a new or used baby girl's coat. They offer buyers secure payment methods, reputable sellers, and various delivery options, as well as a number of useful buying tools to help make the buying experience on eBay and enjoyable and cost effective one.