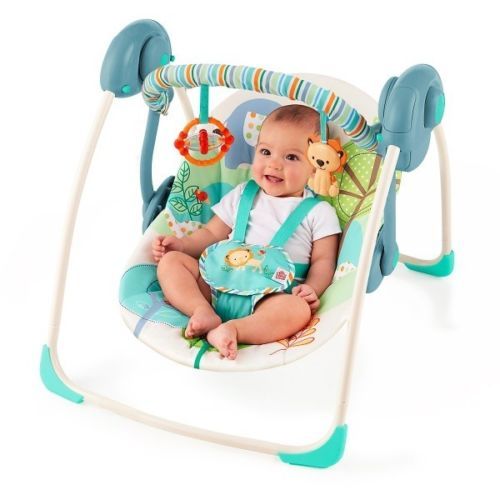 Parents use baby swings to soothe their babies to sleep. The swing works by gently rocking the baby back and forth, mimicking the repetitive rocking a baby experiences while in its mother's womb. A parent instinctively adopts this rocking motion when soothing their child and many parents choose to rock their babies to sleep themselves, but when mum needs a nap, the baby swing is on hand to take over rocking baby to dreamland.
The essential components of a baby swing include a comfortable seat, with a harness to hold the baby in place, and a frame. The seat and harness hangs suspended from this frame. The rocking motion is either driven by a battery-powered motor or a hand-wound mechanism.
Baby swings come with myriad features, including lullaby players, and variable rocking motion and speed settings. Most baby swings cater to the needs of the newborn, but many swings include features that allow the parent to adjust the swing to accommodate an older baby. Like all equipment used for babies, swings come with safety harnesses and crotch posts to prevent babies from falling out of swings.
Many parents today shop on eBay for baby swings. To conduct an effective search on the site, you should consider what features of the baby swing are essential and what features may be helpful but are not necessary. The type of features and the number of features a baby swing has affects its price.
Conducting a Keyword Search on eBay
eBay's local search engine is very easy to use. You start by typing in the phrase ' baby swings ' into the search bar on the eBay home page,, and then hitting the 'send' button. The more specific your search query, the fewer listing the search engine displays on the results page. It is recommended that you begin with a generic search query and then using additional keyword searches and search filters to sort the results until you find the right baby swing for your baby.
Types of Baby Swings
Baby swings fall into two broad categories, being full-sized baby swings and portable baby swings. They should both achieve the same objective of safely soothing the baby, but while one type of swing places more of an emphasis on sturdiness, and the other emphasises maneuverability.
Full-Sized Baby Swings
Full-sized baby swings are intended for use indoors, where they are set up in one location and left in place. This type of baby swing emphasises sturdiness over portability. It takes longer to set up than a portable swing and is heavier. However, this type of baby swing has greater stability. This type of swing is powered by plugging the swing into a nearby wall socket. However, there are models powered by batteries or by manual winding. Many full-sized baby swings have mobiles or toy bars attached, offering baby greater stimulation. They are also more likely to have a wider range of variable speeds. A parent can often choose the swing motions too.
Portable Baby Swings
The portable baby swing is lightweight, and is designed to be moved around from one room to another, or taken along to a friend's house, or away with baby for the weekend. To make up for their relative lack of sturdiness, portable swings are designed to sit lower to the ground, which helps them maintain stability. Most are battery-powered, and some come with a simple wind-up mechanism. However, a buyer should be mindful of the fact that winding up a baby swing can prove to be a chore. The parent should look for a wind-up baby swing that only has to be wound once when baby commences her nap.
Features of Baby Swings
When shopping for a baby swing, a parent should consider the swing's design very carefully. Concerns about safety should be utmost in a parent's mind. The baby swing's design should allow for a low centre of gravity. This ensures that the whole swing does not tip over. The swing should also come with sturdy legs. An open-topped design is preferable, as such a design allows the parent to safely remove the baby from the swing without banging baby's head against the frame.
As competition in the baby equipment marketplace has increased, manufacturers are adding more and more features to what is in essence a very simple product. A parent looking for a baby swing therefore has a wide range of features to consider. Baby swings can range from no-frills swings at one end of the spectrum to all-singing models at the other. Below are some of the more popular features.
A Safety Harness
Used properly, baby swings are a fun and easy way to entertain or soothe a baby to sleep, allowing parents a few moments of well-earned rest. However, to prevent injury, every baby swing should include a safety harness to secure the child.
The harness should have an absolute minimum of three points of attachment. A safety harness with five points of attachments secures baby best, holding the baby in place, so making it impossible for baby to wriggle, climb of the seat, or fall out of the swing. There should also be some sort of crotch restraint, whether as part of the harness or as a separate feature.
Entertainment Features
Many baby swings now incorporate a selection of tunes or other sounds into the swing's electronics, ranging from soothing music to water sounds, such as crashing waves and bubbling streams. Along with these soothing natural sounds, many baby swings play assorted lullabies and classical music.
Hanging mobiles, activity bars, light displays and soft toys help to stimulate baby's mind and promote the use of his motor skills. Such features appeal to children three months and older. However, a younger baby may have difficulty in reaching the toys.
Variable Motion and Speed Settings
Some swings can have as many as six or eight speed settings. Although it is true that young babies prefer a slower rocking speed, older babies go off better with slightly faster rocking speeds. Three or four settings is probably sufficient. As the baby grows, its greater weight inevitably slows the swing down a little. Some babies like being rocked as though in a cradle, while others prefer being swung.
Age-Dependent Features
A very popular feature, in the sense that parents often appreciate it, is the ability to remove the baby seat from the swing altogether. It can then be used as a standalone carry cot. Bearing in mind that once the baby has reached a weight range of about 10 to 12 kg most swings are approaching their safe weight limit. Another age-dependant feature is the reclining seat. When the baby is young, the seat is best left fully reclined. As the baby grows, and becomes better able to sit up, the seat can be adjusted until baby is sitting upright.
Assessing Listings for Baby Swings on eBay
When a seller lists a baby swing for sale on eBay, they include a description of the swing and at least one photo. They also specify the buying method. You either need to participate in an auction or pay the seller's advertised price.
Read the item description and examine the photos very carefully. Does the baby swing look stable and sturdy? Is it easy to use? Does it have enough entertainment features to keep your baby amused? If the photos are not clear or you would prefer to see the swing from another angle, contact the seller through their profile page and request additional photos. The seller may have neglected to include some vital specification regarding the baby swing. If you have any questions about the swing, forward them onto the seller.
If the baby swing is listed as 'used', there are a few things you should bear in mind. At the top of the list is the age of the baby swing. New baby swings have been manufactured according to exacting safety standards. If the swing is a decade old, it may not sport many of the safety features that new baby swings have. You should also check online if a particular baby swing has ever been recalled and why.
Conclusion
Baby swings are a popular way of soothing and entertaining a baby. By reproducing the repetitive motion which babies instinctively like, a swing can be comforting. A typical baby swing has a seat which is suspended on a metal frame. Nowadays, many baby swings are battery-driven or mains-powered, although there are good wind-up versions, too. Safety is a very important consideration when choosing a baby swing. Therefore a baby swing must have a harness, with at least three and preferably five attachment points to secure the baby in the swing. Optional features include music players, toy and entertainment bars, and different settings for speed and motion direction.
eBay's breadth of choice, plus its easy to use search engine, makes finding the right baby swing a snap. To speed up your search, use a generic search query to begin with and then use various search filters and targeted keywords to sort through the listings.