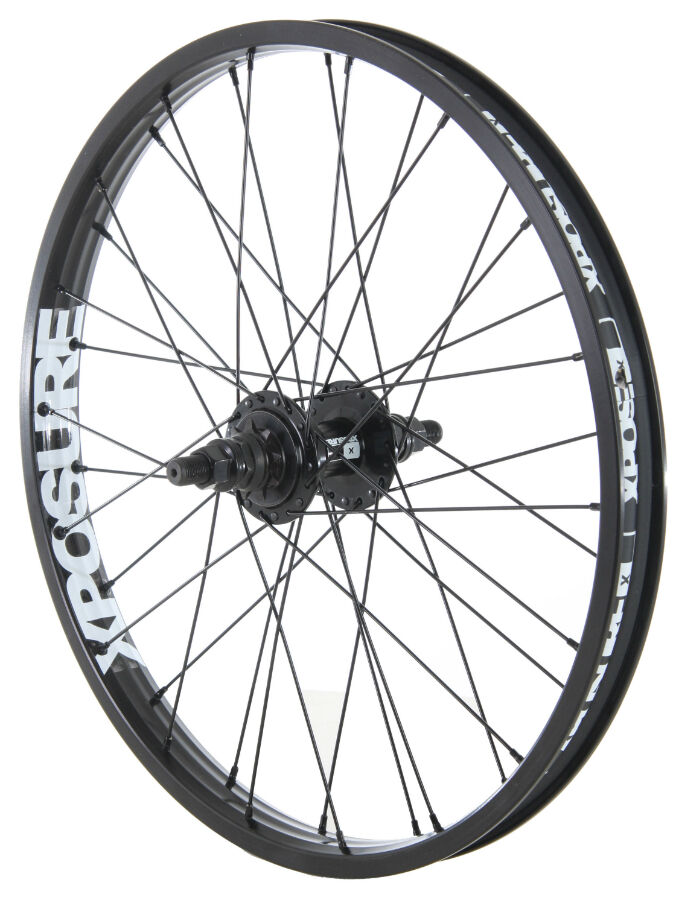 There are many different reasons as to why the purchase of a new bike rim would be necessary. Whether it's a replacement for a damaged rim, a desire for a more aesthetically pleasing bicycle or a wish to change the tyre size, eBay is a great place to search for and find what is needed at an affordable price.
With a variety of styles, specifications and designs, eBay has everything the modern-day cyclist could need in terms of bike rims. This guide will best explain how to utilise eBay and what it offers for those looking to purchase what they desire in a safe but efficient and affordable way.
Components of a Bike Rim
Bike rims, although historically made of wood, are now produced out of metal or in some cases, carbon fibre. Simple in design, they are used to help form and maintain the shape of the tyre as well as being used alongside rim brakes to provide a smooth parallel braking surface, with the brake pads press against the rim in order to slow the bike down. Below is a table that outlines the main components of the bike rim alongside a description of its function:
| Component | Function |
| --- | --- |
| Rim Frame | This is the metal hoop that provides the form and the structure of the wheel. Its size also determines the size of the tyres needed. |
| Spokes | Spokes are the metal rods placed in cross section used to connect the rim to the hub of the tyre. They are usually made from stainless steel but some high-end bike manufacturers use titanium, aluminium or carbon fibre. The spokes are attached to the rim by what is known as a 'nipple'. |
| Nipple | The nipple is a specialised nut used to connect the spoke to the rim. The most commonly made nipples are produced from brass or aluminium. They can also be used to adjust the tension of the spoke, depending on performance desires. |
Types of Bike Rim
There are a number of different options to choose from when purchasing a bike rim online and it is eBay which provides the largest variety at the most reasonable prices. Here is a list of the different types of bike rim one might come across whilst looking to buy online:
Clincher Rims Clincher rims are the most popular and most widely used rims for bicycles. The rims contain flanges and these interlock with the wire that runs around the edge of the tyre. These rims allow for the use of an inner tube which controls the psi (tyre pressure) as well as functioning as a lock between the tyre and the rim itself.
Tubular or Sew-Up Rims Tubular or Sew-Up rims, also known as 'sprint rims' in Britain do not have the flanges that clincher rims do. These rims require adhesive for the tire to be attached and are used in the majority for racing and sprinting bikes.
Tubeless RimsTubeless rims are, by the very implication of their name, rims that don't need or allow for an inner tube in order to retain the form and structure of the tire. These tubeless rims are becoming more popular with mountain bikers and off-road cyclists as they allow for a lower air pressure in the tire, meaning more traction without the risk of damaging the tire itself. However, these rims are harder to mount the tire upon and generally require the cyclist to carry a spare tube in case of a tyre puncture.
These are the three main types of bike rim you will come across when searching online, with eBay being a great place for specialist sellers who place a wide variety of styles on the market.
What to Consider When Buying a Bike Rim
When purchasing a rim for a bicycle it is always important to take into consideration which rim is most suitable for the bicycle itself. With a number of different styles of bicycles available on the market, it may be difficult to work out what size and what style rim is needed. This table should help with an understanding of the kind of rim that is needed for each specific bike style:
| Type of Bike | Size and Specification |
| --- | --- |
| Mountain Bike | The vast majority of mountain bikes use 26" clincher rims. The width of the rim clincher is commonly 559mm. There are also 29" clincher rims with 622mm rim clinchers available but these tend to be used by larger riders who ride cross-country or off-road. |
| BMX | BMX bikes have smaller tires than most mountain or road bikes so therefore need a smaller clincher rim. The standard rim size for a BMX is 20" with a rim diameter of 406mm. These sizes mean that the bicycle can withstand the added pressure and load that come with BMX jumps and stunts. |
| Road/Racing Bike | Road, touring and racing bikes tend to share the same rim width and diameter of the larger mountain bikes. They use 29" rims with a rim diameter of 622mm. These bikes use either tubular or clincher rims so be sure to be careful when purchasing a rim for a road bike. |
When looking for the correct size rim to fit the bicycle of choice, keep an eye out for the rim measurements, which are set out in a very specific and internationally recognised manner. Sellers should list the rim diameter and the rims inner width in millimetres separated by a cross (x), as well as a letter for the particular type of rim. For example, 622x19C – here, the "C" stands for clincher rim.
Buying Bike Rims Online
Whilst it may be easier to visit a bicycle specialist in order to purchase a bicycle rim, it's almost guaranteed it won't be cheaper than finding the same product online. Use specialist cycling forums to determine what size and style would be best for your bike and don't be afraid to ask questions.
Hunt around online at various retailers to see what is available and for what price. There is a much vaster selection of styles, brands and specifications than you could find at a high-street chain or a specialist sellers shop. However, eBay offers one of the largest selections of bikes in the UK, and at affordable prices for any budget.
Using eBay to Buy Bike Rims
After searching online and finding the most suitable and appropriate rim for your bike, it is always wise to go to eBay to find the same or a similar style for what could be available at a much more reasonable price. Specialist sellers and high-street chains tend to charge extra for what could be found on eBay at a quick-sale rate or a second hand price.
If buying second hand, be sure to be thorough when reading the seller's details, as well as scouring their transaction history. Look out for negative feedback and comments to see what others have said about them but be wary of the reasons behind such comments. Use a checklist such as this to determine whether the seller is the best person to be buying from:
Is this the seller's first sale?
Do the negative comments outweigh the positive?
Is the seller personable in his description of the product?
Is the seller willing to take questions on the product?
What are the delivery conditions for the sale? (Postage and Packaging prices, local collection etc)
In terms of asking questions, it is always best to enquire about the product and its history, especially if it is a second-hand sale. Don't be afraid to send an email to the seller asking for the history, condition and legitimacy of the product. Also, with a product such as a bike rim, it may be best to ask about postage insurance due to the fragility of the item.
Conclusion
The success of Team GB's cycling team at the London 2012 Olympics has made cycling an ever popular sport and alternative mode of transportation across the UK. In light of this, eBay is overflowing with accessories and cycling gear that can only enhance the cycling experience.
Buying the correct rim for your bicycle will make all the difference in terms of your cycling experience. The right rim for your mountain bike means more traction, making your bike more suitable to riding off-road or cross-country. In terms of a BMX, remember to look for smaller rims and keep an eye out for the size specifications in order to help with the durability of the tyre when performing tricks and stunts. The right rim for a road bike enables the rider to go faster, as well as enhancing acceleration and traction.
Shopping around online first is always best before using eBay to find your product at a more affordable price and help decide what brand and specification to go for. It's always best to be knowledgeable on what you're planning on buying from eBay to avoid being caught out by a dishonest transaction whilst getting the desired product efficiently and securely. Once you are certain about the purchase, then use PayPal as a safe way of completing the transaction. Also, keep up to date and wise to eBay's terms and conditions.