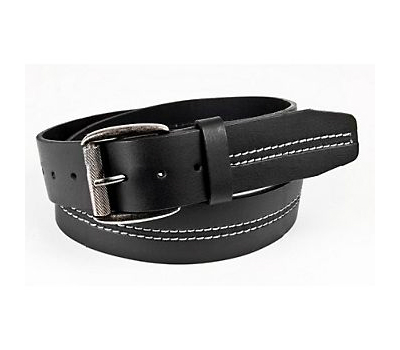 Belts have been around for a very long time and were initially associated only with male clothing. Even after women started wearing belts, it was still more common for men until the skirt and blouse combination for women became a fashion trend.
In the 19th century, belts were worn mostly for fashion purposes as well as a uniform item because most clothing waistlines were high enough to not need belts. These belts were generally wide and drawn tight around the waistline on the outside of the uniforms. It was said that the broad uniform belts made the men look leaner and created a powerful demeanour.
In the 21st century when fashion evolved tremendously, the waistline for men dropped to just above the hips; thus, they started wearing more belts to keep their pants from falling. A standard accessory for any man's wardrobe is still a black belt. Black belts are pretty straightforward, but buyers should become familiar with their various belt choices, including diverse buckle types and manufacturing materials.
Belt Buckle Types
Whether a man is putting together a casual or formal outfit, the buckle on the belt can actually make a difference. Some buckle types are more party oriented, while classic buckle types suit all occasions. Aside from the way the buckle closes, added decorative items and embellishments distinguish different buckle types.
Side Release Belt Buckle
Side release buckles are not the most common types used for belts; they are mostly used in luggage, backpacks, and harnesses. The good thing about some side release buckles is their ladderloc feature, which allows you to adjust the belt on one end. Ladderloc buckles are generally made with three bars that are situated at a particular angle to hold tension. The bars resemble a step ladder, which accounts for the given name. The release angle of the buckle allows the belt material to be gradually released while still maintaining a strong grip.
A side release buckle can be identified by its design, which involves a hook end, also called the male member, and a catch end, also called the female member. This buckle type will generate a click sound when it is fastened, similar to a seat belt buckle. Pressure would have to be simultaneously applied to both sides of the closed buckle to release the hook and open it.
Tang Belt Buckles
The tang buckle is probable the most popular type of belt buckle used today. It is identified by a metallic ring that comprises a hinge flap with one or two tangs. Tangs refer to the small metal stick that fits into one of the holes in the belt after the belt has been looped and pushed through the ring. Tang buckles are most often used because they fit more securely than other buckle types, and they are mostly seen on black leather belts. Moreover, a heel roller buckle is also a tang buckle, except that the ring has a rolling cylindrical metal piece covering the stop point for the tang.
Cinch or Clasp Buckle
Once a locking device consists of two separate ends that can fasten together, it is generally called a buckle, but a clasp or cinch buckle is specific to the ones that comprise a hook and a loop. The cinch buckle became popular in the latter part of the 19th century and flourished into the 20th. They are fashionable because they are different from the norm, but they have one major flaw that contributes to their limited use: The belt cannot be adjusted because it is generally securely fasten to each side of the buckle. One side of the belt is attached to the loop and the other is attached to the hook. Once they are joined, that is it. In order to get any adjustability from the belts, manufacturers often make them with an elastic material, or they loop the belt and fasten it to an adjustable clip.
Selecting the Right Belt Buckle
Buyers can never go wrong with selecting a standard tang belt buckle in a moderate size, but if they intend on getting a little more style, there are still a few things to consider. For instance, men with a small body and waist should not opt for a large belt buckle, and vice versa. Buyers should always choose a belt that allows some adjustability, whether within the buckle or the belt material.
Belt Materials
The material often helps determine the quality and durability of a belt. Buyers should ensure that they select a belt with a flexible material that will not restrict their movements and that can be worn comfortably while complementing their outfits.
Leather
The first leather belt was probably made thousands of years ago, but they have not lost their appeal. As a matter of fact, leather belts are the most coveted, and they are considered to be the highest quality belts available.
Leather is made from animal hide that is dried and chemically preserved. It is then tanned to give it a more appealing light brown colour and often polished or varnished for a little sheen. Leather belts are generally more expensive because the manufacturing material is also expensive, and there is a lot of labour and time put into creating the finished product. Even though there are many cheaper alternatives, leather belts are still the most popular.
Buyers should be careful when buying leather belts because some manufactures offer cheap leather belts with a "100 per cent leather" stamped on the shaft, but often times, there is only a very thin piece of leather material on the belt, and the bulk is made up of rubber or some other synthetic material.
Canvas
Canvas belts are less popular than leather belts, but they are still highly marketable because they are also very durable. Canvas is generally made from cotton or hemp. It is plain-woven, using a criss-crossed pattern. Canvas belts are generally cheaper than leather belts because the manufacturing material is less costly, and the labour is less time-consuming and intensive.
Initially, canvas belts were introduced as a part of military uniform as a cheaper alternative to leather. Inevitably, their use became mainstream, and designers of the late 80s and early 90s began to make it a more accepted accessory as casual men's wear instead of purely uniform based.
Recycled Rubber
While rubber belts are not the most durable, they are often very economical and eco-friendly when made from recycled, discarded rubber materials. Some companies are dedicated to gathering unwanted tyre tubes and turning them into belts and handbags; the end products often appeal to eco-activists and vegans. Black rubber belts are the most popular.
Rules to Follow When Buying Black Belts
There are quite a few men who do not know how to shop for the right belts to suit them. Believe it or not, belts can be improperly paired with an outfit, but the basics below will eliminate such shopping misfortunes.
Belt Length
Most men buy dress belts more so than any other belt. They should have at least an extra 7-10 centimetres left over after they are buckled. This leftover flap should be long enough to be tucked under the belt loop or the first pant loop. If the belt is too short, it will often flip out and look awkward. If it is too long, it will result in a double wrap, which will show an obvious size issue and make the waist look wider.
Belt Size vs. Pants Size
Stores generally have belts that are sized in accordance to pants sizes. However, buyers should never select a belt that has the same size number as their pants sizes because this will often not result in a good fit. For buyers who are unsure, they can get the belt measurements from the seller and compare it with a measurement of their own waistline before making a selection. If buyers cannot access direct length and width measurements from the sellers, they can use the chart below to determine their belt size in accordance to their pants size.
| Belt Size | Pants Size | Waist Size | Hip Size |
| --- | --- | --- | --- |
| 76-81 | 71 | 39.5 | 49.5 |
| 81.5-86 | 76 | 42 | 52 |
| 86.5-91 | 81 | 44.5 | 53.5 |
| 91.5-96 | 86 | 47 | 54.5 |
| 96.5 -101 | 91 | 49.5 | 56 |
Based on the chart above, men will realize that the appropriate belt sizes are generally two or three sizes above the pants size. This additional size advantage will give just the right length to be buckled properly without having any obvious sizing issues.
Matching Belts with Shoes
Black and brown leather belts are the most common, with good reason. Most men have black and brown leather shoes, and they should always pair it with a matching colour belt. For men with patent or high-gloss shoes, they should consider getting a similar belt, such as a black patent belt, an embossed croc, or snakeskin belt.
In a similar fashion, shoes that are made from cloth can be paired with canvas belts of varying colours. However, black canvas belts should always be considered so that they can be worn with multiple outfits as opposed to one coloured suit.
How to Buy Black Belts on eBay
It is very easy to buy black belts on eBay due to the large number of sellers who offer a wide variety of belts. You can get started by performing a search for "men's black belts" from the eBay homepage and then browse through the large collection to find something suitable.
If you do not have a lot of time and are already sure of the type of belt that you want, you can easily input all the necessary criteria in your initial search to eliminate all other belts except the ones with the desired features. For instance, a search for "black men croc belts" will provide you with a result page containing only croc belts.
Belts can sometimes be expensive, so if you have a set amount of money to spend, you can filter your results by inputting a specific price range. This will further reduce the result count; therefore, it should be a lot easier to make a selection from the remaining options. Choose multiple belt options so that you have a contingency plan is one of the seller does not follow through.
Conclusion
Belts are an integral part of a man's wardrobe; therefore, they should take great care in selecting the right one. Some men will buy a different black belt for each important outfit that they own, while others will attempt to buy one black belt to suit their entire wardrobe. Whether a man is planning to buy one belt or several, he should consider the type of buckle that will be conducive to a secure fit and an appropriate style. He should also take note of the various belt materials available and then select one that is both durable and budget friendly.
Men should make every effort to buy a belt in the correct size. They should not simply buy a belt that has the same size as their pants waist. They should rather find a belt that will have some leeway for a comfortable wear.
Most men are more concerned with functionality than style, but who says that they cannot have both. Styling can sometimes be as simple as matching their belts with their shoes. This will be an easy task once they understand all the other elements in selecting a good black belt.
Men do not need to run from store to store to find a good belt. A simple search on the eBay website can quickly produce several results can easily be filtered to provide only the right choices.