Black satin boleros are short, cropped, and tailored jackets. Similar in style to that of a shrug, they cover only a small portion of the upper body. Satin boleros have a smooth, glossy texture, and add style and sophistication to any ensemble.
Sizing
Exact measurements tend to depend on the brand. The chart provides a starting point, but consult the specific manufacturer's size chart prior to purchase.
| Order Size | M (cm) | L (cm) | XL (cm) | XXL (cm) | XXXL (cm) |
| --- | --- | --- | --- | --- | --- |
| Top to Bottom | 35.56 | 38.1 | 40.64 | 43.18 | 45.72 |
| Neck to Shoulder | 11.43 | 11.43 | 12.7 | 13.97 | 13.97 |
| Sleeve Hole | 12.7 | 13.33 | 15.24 | 15.24 | 17.78 |
| Armpit to Armpit | 45.72 | 48.26 | 50.8 | 53.34 | 55.88 |
Black satin bolero shrugs may be loose flowing or form fitting in style. Generally speaking, the satin should drape perfectly over the skin. If the bolero jacket is too tight, it is likely to stretch and strain. Conversely, if too loose, it may create unflattering lumps in the material or drape awkwardly over bulges.
Detailing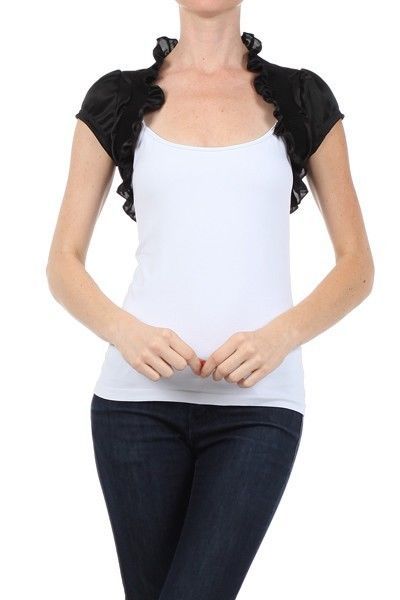 Black satin boleros may be simple or lavishly embellished with padded shoulders and decorative trim, sequins, or intricate needlework. The formality of the black bolero should be specifically tailored for its intended use. Unadorned black satin boleros suit casual wear, while opulent black satin boleros are ideal for more formal occasions, such as weddings. Black satin boleros may button, stay open, or tie across the wearer's chest, depending on personal preference.
Lightweight Black Satin Boleros
Lightweight black satin boleros, either short or long-sleeved, are typically worn over a sundress, colourful camisole, or tank top. Others may be sleeveless and take on the form of a waistcoat; these boleros are considered more casual in appearance. Lightweight black bolero shrugs are meant to cover bare shoulders, providing women with extra coverage and modesty. They are typically shorter in length than heavy boleros and may not come down to the breastbone. Thus, they suit the warmer months.
Heavy Black Satin Boleros
Heavy black satin boleros are similar in style to cardigans. These black bolero jackets generally have long sleeves and come down further on the body, providing optimal coverage. Choose them for the colder months when extra warmth is desired.
Formal Black Satin Boleros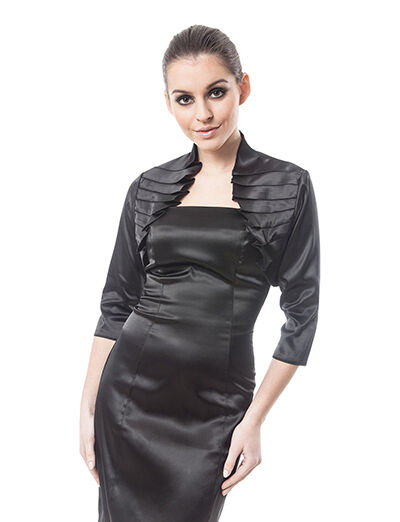 Formal black satin boleros typically resemble small suit jackets. They are meant to be paired with cocktail, party, or evening dresses. Moreover, bridesmaids commonly wear black wedding boleros. These wedding boleros complement strapless or spaghetti strap dresses.