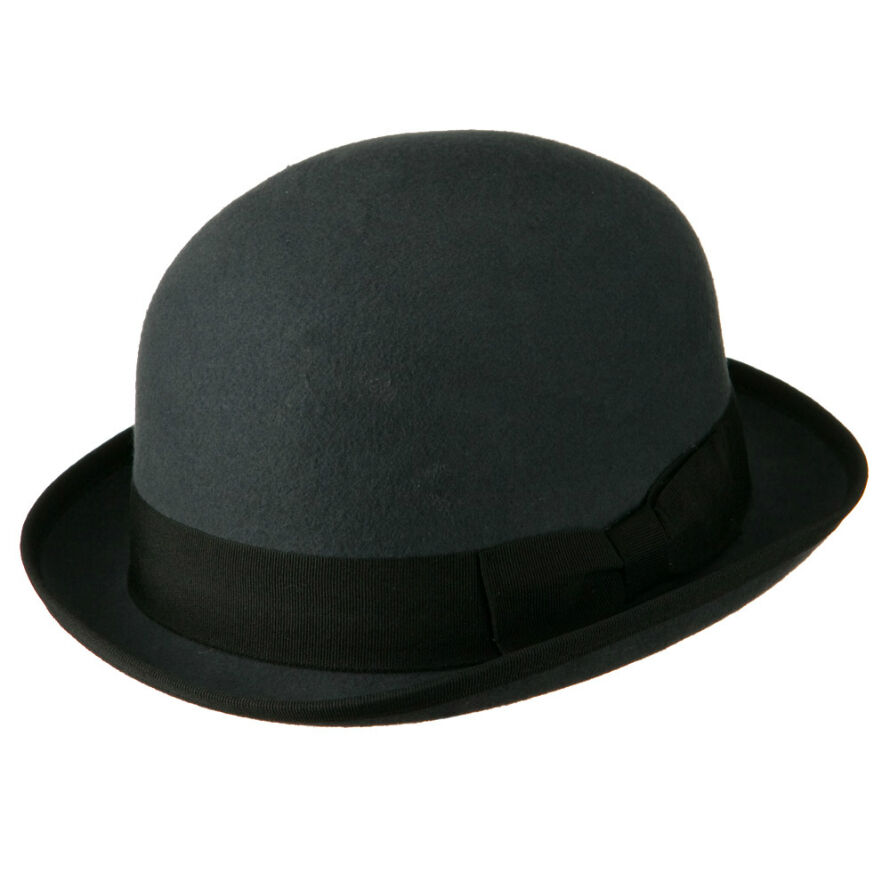 Bowler hats are an iconic form of men's headwear, and were exceptionally popular in the 19th and 20th centuries in both the UK and US. Popular with the English working class throughout the Victorian era, the bowler has also served as part of the official dress for bankers, officers of the Queen's Guard, and civil servants. The hat has found great popularity in both North and South America, as well. In 19th-century America, bowlers were every bit as popular as cowboy hats and sombreros. Bowler hats remain popular as part of both modern and vintage fashion, and are produced in a variety of colours and materials. They are also quite versatile. They can be worn by both men and women, and are suitable for formal attire or casual dress.
Bowlers can be purchased from clothing stores, department stores, and online retailers. Marketplaces like eBay have both private and commercial sellers, and are an easy place to view a full selection of items. Shop around to find the most appealing bowler hats for any situation.
Choosing Bowler Hats
The high selection of bowler hats allows buyers to find ones to suit their individual tastes and personalities. Consider a bowler's size, shape, materials, and design to find the best products available.
Sizes
Hat sizes can be listed in several different ways, including measurements in centimetres or inches, descriptions, or a numerical size. To find the right size, take a measurement of the wearer's head. Wrap a flexible tape measure around the wearer's head at about a thumb's width above the top of the person's ear. Tighten the tape so it is snug, but not tight, at the point a hat's inner band would normally rest. If a flexible tape measure is unavailable, perform this process with a piece of string. Mark the string, and then lay it along a measuring stick. Use the chart below to compare a measurement in centimetres with inches and hat sizes.
| Centimetres | Inches | Size | Numerical UK | Numerical US |
| --- | --- | --- | --- | --- |
| 49 | 19 1/8 | XXX-Small | 6 | 6 1/8 |
| 50 | 19 1/2 | XXX-Small | 6 1/8 | 6 1/4 |
| 51 | 19 7/8 | XX-Small | 6 1/4 | 6 3/8 |
| 52 | 20 1/4 | XX-Small | 6 3/8 | 6 1/2 |
| 53 | 20 3/4 | X-Small | 6 1/2 | 6 5/8 |
| 54 | 21 1/8 | X-Small | 6 5/8 | 6 3/4 |
| 55 | 21 1/2 | Small | 6 3/4 | 6 7/8 |
| 56 | 21 7/8 | Small | 6 7/8 | 7 |
| 57 | 22 1/4 | Medium | 7 | 7 1/8 |
| 58 | 22 5/8 | Medium | 7 1/8 | 7 1/4 |
| 59 | 23 | Large | 7 1/4 | 7 3/8 |
| 60 | 23 1/2 | Large | 7 3/8 | 7 1/2 |
| 61 | 23 7/8 | X-Large | 7 1/2 | 7 5/8 |
| 62 | 24 1/4 | X-Large | 7 5/8 | 7 3/4 |
| 63 | 24 5/8 | X-Large | 7 3/4 | 7 7/8 |
| 64 | 25 | XXX-Large | 7 7/8 | 8 |
| 65 | 25 1/2 | XXX-Large | 8 | 8 1/8 |
If the measurement of a wearer's head falls between two sizes, choose the next largest one. It is better to have the hat be comfortable and a bit loose than snug but uncomfortable. Determine whether the hat's manufacturer is located in the UK or US, and refer to the appropriate column in the chart. UK hats tend to run a size smaller. Sizes also vary between manufacturers, so the chart above should only be used as a general guideline.
Shape
Bowlers are stiffer than many other hats, and their inner band can be quite inflexible. This means that the shape of a wearer's head can factor into finding a suitable hat. Although most bowler manufacturers use only the sizes listed in the table, some high-end companies also consider the specific length and width of a wearer's head. For example, a company may make hats that are a size 7 1/4 UK, though some may be 2 centimetres longer than they are wide, while others are 5 centimetres longer than they are wide. A professional hat fitter can take measurements of the width and length of wearers' heads to help them find the best possible fit.
Design
Bowlers are primarily produced from fur felt and wool. These materials provide an attractive texture and can be warm in colder seasons. Though bowlers generally have a rounded crown and a short, curled brim, there are several variations. One of the most distinct types is the Churchill bowler. This hat has a concave crown and a brim that is flatter than a standard bowler. In some cases, bowlers are also designed as hybrids with other hats like fedoras or pork pies.
Bowlers are produced with varying heights, as well. Some are nearly as high as a top hat, but with a rounded crown. Others can be quite low. The brim on a bowler hat can also vary from one product to the next. Most have a sharply curved brim, though some have a more flat and floppy style brim. Shop around to see the full selection of bowler hat designs, and choose ones that have the most visual appeal.
Caring for a Bowler Hat
Quality bowler hats can be an expensive purchase, and they are worth holding onto. To get the most use out of a hat and ensure it holds its form, practise proper care and maintenance habits. There are several ways to care for a bowler, including proper handling, storage, and dusting.
Wear
Exposure to sweat and oils in a person's hair naturally causes a hat to become soiled over time. This can potentially create odours, stains, and wear on the inside band. To preserve the life and cleanliness of a bowler as long as possible, only wear the hat with clean hair. It is also best to handle a hat with clean hands as much as possible. Avoid wearing a bowler in the rain, as the moisture can cause the material to shrink and even collapse.
Storage
It is important to keep bowler hats in a safe place when they are not being worn. Buy a coat stand to keep them in a dedicated place, away from dirt, food, or other objects that may be present on tables and countertops. Avoid resting a bowler on a flat surface as much as possible, as it can cause the brim to flatten out over time, eliminating its natural arc. Hat blocks can also be used to rest a hat on.
Dusting
Take the time to dust a bowler on a regular basis. This will help the hat maintain its natural colour and keep it looking clean over time. This should be done with a soft hat brush. Beware of stiff-bristled brushes, as these can damage the surface of the hat. If dust has accumulated and does not brush off easily, it is also acceptable to use a lightly damp cloth to wipe the surface.
How to Buy Bowlers on eBay
Bowler hats of all shapes and sizes can be found on eBay. An easy way to begin shopping is to type "bowler" into the search field on the homepage. You may continue to add keywords to refine listings from the search results page, or you may use eBay's category options. A list of categories is present on each search results page, and clicking on these will refine listings to relevant sections.
Click on the name of an item to see its full listing. There, you can view the product's condition, materials, and other details provided by the seller. Check the price of the bowler, and remember to add shipping charges to your estimate of the final cost. Determine which payment methods a seller accepts, and be prepared to pay for your purchase once you've committed to buy. It is also worth checking the seller's return policy to be prepared in case a hat does not fit properly.
Checking seller profiles can help ensure a positive buying experience. Users on eBay are given a positive feedback rating that indicates the satisfaction of buyers in the past 12 months. You may also view average ratings of the seller's performance in four key categories, including shipping speeds and the accuracy of item descriptions. Once you have received your bowler hat, take a moment to leave feedback for the seller. This helps the user improve in any areas you felt could be better, and also informs future buyers about the seller. Most sellers operate like professional retailers, and are happy to work with you to find a resolution to any problem that may arise. Contact the seller before leaving any negative feedback.
Conclusion
Bowler hats are one of the most iconic images of men's wardrobes from the 19th and early 20th centuries, both in the UK and the US. Whether in movies or music videos, bowler hats are iconic. They are particularly associated with the British working class. Modern bowlers maintain the classic style and appeal of vintage bowlers, and are typically made from fur felt or wool. They are produced in a range of sizes, and some manufacturers even create hats with varying widths and lengths to match unique head shapes.
Bowler hats can be purchased from clothing stores, department stores, and online retailers like those on eBay. Shop around to find the full selection of colours, styles, and prices available, and check for return policies when shopping online. Find products that suit your individual tastes, and enjoy the stylish and versatile appeal of bowlers that has made them a long-standing fashion tradition.