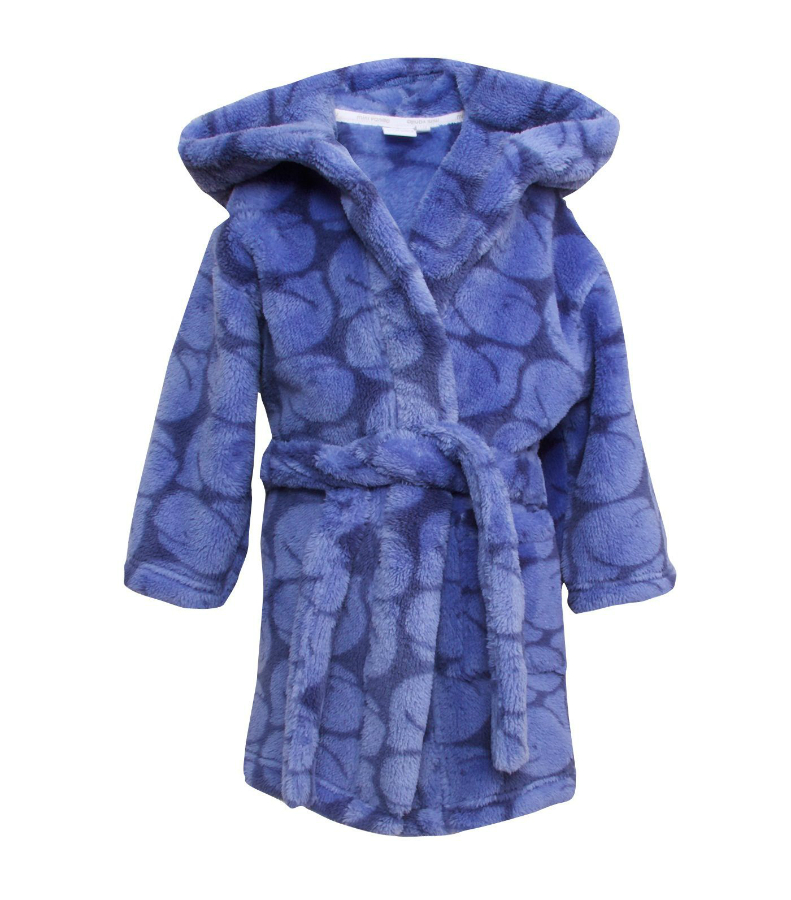 A wide variety of boys' robes are available in most department stores, designer clothing shops, online retailers, and even in the clothing department of some supermarkets. This simple, but essential clothing item is so common that many parents neglect to spend sufficient time or give the necessary attention to choosing one for their child. However, buying boys' robes is not as simple as it seems. There are quite a number of factors that parents should consider before deciding whether a particular brand or design is suitable.
Safety, comfort, and a balance between cost and durability should all be taken into account before going anywhere near the till. To help parents to choose the best boys' robe for their child, this guide will discuss each of the factors mentioned above in greater detail.
Safety for Boys' Robes
There are strict regulations in force regarding children's nightwear, which is the category under which boys' robes fall. In particular, the Department for Business, Innovation and Skills follows two sets of guidelines for children's clothes:
BSEN (British Standard European Norm )14878 and the Nightwear (Safety) Regulations of 1985. These two documents provide a set of criteria that help to ensure consumer safety.
While the regulations should ensure the quality of every piece of clothing that reaches the shop floor, parents should still exercise caution, especially with the large number of garments made in regions with potentially more lenient quality control standards. Here is a short list of things to check.
Flammability
Flame resistance should be considered first when shopping for boys' robes because these are what children wear at the time where they are the most vulnerable. For example, boys' robes made from plain, untreated cotton have the potential to catch fire easily, which is why most cotton-based fabrics are treated with special chemicals to boost their resistance to flame. More flame-resistant fabrics like polyester or fabrics that were chemically treated to make them more resistant to extreme heat should be considered when buying a robe.
Allergic Reactions and Toxicity
Parents should also list all of their child's allergies especially if considering buying a robe that has undergone any chemical treatment. This way, parents can avoid purchasing clothes made from materials that may trigger the allergies. There are known cases of allergies to polyester, nylon, and certain flame retardant chemicals. Clothing labels that include a maximum washing temperature are a good indicator that the fabric is chemically treated.
Some flame-retardant chemicals used to treat clothes have been proven to be toxic after skin contact. For example, the international community banned polychlorinated byphenyls in the 1970s after it was found to cause certain diseases. This led many clothing manufacturers to move to brominated variants, which are believed to be safer than their predecessors. However, several recent studies suggest that these newer chemicals may be still have risks associated with them. Given this, the regulators are examining imported boys' robes more carefully for the presence of these chemicals because their country of origin may have more lenient safety standards compared to those of the UK.
Choking Hazards
Parents who are shopping for robes for toddlers should be careful not to choose designs that have too many intricate decorations that could be swallowed accidentally, and therefore serve as a choking hazard. Buttons, toggles, or any item that could be swallowed should be sewn on tightly or otherwise secured firmly.
Comfort for Boys' Robes
Comfort is another important thing to consider when shopping for boys' robes as the child may not wear one that is too cumbersome or that irritates the skin. Parents should make sure that the clothes fit perfectly and that they are made from suitable materials.
Fit
Most manufacturers classify robes by the recommended age group to make it easier for parents to identify which one will fit their child well. However, not all children of the same age are the same size, so it is best to take actual measurements of the child. Parents should measure the width of the child's shoulders, the length of his arms and his height and use these to ensure a good fit. Parents should avoid buying loose-fitting robes, which may get caught in furniture or other fixtures and fittings and thus cause an injury to the child.
Material
Fabrics for robes are usually made with one or a combination of the following materials: cotton, silk, wool, nylon, or microfibre, such as polyester. Cotton offers the most comfort and is the most hypoallergenic. Wool, on the other hand, is recommended in cold weather. Nylon, silk, and microfibre-derived fabrics provide better fire resistance. However, silk may cost more than other fabrics and may not be as durable.
Weave
The term weave defines the way that the fabric has been constructed. The weave gives the fabric its distinctive look and feel. Weaves can be flannel, velour, waffle, or terry.
Flannel has a loose weave and is usually made from cotton or wool, making it extremely comfortable to wear. Flannel fabric is relatively tough, so is a good choice for children who love to move around a lot.
Velour, on the other hand, has a velvety texture that offers the wearer a cosier feel. This weave can be considered the most elegant amongst all four types. However, this type is the least absorbent. Velour is a tight weave, which makes it perfect for use in cold weather as it is better at retaining body heat.
The waffle's criss-cross texture offers good moisture absorption due its honeycomb design. The fabric allows the best air flow amongst all four types, making it comfortable to wear for long periods of time.
Terry has a very loose weave that is full of loops, making the boys' robes very similar to bath towels in both texture and absorbency. Terry is most commonly used as the interior of velour robes to make them more absorbent.
Design
A child is more likely to wear clothes that rouse his interest. That is why there are a large number of boys' robes that feature characters from children's programmes or are modelled after the costume of a popular superhero. For example, there are robes on eBay that look like a wizard's costume. It may be a good idea for parents to involve the child in the buying process by hearing his opinion on which designs he prefers.
Durability vs. Cost of Boys' Robes
The cost of boys' robes vary widely depending on the fabric, product origin, manufacturer, complexity of the design, and overall durability. So, it is important for parents to have a rough estimate of how long the child will wear the robe. For example, boys who are still in primary school may use their robes for far longer than teenage boys.
Finding Boys' Robes on eBay
eBay offers a wide range of boys' robes in a variety of styles, colours and designs. To find a general list of boy's robes type the phrase "boys' robes" into the search box on the eBay home page. This gives the buyer hundreds of designs to choose from and offers inspiration to shoppers who are yet to decide on a particular design. Almost all of the items include the recommended age to help the shopper to estimate which robe will fit the child the best. If the buyer has a particular design in mind, then adding specific keywords will yield more relevant results. For example, typing in "Harry Potter Boys Robe" returns a list of robes whose designs are similar to those worn by characters in the Harry Potter film. Some of the quirkier designs even include odd or funny accessories like fake boxing gloves or a plastic scythe.
Before buying a boys' robe, eBay encourages shoppers to check the seller's customer feedback and also his or her policies. Sellers with a high percentage of positive comments from previous buyers have a reputation for providing good quality products and good customer service. As with all clothing items, ensure that the seller allows returns or exchanges in the event that the item does not fit, or is otherwise inappropriate. The seller can be contacted directly by clicking the "Ask a question" link on the item description page.
Conclusion
When buying a boys' robe, parents should ensure that the clothes are safe, comfortable, and fun for kids to wear. The weave of the fabric should be considered: flannel is for durability, velour is for comfort, waffle for maximum airflow, and terry for absorbency. Parents should also avoid fabrics that may cause allergic reactions and, in the interest of safety, buy a non-toxic, flame resistant robe. Parents should also be wary of any parts of the robe that a child could swallow accidentally. Boys' robes should also have a snug fit: neither too tight nor too loose, in order to prevent accidents. Finally, involving the child in the buying process is a good idea because he is more likely to wear something that he helped to choose himself. There are many things to consider when buying boys' robes and eBay offers a wide array of choices that enables shoppers to find the robe that suits their child's needs perfectly.