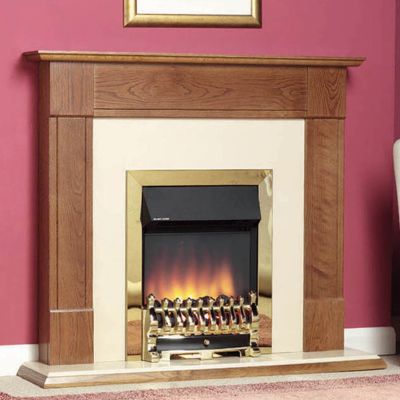 Depending on where you live, a fireplace can either be a valuable addition to a home heating system or a pleasing visual complement to a room's décor. Modern buildings tend not to provide for a chimney stack, whereas older constructions may well have several chimneys in place. When choosing which fireplace to buy, there are two physical defining features: fuel source and ventilation.
| | |
| --- | --- |
| | A gas fire is powered by a mains fuel line – the same fuel that is used for gas cookers, ovens, and boilers. |
| Solid | A solid fuelled fire requires a tangible fuel source: wood or coal. |
| | An electric fireplace is arguably the easiest to install, requiring only a power socket within reach. |
Each type of fuel source will require a different ventilation system: gas, wood, and coal all need to have a flue, whereas an electric fireplace has no gaseous or smoke emissions to be dealt with. Those units which need an air circulatory system for safety also come with two options:
| | |
| --- | --- |
| Vented | This type of fireplace extracts the emissions of the fuel source directly out of the chimney. Most commonly in traditional dwellings, these would be wood or coal burning fires. |
| Vent free | These fireplaces circulate the air through another extraction unit. In the same way that a boiler will have an emissions pipe, so will some types of fireplace. |
If you want to create the look and homey feel of a fireplace but don't have a chimney or the wherewithal to fit some other sort of flue, an electric fireplace may be the best option. When selecting an electric fireplace the only real decision to be made is aesthetic. Although size and placement will obviously be an issue, the material composition of the surround will be the most important feature in your purchase:
| | |
| --- | --- |
| | Available in a variety of colours and finishes, wood surrounds can become pitted and may darken from the original hue as the wood ages further. |
| Granite | Also available in a medley of colours, granite surrounds are fitting for a contemporary decorative theme. |
| Brass | A metal alloy made from a combination of zinc and copper, brass is a yellowy gold colour that is perfect for a traditional theme. It does, however, have a tendency to dull with age. |
In order to keep a fireplace looking its best, cleaning the surround according to the material it is made of is best.
Cleaning a Wood Fire Surround
If the surround is varnished, a gentle wipe down with a mild detergent should be sufficient to remove any scuffs or stains. If the wood is too badly marked, it could be stripped and re-varnished or even painted to revitalise the fireplace.
Cleaning a Granite Fire Surround
Using a sponge, warm water, and a mild liquid detergent, gently wash down the surface of the surround. When all surface dirt and discolouration has been removed with the suds, make sure that all soap reside has been wiped off before polishing with a soft cloth.
Cleaning a Brass Fire Surround
Before tackling a brass fire surround, it is important to find out whether the brass is plated or solid. Hold a magnet to the fireplace – if it sticks, the surround contains very little brass and, as plating is very thin, any sort of abrasive cleaning technique may irrevocably damage the material. Otherwise, cleaning may be undertaken with a number of readily available household items:
| | |
| --- | --- |
| Toothpaste or vinegar | Toothpaste can be used as a polish, or a mix of equal parts of water and white vinegar, plus a cup of flour to form a paste, will also be effective. Use a soft bristled toothbrush to get into those hard to reach ridges or inside the lines of delicate engravings. Always remember to brush gently to avoid damaging the surface. |
| Ketchup | Slathering a coat of ketchup onto the brass, waiting until it is dry, and then wiping it off with warm water is an easy way to clean brass. Using a soft bristled brush for more stubborn stains, ensure that the sauce is thoroughly removed before buffing the surface. |
| Lemon juice mixtures | A paste of lemon juice and salt, rubbed into the brass with a soft cloth, will remove tarnish. A slice of lemon sprinkled with bicarbonate of soda will make a handy 'cloth', but both methods must be thoroughly rinsed with water before buffing to a shine. |
| Vinegar mixture | Dissolving 1 teaspoon of salt in 1 cup of white vinegar, and then adding enough flour to make a paste, can provide an efficient cream cleanser. Again, use the paste to remove tarnishing, then rinse and buff to a shine. |
| Worcestershire sauce | Use this method as for any cream cleaner: dip a damp cloth into a saucer of the sauce and then rub into the brass well. Wipe off with a clean, damp cloth, then, once more, buff it to a shine with a dry cloth. |
Top Tips
Brass will look brighter and need less elbow grease if rubbed with a cloth dipped in olive oil after each cleaning as the oil will help to prevent rapid tarnishing. Salt and vinegar are also good for removing tarnish, so for localised discolouration dab some vinegar on a cloth, add salt to the damp patch and gently rub against the area needing treatment. As always, rinse with warm water and polish dry.
Cleaning Lacquered Brass
If the brass is lacquered, the tarnish may be underneath the coating. This will have to be removed and replaced in order to properly clean the fireplace. Although labour intensive and delicate, the process is relatively simple:
| | |
| --- | --- |
| Remove lacquer coating. | Put down newspaper to protect your carpet or floors and use a paintbrush to apply a store-bought varnish remover to the surface. Ensure that the safety instructions are adhered to, and wear gloves to protect skin. Lacquer will have been protecting the brass from oxidation, but it must now be removed to clear off any tarnish. |
| Polish the brass. | Use a soft cloth to clean the brass, using any of the methods described above. Wear cotton gloves when buffing the brass after rinsing, as fingerprints or smears will otherwise be fixed when the lacquer is reapplied. If possible, on the final buff, move in the direction of the brass grain. |
| Reapply lacquer to the brass. | Use a paintbrush to reapply the protective lacquer, building up the coating gradually in thin layers. Wipe off any drips, and let it dry totally before applying another layer. When satisfied by the coverage, let the whole thing dry naturally – preferably overnight – before removing the newspapers or touching it at all. |
How to Buy a Brass Electric Fireplace on eBay
To buy a fireplace, first go to the eBay homepage, opening the All Categories tab, then scroll down the page until you see Home, Furniture & DIY, click the 'More' tab and then select Fireplaces & Accessories.. From here, all item listings will be available for consideration or, for a more focused search, use the bar at the top of any eBay page. For example, to find a brass fire surround, key in "brass fire surround".
Conclusion
Fireplaces are catagorised by their fuel source and ventilation requirements. Choosing a suitable fireplace will therefore depend upon the availability of a chimney, potential for a fitted flue, and the suitability of either gas or solid fuels (such as wood or coal) as a heat source. An electric fireplace is a good way to create the look and feel of a real fire when there is no chimney or potential for a flue in a room. All fireplaces and surrounds should be cleaned regularly as the heat produced will naturally cause dicolouration and dirt. Cleaning will depend upon the fuel source and surround material as a combination of each type will have a tendency to a specific grime build up, or wear and tear pattern. An electric fire – whether free standing or fixed – can provide an attractive and welcoming addition to any décor. In order to maintain the look of a brass electric fireplace, it is vital to clean it carefully. With plated brass on a light wipe with soapy water is appropriate as anything more abrasive will damage the brass.