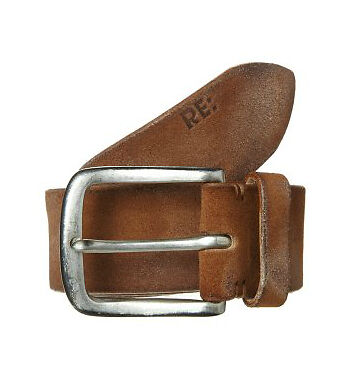 Men's belts are a subtle but important part of a wardrobe, and can be the final touch on a wearer's appearance. Belts are often considered secondary to shirts, pants, and shoes, though their importance is not to be underestimated. A belt that appears out of place can greatly diminish the appeal of an outfit, while a great belt can pull a look together. Every man should own at least one brown belt, as they are versatile items that can be worn with different colours and accessories in both casual and formal circumstances.
Belts can be purchased in clothing stores, department stores, and from online retailers. Not only are marketplaces like eBay an excellent place to shop for a selection of belts, they are also a great place to find the best prices on new and used items. Begin defining a look by learning about the many options available for brown belts.
Choosing Belts
The size, material, design, and buckle of a brown belt belt can affect its success in a wardrobe. Knowing which options to choose for a given circumstance is important for the comfort and confidence of the wearer, and buyers should familiarise themselves with the many types of brown belts available.
Size
The first thing to consider while shopping for a belt is its size. One that is too long can result in an excess length of material hanging past the first belt loop, while short belts may leave the end sticking out awkwardly. It is also best to avoid punching new holes in a belt, so be sure to find one that fits properly in the first place.
Belt sizes are normally measured in centimetres, and may list either one number or a range of numbers. If it is only one, the number refers to the distance from the buckle to the middle hole. A range of numbers indicates the distance from the buckle to the first and last holes. For example, a belt listed as 81-86 cm measures roughly 81cm from the buckle to the nearest hole, and 86 cm to the furthest.
There are three easy ways to find a belt that fits. The first way is to use the size of the wearer's pants. Remember, a belt needs to be a size or two bigger than the waistband on a pair of pants, as it must wrap around the the fabric of the pants. A wearer with size 86 cm pants should therefore look for a belt that is a 91 cm or 97 cm.
The second way to choose a belt size is to measure a belt that is already owned. Measure from the buckle to the hole that is loosest and most worn to find the ideal size for a new belt.
The other option is to measure the wearer's waist. Have the wearer put on a comfortable pair of pants, and place a tape measure around him at the level of the belt loops. If a flexible tape measure is unavailable, perform the process with a piece of string and then hold the string to a straight measuring stick.
Materials
The materials used in a belt affect its appearance, durability, and price. The following table offers descriptions of some of the most common materials used in belts.
| Material | Description |
| --- | --- |
| Leather | The most popular material choice for belts, leather is visually attractive, durable, and can also be quite affordable. Brown leather belts can be wide or narrow, and may feature stitching or imprints to create a visual design. Most formal belts are made of leather. |
| Canvas | Canvas belts are broad, durable products typically made of cotton and meant for casual use only. They can be dyed in nearly every colour imaginable, including several shades of brown, though otherwise they tend to be unadorned. These belts have the broadest variety of clasp and buckle types. |
| Synthetic | Belts made from a synthetic material like nylon are inexpensive and can be highly durable. They can also be produced in a broad range of styles. They may be wide or narrow, decorated with metal or fabric, dyed, or stitched in particular ways to enhance their appeal. |
| Crocodile and Alligator | Some of the most expensive brown belts on the market are made from crocodile and alligator skin. These items have a distinctive texture, making them suitable mainly for casual use. |
Several other materials can also be used in the creation of brown belts, such as faux leather. In general, the quality of a belt's materials will be reflected in the item's price, so it's best to choose products that have visual appeal and are within the buyer's budget.
Buckles
The buckle on a brown belt partly determines whether it can be used in formal or casual situations. Dress belts have small, sleek buckles that are generally square-shaped, while casual belts have larger, thicker, and more rounded buckles.
Keep the colour of a buckle in mind while shopping. For formal attire, it is important to match it with any other metal that might be worn, such as a tie tac, ring, or cufflinks. The exception to this is a wedding ring, which can be independent of the buckle colour. With casual belts, the colour tends to be less important than the shape and style of the belt. Colourful buckles will work better with colourful clothing, and large buckles may be more suitable for people who tend to wear other accessories or pieces of jewellery.
Matching with Shoes
Belts are produced in a wide range of colours, from brown or black to red and even green. Of these, brown belts can be worn with the widest variety of clothing. In general, however, it is best to match a belt with the colour and finish of a pair of shoes, so matte brown shoes will look best with a matte brown belt. This is especially true for formal wear.
Storing and Maintaining a Belt
A high-quality belt made from natural materials can be a valuable part of any wardrobe. It can also be an expensive one, so it is wise to take the time and effort to maintain it. Be sure to hang a belt vertically to avoid creating creases or bends in the material. Also, keep it out of direct sunlight, as ultraviolet rays can cause the material to dry out, fade, and crack. Owners who have multiple belts may find it is worth investing in a tie and belt rack.
How to Buy Belts on eBay
Brown belts of all sizes, materials, and styles are available from sellers on eBay. Entering keywords into the search field on eBay's homepage is an easy way to begin a search, and listings can be refined with available category options. To start a broad search, simply type "men's brown belt" into the search field. A high number of search results will appear, and you may add additional terms to narrow listings. For example, to see all items tagged as brown leather belts, add "leather" to your existing keywords.
You may also refine listings by clicking on category options. After you've entered your search terms, look for links on the page to different categories. The number that appears beside the name of each link indicates how many items it contains that are tagged with your keywords. Use these options to refine listings by materials, size, and price range.
Take the time to examine item listings closely before committing to a purchase. Check the price of the item, and remember to include shipping charges into your estimate of the final cost. Read item descriptions to be clear on the specific item being sold. Sellers often include a detailed description of the item, including its materials, condition, and manufacturer. You may also wish to examine available photos.
Inspect seller profiles to ensure a positive transaction. Sellers' positive feedback ratings and number of completed transactions can be seen in an item listing, and clicking on users' names will bring up their full profiles. From there, you can view information about their history on eBay, such as the average ratings they've received based on their shipping speeds and the accuracy of their item descriptions. Leave feedback for a seller once you have received your item to inform future buyers about your experience.
Conclusion
Belts are a valuable part of any wardrobe. Although they are considered an accessory, a quality belt can be the difference between a sharp look and a clothing mismatch. Brown belts are especially useful, as they can be used with a variety of wardrobes in both formal and casual situations. Whether a belt is used to complete a formal look or worn with jeans around the house, a brown belt can improve the wearer's appearance and comfort level. Consider the size, design, materials, and buckles of a brown belt to begin shopping, and refine items by their price and visual appeal. For expensive belts, be sure to store and maintain them properly to get the most use possible.
Brown belts can be purchased from department stores, clothing stores, and online marketplaces like eBay. One should shop around to find the full selection of items available, and choose products that will contribute to the wearer's style. With a little patience, brown belts can be found for any wardrobe and circumstance.