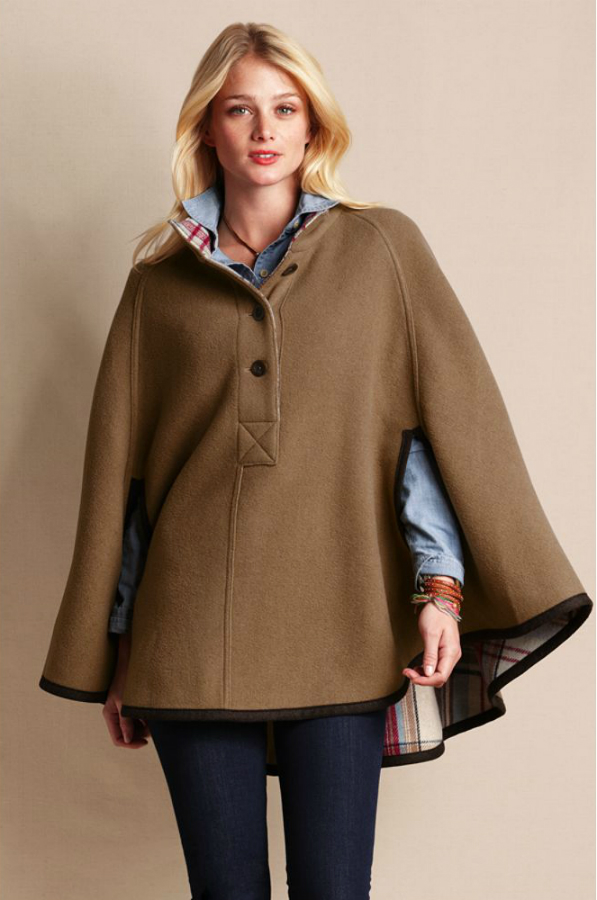 A cape, otherwise known as a tippet, is a sleeveless piece of women's clothing, which is often highly decorated with embroidery. In the old days a cape would have been lined with the fur of a whole fox or marten, but with this being less acceptable today, many capes are lined with faux fur or more expensive materials, such as wool, cashmere, velvet, silk, and satin. Capes have cautiously crept back into the world of acceptable fashion over the last several years, pushing the boundaries to capture the imagination of consumers. From tailored to traditional capes, from gothic to brightly coloured capes, they are the "in" thing to throw over your shoulders when the cold sets in.
Capes can be worn for multiple occasions, paired with many types of clothes, from evening gowns to jeans, and worn in different seasons of the year. This piece of clothing, though originally designed to keep people warm, has evolved into a piece of clothing that can be worn even in the summer, spring, or autumn. A cape is a great way to add elegance and style to an evening gown while also adding the charm of the 1950s. A cape looks great with jeans for a more casual, classy look, and it keeps you warm during the cooler times of the year. There is also a cape that protects its wearer from the rain. They are especially popular with the military. Because of their versatility, women should definitely invest in some capes to spice up their wardrobe. If a woman is considering a cape purchase, she should be aware of the different styles of capes and take into consideration her needs before making a final decision.
What Is a Cape?
A cape varies in size. It can be an article of clothing that wraps around the shoulders only, offering barely any coverage around the front, and it can also have longer sides. The short cape was an extremely fashionable piece of clothing in the 50s and 60s. It was mainly worn to protect the delicate fabrics of designer gowns from the elements, especially in instances when a coat would crush or hide the garment. The cape is not designed to cover the front of the wearer, but longer capes can be held around the front or have the sides pinned at the front for added warmth.
Considerations when Purchasing a Cape
The two main things to consider when purchasing a cape are size and material. Since a cape is an outer garment, you need to decide on the cape's purpose. If you plan to wear it for style reasons, then you will need to consider size depending on what will be worn underneath. If it is purely to keep you dry, size is not quite as important because as long as it fits, it will do the job. For wet weather, you would need to buy a cape that is made from a good quality plastic, rubber, or canvas as these materials are the most reliable materials for a wet weather capes.
Whatever the reason for purchasing a cape, always buy one that is made from a good quality material. If you purchase a cape made from quality wool, silk, velvet, or cashmere, you will get much more durability out of your cape, so the extra cost may be worth it. However, there is a cape to suit every budget. At the end of the day, a cape can be the focal point of any outfit, either casual, elegant, somewhere in between, or it can be understated by pairing it with accessories that then become the focal point of the outfit.
Cape Styles
There are many different styles of cape available for sale on eBay. The two most popular styles are the fashionable cape and the shoulder cape. Both capes serve the wearer well, but they both have very different uses. You can also purchase a cape for the wet weather. It is solely designed to keep the wearer dry; this cape is definitely not elegant and usually not very fashionable. There are also capes that fall into the vintage category; these capes are reminiscent of the 1920s.
Fashionable Capes
Capes that are purchased for style reasons require much more thought. If you are buying a cape to wear with jeans, purchase a thigh high cape. These capes elongate the body and provide a slimming effect, whereas a shorter cape can make you look short and stocky.
A cape is an outer garment and should be loose fitting. If you are going to be wearing thick undergarments under your cape, take them with you and try them on with your cape. Some people buy a size up to accommodate for bulky undergarments. Fashionable capes can have all different sorts of patterns and be made with multiple materials.
The Shoulder Cape
Shoulder capes are sometimes made of fur, but as this is frowned upon in fashion today, they are not as popular as they once were. If you want to pair the cape with an evening gown, you want a short one that only covers the shoulders. These capes are usually made out of more expensive materials like silk or satin. They are not designed to provide too much warmth; they are purely a fashion accessory.
Vintage Capes
Vintage capes are generally substantially longer than fashionable capes, and they are designed with clothes from the 1920s in mind. Vintage capes are usually one solid colour like black or red, but plaid is also very popular. You can find vintage capes made of wool, cashmere, or velvet. Because vintage is always in style, a vintage cape is a great garment to have.
Cape Sizes
When purchasing your cape, size is important. As a cape is an outer layer of clothing, most people will buy a size up to allow room for the undergarments. If you do not plan to wear bulky garments under your cape, then do not buy a size up; otherwise, your cape will be too big. The chart below is a sizing guide only for capes. Please note that all sizes are in centimetres.
| Size | 6 | 8 | 10 | 12 | 14 | 16 | 18 | 20 | 22 |
| --- | --- | --- | --- | --- | --- | --- | --- | --- | --- |
| Bust | Up to 82 | 82 - 86 | 87 - 90 | 91 - 94 | 95 - 99 | 100 - 104 | 105 - 110 | 111 - 116 | 117 - 122 |
| Waist | Up to 64 | 64 - 68 | 69 - 72 | 73 - 76 | 77 - 81 | 82 - 87 | 88 - 93 | 94 - 99 | 100 - 105 |
| Hips | Up to 85 | 85 - 89 | 90 - 94 | 95 - 99 | 100 - 104 | 105 - 110 | 111 - 116 | 117 - 122 | 123 - 128 |
If you do not know your measurements, ask a friend to help you take your measurements. Once you have your measurements, you can use the above guide to help you determine the right cape size.
How to Buy Capes on eBay
eBay is probably the easiest and most affordable place to buy a cape. There are many different varieties of capes to purchase on eBay, and you can get everything from wet weather capes, casual capes, and elegant capes for evening gowns. The easiest way to find a cape on eBay is to go to the search bar and perform a search. If you are looking for an elegant cape, then type in elegant cape and hit search. The same thing can be done for wet weather capes, fashionable capes, and capes to keep you warm.
Before committing yourself to purchasing a cape on eBay, make sure the cape can be shipped to your country. Also, be sure you can find information about the seller's return policy just in case your cape does not fit properly. If the information you require is not in the seller's advertisement, you can contact the seller directly and ask any questions before purchasing a cape. If you follow these steps, you should have no problems finding the perfect cape for every occasion.
Conclusion
The cape can be very fashionable, provide warmth, and keep the wearer dry. They are quite easy to purchase all year round. If you are purchasing your first cape, buy one that goes down to the knees as this will elongate your body and make you look slimmer. Thigh-length capes are great for a casual look with a nice pair of jeans, and they can be dressed up for a classier look.
A shoulder cape is the perfect accessory for an evening gown. A shoulder cape protects an evening gown without covering it and gives the outfit a feeling of old style elegance. Moreover, capes designed for rain are also a great choice as they are light and versatile. The wet weather cape provides its wearer with substantial protection from the rain, and it is a great fashion accessory. There is a cape out there to suit every woman's needs and budget. All you need to do is find one that you love.