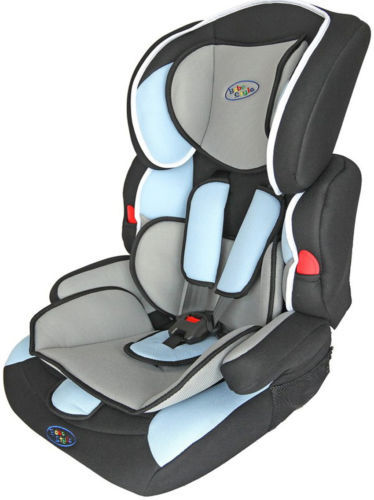 For many parents, the arrival of a newborn baby is the prelude to a lengthy career as a chauffeur. For the first few years, any outing like a trip to the shops means taking baby along. Once he or she reaches school age, there are sure to be regular school runs, not to mention travelling to and from various school activities that many children like to engage in. That all adds up to a great deal of time spent in the car.
The first thing to be aware of is the law concerning the transportation of children in cars, as well as the international standards that help drivers meet their requirements. After that, the main thing to grasp is the four child car seat groups, and the way in which an individual child's physique corresponds to their stipulations. With these topics clearly understood, finding the right model to suit an individual child's needs should be a straightforward task.
The Law Concerning Children and Car Travel
The laws governing children's safety while travelling in cars are comprehensive, and broadly the same throughout the industrialised world. Since these laws cover the wide range of sizes that correspond to children of the ages of zero to twelve or so, the implementation can get confusing, but the basic message is always the same. The child should be secured while in transit. Children should never be transported on an adult's lap, nor should a seatbelt be used for more than one person.
Isofix
There are regulations too, which govern the fittings installed in a car that enable a child car seat to be used. There is an international standard, Isofix,, which specifies tethering locations that are built into the car's structure. When these are available, there is no need to use the car's seat belts to fasten the child seat. There is also a less commonly seen Isofit standard, which applies to tethers that are used to secure booster seats suitable for older children. When using these, the car's seatbelt restrains the occupant.
Exceptions
There are minimal exceptions in Britain to the laws governing in-car child restraint. When travelling by taxi or private hire, children can ride on the back seat, but over-threes must use the adult seatbelt. The law also allows for short journeys to be undertaken without the proper precautions, but only in ''unexpected but necessary'', i.e., emergency situations.
Riding on the Front Seat
A child car seat can be placed on the front seat, although this is not recommended. If there is a passenger air bag fitted, this must be deactivated.
The Four Child Car Seat Weight Categories
To cope with the range of sizes that a growing child goes through, and the safety physics associated with these, a set of standard sizes has emerged. At the top end, the guideline is that a child needs to be 135 cm, or 4 feet 6 inches tall, to use the car seat belt independently. The age associated with this development stage is around 12 years, but at this point it is the height that is important, rather than the age.
Until that time arrives, children are categorised by four stages in which weight is the determining factor. Group 0 has been supplanted by a group 0 , which can cause confusion. The table below shows the categories and their associated weights. Note that some manufacturers use the term ''category'' in preference to ''group''.
| | | |
| --- | --- | --- |
| Weight Group/Category | Weight Range (kg) | Approximate Age Association |
| | to 10 | to 1 year |
| 0 | to 13 | to 2 years |
| 1 | 9 to 18 | 9 months to 4 yrs 6 months |
| 2 | 15 to 25 | 3 years to 7 years |
| 3 | 22 to 36 | 6 years to 12 years |
Statistics suggest that boys and girls grow at about the same rate during their early years, with differentiation kicking in at puberty. Nevertheless, when taking individual variability into account, remember that car crash physics concerns weight rather than age, so let the recommended weight parameters be the guide rather than suggested ages. There is one caveat to that: an exceptionally tall child might grow out of a seat size before reaching the upper weight limit. This is usually taken to be indicated by the eyes being level with the top of the seat or higher.
Types of Child Car Seat
There are two main types of child car seat: forward-facing and rear-facing . The psychology of forward facing is peculiar: Airlines have determined that rear-facing seats have a considerable advantage in crashes because the energy from the decelerating body is dispersed evenly by the seat instead of being concentrated by the seatbelt, yet they believe that passengers may not accept rear-facing seats.
Group 0
Rear-facing seats are strongly recommended for small children. They remain the safer option even when children have developed sufficient autonomy to strap themselves in. In short, most group 0 ,, and a few group 1 seats, are rear-facing.
Group 1
Children may press to be allowed to ride in ''adult fashion'' as soon as they are able to, and there is no harm in resisting that pressure for a while. However, manufacturers who make rear facing group 1 seats do not at present market them in the U.K., so Britax and Graco products currently have to be imported. They can be found as used items in eBay's listings. Mostly, though, group 1 seats in the U.K. are forward facing.
Groups 2 and 3
Later, for children who are getting towards the size they need to be in order to use the car's seat belts safely, there are booster seats, and then booster cushions, which are progressively more minimal in their design and structure than a full child car seat. Usually,booster seats correspond to group 2, and booster cushions to group 3.
Accessories
There are three main types of accessories that go with a child car seat. The first is protective covers, although usually child car seats are designed with the anticipation of being soiled to some degree from time to time. The second is cushioning and decoration. Neck cushions are one common option, and soft covers for belt straps, especially the over-shoulder straps, are another.
The other, perhaps more compelling accessory is an observation mirror.. One thing that caretakers worry about with backward-facing seats in particular is being able to maintain a constant awareness of the child's state and needs. With baby view mirrors fitted, this becomes a lot easier to manage.
Buying a Used Child Car Seat
A used child car seat can make good sense for parents and caretakers on a tight budget. The normal concerns apply, and a buyer should be happy about the condition of the item being sold, and the presence of otherwise of any components that might be part of the package. There is one major issue to be aware of however. Manufacturer warranties are for one accident only. If the seat has been involved in a crash, even though it might have ostensibly come through it unscathed, then it cannot be relied upon to perform properly in the event of a fresh incident.
Buying a Child Car Seat on eBay
The simplest way to start looking for child car seats on eBay is to type ''child car seat''' into the search window. Alternatively, something as simple as '' 0 ''', after applying the filters that immediately appear at the left of the results, can prove successful. Similar results can be obtained with ''group 1''', ''group 2''' or '' group 3''', but it might be necessary to expand the categories list in the filters to find the one that is most appropriate. Searching for a rear-facing group 1 seat is particularly difficult because of the other terms in a search that might arise.
If you are considering a second-hand item, here are some tips to help with evaluating a listing. Look for good quality photographs that highlight aspects that might be of concern. You want to be able to judge the overall condition and especially the state of important parts, such as the straps and fittings. You can also draw conclusions based on the listing's text: the longer and fuller the better. If there is anything you need clarification about, remember that you can contact the vendor prior to making a purchase.
Conclusion
The child car seat is something that every parent and caretaker wants to get right. Although modern car design makes passenger safety a high priority, a small child is still vulnerable in the event of an accident, and not only that, but he or she can be a hazard to other passengers too if they have not been safely secured.
Fortunately, regulations and design standards lay down simple and easily followed guidelines for taking children on car journeys. There are four weight groups that cover newborn infants, toddlers, preschool, and school age children. Height does play a part too, but this normally becomes a consideration only as the child reaches an age where they are tall enough to be best protected by the standard seat belts fitted to the car.
Fitting the child car seat can either be accomplished by using fixings designed to work with the Isofix protocol, or else it can be held in place by the car's seat belt. eBay's listings offer many examples of both across a broad spectrum of prices, so finding the right one should be a simple task.