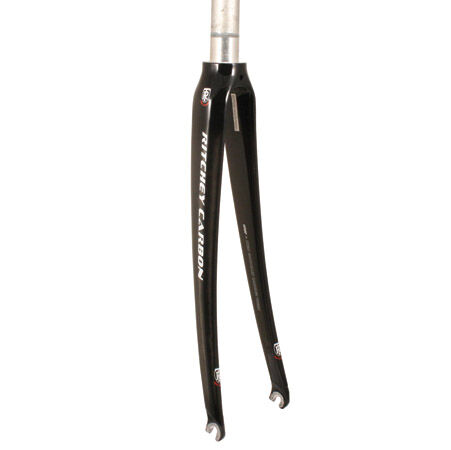 The bicycle fork is an important component that connects the front wheel of a bike to the handlebars and the rest of the frame. The fork allows for steering and is responsible for maintaining balance while in motion. Bicycle forks come in a variety of sizes, and can be made from a number of different materials. Carbon fibre forks can be purchased for any make or style of bike and improves the strength and handling, while reducing weight and risk.
eBay is an ideal place to search for bicycle forks thanks to its extensive database of users. The following guide shall focus on carbon bicycle forks, and how to successfully use eBay to find an adequate fork.
Bicycle Forks
A bicycle fork consists of the following:
The size, weight and composition material of a bicycle fork will influence how well the bike rides and the type of terrain it should be ridden on. Choosing a suitable fork greatly improves the performance of a bike.
Types of Bicycle Fork
Different types of bikes require specific types of forks to cope with the terrain and intended use. The fork must be the correct size, as if it is not it may become loose during use, and this could lead to the wheel warping or falling off.
| | |
| --- | --- |
| Mountain Bike Forks | These are suitable for use on mountainous or rugged terrain, as well as everyday urban use. Forks made for use with mountain bikes usually have small internal shock absorbers. These reduce the shock impact encountered when cycling rugged terrain. Some mountain bikes come with dual shock suspension, which absorbs more impact creating a smoother cycle. However, using shock absorbers means less control and a heavier weight. Mountain bike forks range in price from very affordable replacement parts to expensive professional upgrades. |
| Road Bike Forks | Forks manufactured for use with road bikes tend to have no shock absorbers. They very rarely come with suspension as these add weight to the bike and reduce speed. Road bike forks are much slimmer and lighter than other forks and will be more rigid. This allows for greater control and maximum speed. The majority of modern road bikes use either 100% carbon forks, or a carbon alloy forks. Road bike forks are usually quite expensive. |
| Hybrid Bike Forks | Hybrid bike forks are similar to mountain bike forks and are available in a range of options including with shock absorbers, dual suspension or rigid like those found on road bikes. Carbon forks for hybrid bikes are extremely popular, but it is possible to find the forks in a number of other materials including titanium, steel and aluminium. The carbon forks can be expensive, and the other materials are generally less costly. |
| Folding Bike Forks | Folding bikes are very popular in urban areas. However, these bikes are more intended for commuting rather than recreational purposes, and forks for these types of bikes tend to be quite expensive. |
| BMX Forks | The forks used in BMX bikes are different to other forks as they must be able to withstand use on a number of different terrains. These include urban, dirt trails and skate parks. |
There are a number of factors to consider when searching for a fork.
The length of the fork will directly influence how the bike rides. Long legged forks will raise the handlebars and result in slower but more stable steering. Lower forks will improve speed, but will make steering a very sensitive to direction.
Think about the terrain the bike will be cycled on and how strong the fork needs to be. If the fork is stronger, then what is needed it will add extra weight to the bike.
Carbon Bicycle Forks
People choose carbon forks because they are lightweight, durable, absorb shock and reduce vibration. Carbon does not fatigue the same way other metals do and have a much longer lifespan than aluminium or steel. Carbon forks tend to only become damaged when placed under exceptionally high stress or receive a powerful impact.
100% Carbon Forks

Carbon forks are manufactured in a single moulding session by layering carbon sheets on top of each other. 100% carbon forks are considerably more expensive than carbon alloy forks, but they are stronger against general damage and are nearly twice as light as their alloy counterparts.

Carbon/Aluminium/

Carbon

Forks made of this consist of carbon blades and steerer tubes connected to an aluminium crown. They are less expensive than 100% carbon forks, but are heavier and less resistant to damage.

Carbon/Aluminium

These consist of carbon blades, aluminium crowns and steerer tubes. This is the least expensive option, but also the least reliable.
Used Bicycle Forks
eBay offers a large number of forks for sale both new and used. Used models are often less expensive but the quality may not be the same. Consider the following if thinking about purchasing a used fork:
Are there recent photographs of the fork on the item page? Buyers should have access to a number of photographs covering all angles of the fork.
Visual inspection is the only way to determine if the fork is in suitable condition. Buyers should look for signs of rust, dents, chips or hairline fractures. If there are not enough photographs of the fork then use the 'Ask A Question' feature to request more. This can also be used to request additional information.
Searching for Carbon Bicycle Forks on eBay
To start a search for carbon forks, first head to eBay.co.uk
On the home page, click on the shop by category tab found to the left of the search bar.
Next, click on the see all categories. This will load up the All Categories page.
Scroll down the Sporting Goods title and click on the Cycling link.
This will load up the Cycling listings page. Then click on the Bike Parts link found in the Categories table on the left.
Enter Carbon Bike Forks into the search bar.
The Listings Page
The Categories table on the left can be used to filter out specific conditions when searching for a fork. These include whether the fork is new or used, the location of the fork and the price range.
Use the 'Sort By' drop down menu to the right of the page to re-list the forks according to price, condition, distance and the time left in the auction.
Bicycle forks on eBay are listed either as 'Auction' or 'Buy It Now'. If a fork is listed as Buy It Now then it is being sold at a set price on a first come first served basis.
Clicking on the title of a bicycle fork listing will load up the individual item page.
The Item Page
A photograph of the fork should be found on the left of the page. If the listing is without a photo then make sure to request one, especially if the fork is listed as used.
The information to the right of the photo details the time left in the bid and the current bid price.
Check the description box for any additional details the seller might have. e.g. condition of the fork, what bike it should be used with.
About the Seller
Never buy a carbon bicycle fork from a listing without a photo, as there will be no way to guarantee that the fork will be as described.
The 'Seller Information' section contains information about the seller's previous transactions on eBay, and how other buyers rate them. If the seller has received a high number of negative comments then try searching for a different fork listing.
Conclusion
Carbon bicycle forks are strong and durable while remaining relatively light. Carbon forks are more expensive than steel and aluminium forks, but are more successful at absorbing impact and reducing vibration. They are available for all bike types and are well worth the money. Be sure to think about what the bike is used for and what terrain will be encountered when selecting a fork.
eBay is a great place to search for carbon forks, as the site can offer a greater selection at better value than that found stores or on other sites. However, it is important to always inspect some photographs of the fork for visual defects, especially if the fork is listed as used. Review the seller's history, and if any problems are encountered contact eBay's Resolution Centre.