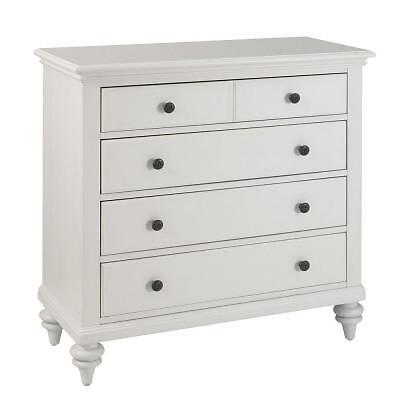 It is difficult to imagine a bedroom without a piece of furniture containing drawers, but for most of humanity throughout history, it was the only option. Chests of drawers were developed in Europe by the nobility, who were the only people at the time who had enough clothing that required storage. Now of course, a chest of drawers is commonly found in many bedrooms. A chest of drawers can be a highly versatile piece of furniture, as it can not only store clothing, but it can serve as a surface used for storing or displaying things like photos and sculptures as well. Not only that, but the right chest of drawers can be an important part of any bedroom decor.
Chests of drawers can be found in most furniture stores, but such stores may only carry a limited selection of designs and styles. A great way to see many different kinds of chests is to use eBay, where sellers are not limited by exclusive contracts with designers. Finding the right chest of drawers is easy on eBay, or anywhere else, if you are aware of a few simple tips. First, it is important to know what kind of space limitations exist in the room destined for the chest. Then, you can evaluate what kind of chest styles are available. Finally, it is important to be aware of what materials chests may be made of to find the best value.
Chests vs. Dressers
For many people, the words "chest of drawers", and "dresser", are interchangeable. Typically a dresser is wider than it is tall, and a chest is taller than it is wide. Even if a chest has multiple columns of drawers, it is still a chest if it follows this basic principle. Focus on buying a chest of drawers involves learning many of the tips that can be applied to buying a dresser as well.
Room Measurements
Even though a chest of drawers is going to take up less space than a dresser, it is important to take careful measurements of a room before purchasing one. Measurements should include floor area as well as wall area. This is particularly important if the chest is going to sit beneath a window or wall mirror. Many chests of drawers may protrude outward more than a buyer might anticipate. This factor could possibly cause a door to not open or close properly, thus making walking around in a room somewhat of an inconvenience.
Chest Styles
For the most part, a chest of drawers stands at about shoulder height, and has a single column of drawers without variation. This is known as a standard chest or a bedroom chest. Most modern chests follow this pattern, even though they may be made from different materials and vary slightly in their measurements. There are other styles that have been developed over the centuries, that have been designed to serve distinct purposes.
Bachelor's Chest
A bachelor's chest is typically made from wood, and stands at about waist height. The original purpose of a bachelor's chest was, as the name indicates, a place for a man to place clothing such as socks, underwear, and shirts. While a bachelor's chest may in many ways resemble a nightstand, they are, in fact, slightly larger and often contain drawers in unique configurations, or doors that open onto the drawers. For many modern people, a bachelor's chest is somewhat impractical for an entire wardrobe due to the small size, but it can function as an important part of bedroom décor.
Tallboy
A tallboy is also known as a "highboy", and is basically a chest of drawers that stands taller than average. Tallboys tend to be fairly massive, and in spite of the fact that they are taller than they are wide, can take up a decent amount of bedroom space. In some cases, a tallboy can be tall enough to approach the ceiling of a bedroom. The most distinguishing characteristic of a tallboy, aside from the height, is that a tallboy is usually divided into parts. The lower portion, known as the "lowboy", can be wider than the upper portion and is mainly made with one column of drawers. The upper portion can vary, containing doors hiding smaller drawers, or multiple columns of smaller drawers for smaller items.
Lingerie Chest
A lingerie chest is roughly as tall as a standard chest, but is much narrower. Usually, a lingerie chest is narrow enough that only one column of drawers is viable, but there are some variations, including version with very small drawers. While a lingerie chest is ideal for storing various pieces of lingerie, it does not need to be limited to this specific purpose. Men and women alike, can store other clothing in a lingerie chest. Lingerie chests are particularly useful in rooms where space is at a premium, or if there is a narrow piece of floor that needs something in order to create a proper feel. '
Media Chest
A media chest is designed for those who wish to have a television, or other media device in their bedroom. Like a tallboy, a media chest is often divided into two portions; the lower portion contains drawers for storing clothing, while the upper portion contains a space big enough to hold a television. In many cases, the upper portion can be concealed with the use of a set of doors. This type of media chest was more common before the advent of larger flat screen televisions that take up more space than may generally be available in a chest of drawers. Now, many media chests are designed for a television to sit atop them.
Chest Construction
Chests of drawers come from everywhere, and are built in so many styles, and out of so many materials, that an understanding of what makes for good construction is vitally important. For the most part, chests are made of wood. This does not mean, however, that all chests are equal. There are differences in woods, and some may be better suited to furniture than others. At the same time, some furniture is made of composite or engineered woods that are themselves made from recycled wood.
Hardwoods
Some chests are made with hardwoods, such as maple, oak, teak, or ash. These woods tend to endure very well, and furniture made from them can last for generations if it is cared for properly. Hardwoods have their origins in deciduous trees that shed their leaves seasonally. It is a myth that harvesting all hardwoods is damaging to the environment. Keep in mind that there are other options available, such as rubberwood, that are sustainable and more environmentally friendly.
Softwoods
Softwoods are not as strong as hardwoods, but can make for very strong furniture that can also last for a long time if cared for properly. Softwoods come from coniferous trees, mainly those that are native to colder northern regions. Popular hardwoods include cedar, pine, and cypress.
Composite Woods
Composite wood is basically comprised of smaller pieces of wood that have been glued together to form boards. While furniture made from composite wood is cheaper than anything made from either hardwoods or softwoods, it will not last nearly as long. Not only will the wood deteriorate over time, it cannot handle as much weight as solid wood. While furniture polish and oil can eliminate scuffs and scratches on solid wood, this is not the case with composite wood.
Buying Chests of Drawers on eBay
Chests of drawers, along with dressers and many other pieces of furniture, are readily available on eBay. Some of these chests will be in new condition, perfectly ready to enter your bedroom, while others will be in various states of used condition. This is one of the advantages of shopping in an online marketplace like eBay, in which sellers may also offer lower prices.
Some buyers may be surprised to find that there are so many heavy furniture items available on eBay. Even heavy chests of drawers, such as those in the tallboy style, can be found there without astronomical shipping costs. The best way to find the ideal chest of drawers on eBay is to simply enter the term "chest of drawers" into the search bar on the eBay home page. This will provide a general idea of what is available, although this search can be easily modified by including additional keywords into the original search term.
Conclusion
A chest of drawers can, in many cases, provide more storage than a dresser and can be a prominent and highly visible part of any bedroom furniture set. A chest of drawers takes up less space on the floor than a dresser, which can be very important in many small bedrooms. Although there is a standard style for chests of drawers, this style is not strictly defined in terms of measurement. Neither are the other styles of chests, which can be shorter, taller, or narrower than the standard style.
For the most part, chests are made from wood or composite wood, but it is important to determine which one is preferred in order to gauge the potential longevity of a specific chest of drawers. Once all of these factors have been taken into consideration, a buyer can have a good sense of what kind of chest would be the best fit for their needs. Then, a quick search on eBay can provide a number of options for purchase.