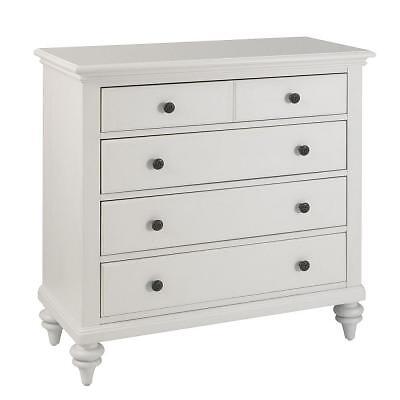 Chests of drawers are typically used in master bedrooms or other bedrooms in homes to store clothes. However, chest of drawers are also appointed in other areas of homes as accent pieces or for additional storage. Many chests are manufactured as pieces to matching furniture sets, though stand-alone chests of drawers are also common. Chests of drawers come in various dimensions, visual styles, finishes, and colours. Shoppers' needs from chest of drawers are likely to dictate the dimensions they need, but the palette of the rooms and the other furnishings in them help dictate the style and colour of chests which are purchased.
Many furniture shoppers are likely to save both time and money heading to online venues and websites such as eBay rather than more traditional brick and mortar stores. Not only can the buyers quickly shop a large selection of chests of drawers online, but many items are available for purchase at steep discounts compared to retail prices.
Those potential buyers shopping for a chest of drawers should make themselves familiar with the key elements which comprise a quality chest of drawers in order to ensure that they purchase a product which will stand up to the test of time. When determining if a chest is a quality piece, buyers should study its foundational material, construction, and hardware.
Chest of Drawers Materials
Most chest of drawers are made of solid wood or a particle board with a laminate wood veneer. In general, hardwoods are considered the highest quality material with which to manufacture a chest of drawers.
Hardwoods
The hardwoods commonly used in furniture making include mahogany, oak, walnut, cherry, rosewood, and maple. It is increasingly rare to find furniture manufactured from solid hardwoods, and as a general rule of thumb, a chest of drawers made from them is likely to be both heavy and expensive. However, a chest of drawers made of hardwoods easily lasts a lifetime or more, a fact which may mitigate the high expense for some buyers.
Softwoods
Softwoods include options such as beech and pine. Furniture manufactured in these woods is not especially difficult to find, since these softer woods are very plentiful and relatively easy to work with. However, they are sometimes prone to easily displaying surface damage, such as dents or scratches, and they are not likely to have the longevity of stronger, harder woods. The trade off is that furniture made of softwoods is generally far cheaper.
Wood Veneer
The cheapest basic materials found for chest of drawers is generally the wood veneer option. These pieces are manufactured using different grades of particle board, but made to look like hardwood options by pasting a thin veneer of hardwood over the visible surfaces of the particle board. Though these pieces may last several years, they are not as sturdy or wear resistant as true hardwood varieties.
Chest of Drawers Construction
A piece's construction is just as important to its longevity as the materials it is manufactured from. Shoppers can judge the quality of the construction in a chest of drawers by looking at a few key areas: the joints, the drawers, and the back panel.
Inspecting the Joints
The corner joints of a chest of drawers offer a quick and easy way to inspect the quality of a piece's construction. The highest quality pieces feature a dovetail joint, meaning the wood on both sides of the joint is notched so that it carefully slides together. Wood glue and pegs or screws are generally used in tandem with this special construction, making it a strong and long-lasting joint. Cheaper furniture features simple planed joints, sometimes held together with glue alone.
When inspecting joints which are obviously not dovetailed, try to count the different methods which the manufacturer used to hold the different sides together. The higher the number, the stronger the joint. Things to look for include wood glue, wooden pegs, nails, and screws.
Inspecting the Drawers
The drawers are the elements of a chest with which individuals use the most, and therefore it is here that quality is most important. To inspect for quality drawers, slide the drawers halfway from their sockets. You should be able to see dust-proof panels on the inside of the chest, separating each drawer. These panels not only prevent dust and other particulates from moving between the drawers, but they help ensure that no items fall between drawers. They also preserve the atmospheric conditions within the chest, as even slight dampness sometimes warps wood.
The drawers should slide easily, silently, and smoothly. If users intend to heavily pack drawers, they should look along the drawer rails to check for hard nylon wheels, which help drawers slide smoothly even when packed.
Inspecting the Back Panel
The back panel is a key area where some manufacturers tend to slack. A quality back panel is made of the same wood featured in the rest of the piece. Unfortunately, more and more manufacturers are using recessed back panels, which are not visible from the side of the chest, and they are employing poor-quality substitutes such as cardboard or much thinner sheets of wood.
To check for a quality back panel, gently rap on the side of the chest with your knuckles. Then rap on the back panel. The noise produced should sound similar, and the panel should not feel soft or give against your knuckles. Also look for tacks, staples, or pins, which are a sure sign the back panel is thin and poorly secured.
Chest of Drawers Hardware
The hardware in a chest of drawers is those elements which help hold the chest together and make it functional. This includes drawer pulls, hinges, and any sliding rails which the drawers might rest on. Quality hardware helps pull a piece together and function as a key design element.
Hardware is made of many materials, such as metal, glass, wood, horn, or plastic; many chests even feature a combination of those materials. To ensure that chests of drawers are quality pieces, however, users should carefully handle the chests themselves.
Drawer Pulls
Potential buyers can test drawer pulls by giving them a very gentle tug. Pulls should not wobble or wriggle in their settings. Shoppers should also try to give them a slight twist. Drawer pulls should not feel loose and should not loosen to light pressure. Cheaper drawer pulls are likely to feel hollow and insubstantial.
Drawer Rails
The drawer rails are the sliding rails on which drawers rest, and they help make pulling drawers out feel effortless. Though some antique or handmade chests of drawers do not feature drawer rails, most likely do. To test for quality drawer rails, shoppers should try to fully extend the drawers. The drawers should be easy to move and replace in their sockets, and they should not make too many sounds or feel wobbly or lopsided. Wobbling or lopsidedness is generally a sign of an inferior product or placement.
Buying a Chest of Drawers on eBay
Buying a chest of drawers on eBay helps savvy shoppers save time as well as money. To start, you should locate the search bar, which is easy to find and available on any of eBay's pages. After clicking on it, type in the terms which together detail the type of chest of drawers you are hoping to find. Making your search fairly general helps return the maximum number of possible results. Press enter after typing your search terms to see a detailed list of those items which match your search. Some examples are "brown walnut chest of drawers", or "green pine chest of drawers". From there, you can choose to refine or organise your search results based on several qualities, including colour, price, and distance from your location.
Choosing to see those options listed closest to you first helps to save you a significant amount on shipping. Not only that, but some buyers may find that sellers are willing to negotiate and allow the item to be picked up by the buyers.
Conclusion
Chests of drawers come in many different varieties in options which greatly impact shopping decisions. The quality of a chest of drawers is determined primarily by the materials it is manufactured from and the soundness of its construction. Luckily for shoppers, there are a few simple details to look for to help identify a quality chest of drawers.
Drawers also come in many unique shapes, sizes, colours, and finishes. Though the ultimate decision on which style of chest is always up to the taste of the shoppers, a few decorating rules of thumb are used to help determine what style of chest best fits in an already decorated and furnished space.
Whatever type of chest of drawers that buyers decide is best for their needs, they may want to consider beginning their search online. Websites such as eBay offers a wide selection; typically at prices far cheaper than those of a furniture retailer.