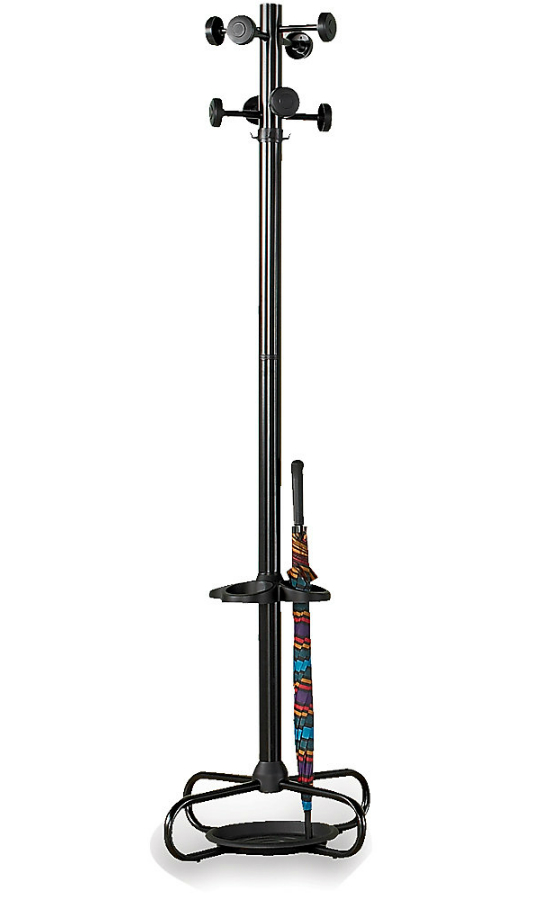 There is no denying the usefulness of a coat rack for homes and businesses when it comes down to organisation. Rather than cluttering a room with coats, coat racks are ideal for hanging outerwear. They are also used to store umbrellas and other accessories, including hats and scarves. While they are often compact and occupy little floor space in comparison to other furniture, coat racks still create innovative and creative silhouettes that enhance a space, whether it is a room or a hallway. They also complement the design of a room or property. Coat racks are also used to evoke a sense of place, such as creating a warm and welcoming feel to a room when traditional or antique styles are used.
About Coat Racks
Useful for storing personal belongings and artfully arranging space, coat racks are typically placed at an entryway or a hallway. Not only ideal for storing coats and jackets, coat racks can be utilised for a variety of storage needs. Some coat racks feature dedicated storage space for umbrellas, which are generally found at the base of the stand. They may also feature open or closed storage space for other household items, including gloves and shoes. Most coat racks are mobile pieces and they are easy to move into different areas of a room or property. Smaller coat racks, or wall-mounted coat racks, can be conveniently affixed to a wall. Whether stand-alone or wall-mounted, coat racks often require some assembly that can typically be carried out by most adults.
Choosing Coat Racks
Choosing the right coat rack will depend on personal needs and style preferences. While a large coat rack offers a convenient storage space for large families, someone living alone may not need a bulky coat rack that can occupy limited space in a property. The size of an entryway or hallway will also dictate the type of rack needed. For smaller spaces, a fixed or mounted coat rack may be better than a larger coat stand. If storage space is limited, a coat rack with an umbrella stand or additional built-in storage may be a convenient option to increase storage space within a property.
Coat Rack Types
Several types of coat racks are available. While basic coat racks offer a convenient location to place a coat, other coat racks and stands feature additional storage space for umbrellas and other accessories. The following table outlines some of the primary types of coat racks.
| | |
| --- | --- |
| Coat Stand | Coat stands are mobile and not fixed to a wall or to the ground. They are generally made from wood or metal, such as iron, steel, or stainless steel. They typically feature legs and hooks that can either be simple in style or decorative. |
| Coat Rack with Umbrella Stand | This type of rack allows coats and other outerwear to be stored, as well as umbrellas. The umbrella case is typically found at the bottom of the stand. Umbrella coat stands are also convenient places to store other accessories, from golf clubs to walking sticks. |
| Coat Rack with Storage Bench | Coat racks may include storage benches at the bottom of the stand. Typically these coat racks are large units with hooks along the top of the unit. They also feature storage space or benches at the base of the stand, which can be covered or concealed. Built-in storage space may also be included at the top of the stand. |
| Mounted Coat Rack | Wall hanger or mounted coat racks are fixed to a wall. In some cases, they may also be placed on a door. Mounted coat racks can feature a single hook or a row of several hooks. They may also include a top shelf to store hats, gloves, scarves, or other accessories and household items. |
Coat Rack Design
Coat racks are available in various styles. The table below summarises the more common design styles for coat racks.
| | |
| --- | --- |
| Traditional | Traditional coat racks are often basic with classic or antique designs. They typically feature clean lines with traditional decorative features. Traditional coat racks may also feature twisted wood or metal design along the stand. |
| Contemporary | Modern coat racks include contemporary style and lines. Legs and hooks can be elaborative and creative. Contemporary coat racks can feature sleek metal or vibrant colours. They may also be built using a mix of materials, including wood, brass, stainless steel, and other metals. |
| Decorative | Unique coat racks are available in a broad selection of designs and colours. From animal print stands to tree-shaped racks, playful and innovative designs can appeal to any design preference. |
Coat Rack Material
Coat racks are created with a wide variety of finishes and colours. Coat racks can appeal personal design preferences, as well complement or match the style of a room or property. Although common coat rack colours are black, brown, and gray, units are available in almost any colour or a combination of colours. The following chart provides information on some of the most common materials used for coat racks.
| | |
| --- | --- |
| Wood | Coat racks made from finished wood provide a classic and refined addition to any home. Coat racks can feature matte, semi-gloss, or gloss finishes. They are also available in a wide variety of wood types, including pine, oak and cherry. Wood coat racks without storage benches are generally smaller and less expensive than racks made from other materials such as metal. They are also easier to move since they weigh less than steel or iron coat racks. |
| Steel | Larger coat racks are generally made from steel and stainless steel. They can feature traditional and contemporary designs. These units may also be built in combination with wood. |
| Iron | Coat racks are available in durable wrought iron. Iron coat racks and stands are typically larger, which means they can hold several coats and other outwear. This makes them ideal for properties with large families. |
Coat Rack Price Range
The cost of a coat rack often depends on the design and materials used. The following table outlines price ranges for common coat racks.
| | |
| --- | --- |
| Basic | Basic coat racks have a solid design with clean lines. They typically lack any decorative features, and often feature simple hooks and legs. Basic coat racks are generally made from wood. |
| Mid-Range | Mid-range coat racks typically feature some unique design elements. While maintaining a classic style, they may feature decorative hooks and legs that enhance the visual appeal of the unit. |
| Luxury | Luxury coat racks include premium finishes and ornate features, including complex hooks and legs. They may also mix different materials, including wood, brass, and metal elements. |
Conclusion
Depending on personal style preferences and the design of a room, coat racks can help define and enhance a space. Whether it is contemporary coat rack made from stainless style or a simple traditional stand that evokes a bygone era, a coat rack can leave visitors and guests with an immediate impression. They can also provide convenient storage solutions. While a coat rack's style and design are often determined by personal design preferences, their size will typically depend on personal needs. Researching available coat racks will ensure the right style and size of coat rack is selected that suits a space and meets personal needs.