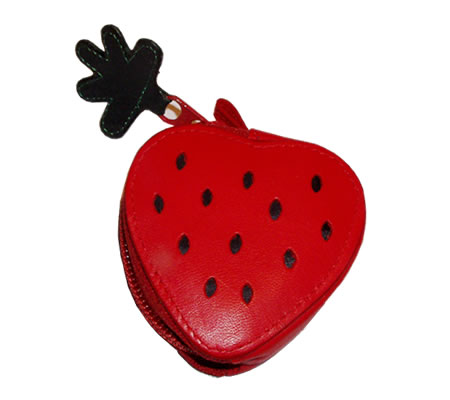 A coin purse is a small pouch, purse, or wallet intended for the storage and carrying of small items, including coins. In some areas, the coin purse is synonymous with the word "purse", except where purse is used to mean "handbag" or to indicate any type of larger bag. Usually a coin purse is small enough to be kept in a pocket, or in a handbag, but large enough to hold a significant amount of coinage.
Women choose to carry a coin purse for a variety of reasons, but typically as a way to organise spare change and coins in their handbags. A coin purse can be very cheap and basic, or it can be a costly designer item either to add value to an outfit, or to add glamour to the wearer. In fact, many women choose to purchase expensive coin purses simply because they are small, and therefore, even expensive varieties are affordable and last a long time if made of quality materials. Women's coin purses can be purchased at women's accessories shops, department stores, and on the online auction website, eBay. Before purchasing a coin purse, a woman should know about the various types of coin purses and know how to choose a coin purse that is right for her.
What Is a Coin Purse?
A coin purse is a small money bag meant to hold coins and other small monetary items. The oldest coin purse known to man originates from 3300 BC and was found on Otzi the Iceman, a preserved historic man found between the borders of Austria and Italy. Coin purses can also be seen in Ancient Egyptian hieroglyphs, and were often worn by men, as well as women. While the coin purse faded out as a common accessory for men over time, they are still sometimes used by men today. The coin purse often played a prominent role in medieval times, when brides would embroider a pouch used to hold their dowry, which was money given to the husband upon marriage. Since then, the coin purse has developed into a very simple vanity or utilitarian item, purely for the purpose of storing loose change. Most women keep their coin purse in a pouch of their handbag in order to allow easy access to change and small money denominations.
Types of Coin Purses
There are a variety of styles of coin purses, and most women can choose one based on personal style and preference. Although many shops carry several different styles, women can find literally any style they like through online shops and eBay. Depending on the manufacturer of the coin purse, the purse can feature anything from a plain exterior to an extremely complex print or embroidered design. Coin purses also come in a variety of different materials that range from genuine leather to cheap polyester.
Key Holder Coin Purse
The key holder coin purse is usually made of plastic or rubber, but can also feature a fabric body with a simple clasp. This coin purse is normally meant to hold only a few coins at most, so that it can be easily attached to a key ring. This is the most popular style of coin purse for women not interested in fashion, but usually can be quite utilitarian, rather than stylish.
Handbag Coin Purse
For women more interested in style, a coin purse with a matching handbag is one of the most fashionable choices. Women can either choose to purchase a handbag that comes with a matching coin purse, or search for a coin purse that contains a matching pattern or fabric to their handbag. This style is also quite popular with crafters who purchase basic bags and coin purses, and then blink, or embroider, them to a similar style. Matching a handbag and coin purse is an excellent idea for many women, especially if they normally carry the same handbag.
Tin Coin Purse
Another popular option, though not quite a coin purse, is to simply carry a small tin filled with coins, rather than a purse. The advantage of the tin is that it can be more fashionable, feature any number of different designs, and be easier to find. The disadvantages are that it can be loud when coins clink against the sides, and if it does not feature hinges, it may have the potential to make a mess when opened.
Drawstring Coin Purse
Drawstring coin pouches are perhaps the oldest type of coin purse, and are similar to those seen in Ancient Egyptian drawings. Drawstring pouches are simple fabric pouches with drawstrings sewn into them that are then pulled tight around the coins. The advantage of this type of coin purse is that it is usually easier to use, can be tied shut to prevent a mess, and is usually very quiet. Drawstring pouches are often inexpensive, and normally hold a lot of coins without taking up a lot of space.
Clasp Coin Purse
Clasp coin purses are one of the most popular styles because they are fashionable, reminiscent of many retro styles, and often quite attractive. Clasp coin purses are most often seen with designer styles and generally come in some type of genuine or imitation leather, but can be made of fabric as well. Clasp pouches are often chosen to match a wallet, and can be found in keychain form as well. These are also usually the most expensive type of coin purse, and can feature either a basic design or very glamourous jewelled surface, depending upon the preference of the wearer.
Zipper Coin Purse
Zipper coin purses are one of the most common, and least expensive, types of coin purses due to the fact that they are practical and easy to use as an everyday utility, easy and cheap to make, and relatively affordable. This type of coin purse can usually be found in a variety of sizes and qualities, with different price tags attached to them. Because zippers are reliable and easy to use, many women choose the zipper pouch over other styles because they think it is more practical. However, it is also most often the most frequently available style found in shops as well.
Choosing a Coin Purse
Most women choose a coin purse based on what is available in their area, but it's also possible to go online and check eBay for a wider range of choices. Women can choose a coin purse based on its intended purpose, their personal style, and whether or not they want it to match a handbag or outfit they already own. Many alternative styles can also be found; for example, some fashion retailers sell popular media-based coin purses, such as "zombie coin purses", or "Hello Kitty coin purses". Depending upon a woman's style and attitude, she could also choose something with embroidery, lace, sequins, or skulls.
Because some women use their coin purse to hold small items, such as keys, makeup, or other necessary items when going out, in lieu of bringing a clutch or handbag, it is important to choose a style that matches regularly worn outfits, or that goes well with personal style. Good examples include choosing something black to go with most outfits, lace to go with a feminine look, or skulls for an edgier one. Because coin purses are used to store different things, women can also choose the size of purse based on its purpose. For example, a long and thin purse is more appropriate for lipstick, while a large square one is better for holding a compact and car keys.
Buying a Coin Purse on eBay
If you are looking for a coin purse, then you can find nearly any style, design, and price on eBay. Because eBay is home to international sellers, you can find everything from a low-cost budget coin purse, to a high-end designer option, either of which may not be available in your local shop. You may also find that eBay gives you access to designer brands at a lower cost, as well as hundreds of style options not available anywhere else.
If you have an idea for what you are looking, you can search for it right from any eBay page. Good search ideas include "Guess coin purse", "skull coin purse", "brown coin purse", or anything else you like. Once you have found the item for which you are looking, read its description carefully, check the shipping time, and if necessary, message the seller with any questions you may have. From there, you can simply checkout using the payment options.
Conclusion
There are many different styles of coin purses, and many different reasons to carry one. The most obvious reason is to carry coins and small change, but many women also store lipstick, small compacts, makeup, keys, and sometimes mini tampons in coin purses as well. Because the coin purse can easily fit into a pocket, many women find it more convenient to take them out, rather than a clutch. Coin purses may be purchased for style reasons, to match a handbag, to go well with an outfit, or even because the owner finds it attractive.
Coin purses come with zippers, clasps, drawstrings, and sometimes stiff rubber or plastic that can be bent out to allow the insertion of a coin. They can also be purchased on key chains, but are most commonly found as an individual pouch that can be stored in a trouser pocket, or in a pocket of a handbag.