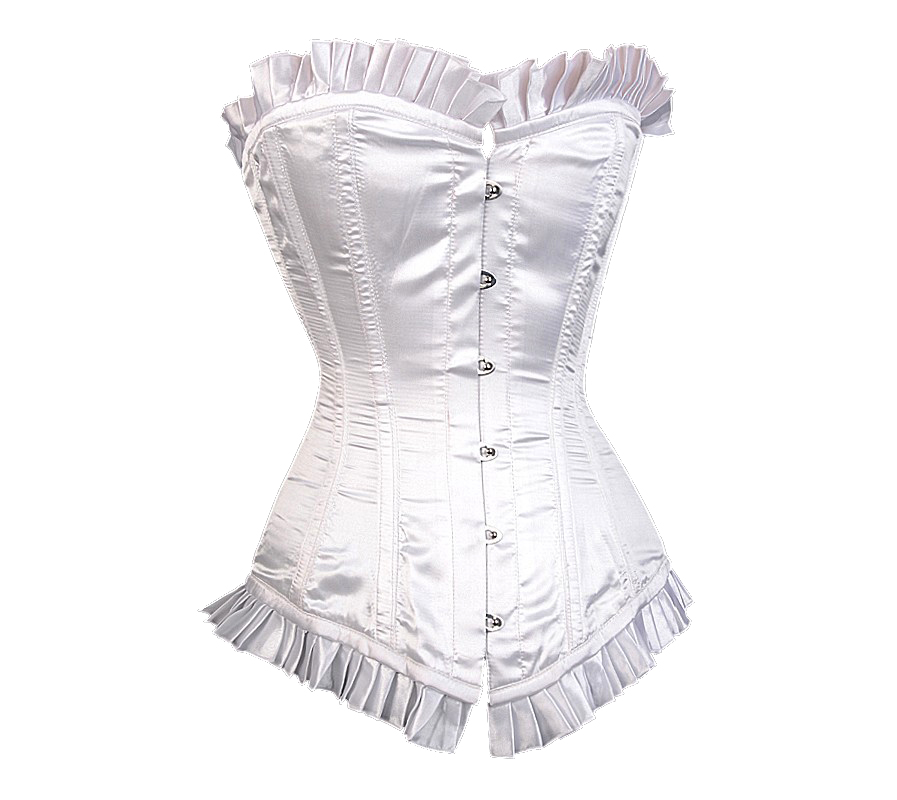 Corsets have been stereotyped as uncomfortable, restrictive garments. However, a well made and properly fitted corset is just the opposite. It fits comfortably and provides support to the back, helping to improve posture, while creating a flattering hourglass shape. While a corset is not for every woman, it does have a broad appeal to women of different shapes and sizes. Whether women are interested in buying a corset as a piece of lingerie, a fashion statement, or even a historical costume, comfort is key. So, women need to choose a style that suits their body shape and to make sure that the corset fits correctly.
The construction of the corset also plays a role in how comfortable it is. A lower quality corset typically does not provide good support and often lacks the components that make higher quality corsets comfortable to wear. Some retailers and department stores may carry fashion corsets. It is also possible to obtain custom-made corsets from specialist shops. Many women may prefer the convenience of shopping online through an auction site such as eBay.
Authentic vs. Fashion Corsets
Corsets are typically divided into two categories: authentic and fashion. The two differ significantly in terms of construction and their effect on the body.
Authentic Corsets
An authentic corset can be custom-made to suit a woman's individual measurements, though many corsets are ready to wear based on waist and bust size. Authentic corsets have at least three layers of fabric: the lining, the base, and a face. They rely on steel or other stiff boning to shape the body. Authentic corsets are durable in their construction, which means that when they are properly cared for, they can last for years.
Fashion Corsets
A fashion corset is a lightweight garment that typically uses lower grade materials than an authentic corset. Fashion corsets are mass produced, and therefore are less expensive. They are a common choice for lingerie and for corset-style garments that do not have the shaping effect. A fashion corset may have just one layer of fabric. In addition, the boning, which give the garment its structure and helps to shape the body, may be made of plastic or other bendable materials. The result is that a fashion corset does little to shape the body. In addition, fashion corsets often use dual sizing, that is small, medium, and large, rather than more tailored measurements.
Styles of Corset
Corsets come in two main styles: overbust, which cover from the waist to the bust, and underbust, which cover only the waist. However, both styles offer variations in terms of shape and length. Which style is most comfortable is largely a matter of body shape and personal preference.
Overbust Corsets
Women with large busts may prefer an overbust corset as it supports the chest. An overbust corset supports the bust from the waist up and distributes the weight. A corset with special cups or a gusset, which is a triangular insert of fabric, may provide better support and be a better fit than corsets with a straight, seamless design. An overbust corset with a straight design works better for women with smaller busts and can enhance the appearance of their natural assets. In both cases, check the fit of the corset. It should not poke into the skin around the underarms or dig into the thighs when sitting down. As an added benefit, the overbust corset also supports the back, which can increase the level of comfort.
Underbust Corsets
An underbust corset is more comfortable than an overbust corset for regular and consistent wear, and it has the benefit of being more discreet. It can also be worn over clothing, if preferred. Women need to choose their own bra, as the underbust provides no support for the bust, though some styles may have a halterneck strap. Underbust styles allow for a greater range of movement and flexibility, and are ideal for women who are new to corsetry. However, the corset should still be fitted carefully. An underbust corset should not dig into the breasts or the thighs. In addition, women with broad backs could see a bit of a bulge when wearing the corset, so a style with a higher back, or even an overbust style, may be preferable.
Corset Construction
When determining how comfortable a corset will be, it is important to look at the fabric, boning, and hip length. These features vary between fashion and authentic corsets.
Corset Fabrics
A quality corset uses at least three layers of fabric: an outer layer called the face or fashion fabric, the inner base layer, and the lining. The lining sits closest to the skin and is affected by the body's natural oils and sweat. For that reason, a quality corset has a lining made of a natural material such as cotton, which is absorbent and wicks moisture off the skin, as well as helping to regulate body temperature.
Corset Boning
A busk is the central bone at the front of the corset. When the corset laces at the back and has snap fasteners at the front, it means that the busk is divided. Both the ordinary boning and the busk can be made of steel or plastic, but steel is more durable. Two common options are spiral steel and flat steel, which are sometimes used in combination. Spiral steel is more flexible than flat steel, but they are both rigid enough to be stable, whereas plastic can bend easily and dig into skin.
Hip Length
Some corsets, both underbust and overbust, have long hips, while some have shorter lengths. Longer hips allow for less range of movement, but can create a more smoothing effect for the stomach and hips than a shorter length. Slim women and those with long torsos may find an underbust corset with a short hip line more flattering, while a long hip line is better suited for women with larger stomachs.
Sizing a Corset
An authentic corset must be sized perfectly to fit properly, so women need to know their bust, hip, and waist measurements, as well as the length of their torsos and their bra cup sizes in some cases, before buying a corset. For custom-made corsets, the makers may require additional information, such as the exact distance between each of the measurements. When taking measurements, use a soft cloth tape measure and make sure that the tape is not too tight or too loose.
Measuring the Bust, Hips, Waist, and Torso
The bust and hips should be measured at their widest point, while the waist should be measured at its narrowest point, which is typically a few centimetres above the navel. When measuring the length of the torso, sit in a chair with the back straight. Measure the length of the body from either the centre of the chest just below the bust for an underbust corset, or from the centre of the chest to just above the nipple line for an overbust corset.
Using Measurements to Pick a Corset Size
When choosing a corset size, women should consider whether they are buying a fashion corset or an authentic corset. A fashion corset does not reduce the waist size, while an authentic corset does, typically by 2 inches to 6 inches. Women with waists smaller than 26 inches should look for a corset reduction of up to 2 inches, while women with waists from 26 inches to 34 inches should look for a reduction of up to 4 inches. Women with larger waists can consider a reduction of up to 6 inches. The table below provides more sizing information, using waist measurements, fashion corset, authentic corset, and dress sizes.
| Natural Waist Size (inches) | Fashion Corset Size | Authentic Corset Waist Size (inches) | UK Dress Size |
| --- | --- | --- | --- |
| 25-26 | S | 20-22 | 8 or 10 |
| 27-28 | M | 22-24 | 10 or 12 |
| 29-30 | L | 24-26 | 12 or 14 |
| 31-32 | XL | 26-28 | 14 or 16 |
| 33-34 | 2X | 28-30 | 16 or 18 |
| 35-36 | 3X | 30 | 18 or 20 |
| 37-38 | 4X | 32 | 20 or 22 |
| 39-40 | 5X | 34 | 22 or 24 |
| 41-42 | 6X | 36 | 24 or 26 |
Bear in mind that exact sizing for dresses and fashion corsets can vary by designer, so the sizes given are just a rough guide. Using actual measurements and trying on the garments are still the best ways to determine the fit. It is also never a good idea to try to squeeze into a corset that is too small. It will not flatter your figure and will be comfortable.
How to Make a Corset More Comfortable
Every corset needs to be broken in before it can be worn for extended periods of time. While a custom-made corset is already tailored to the woman's body shape, it still needs time to adjust to the pressure of being laced. Ready-to-wear designs require the same process. Breaking in the corset helps to protect the fabric, lacing, boning, and grommets by giving them time to adjust, which can prevent damage to the corset. In addition, breaking in the garment also gives the wearer time to adjust to wearing the corset.
Break In a Corset Slowly
To break in a corset, start by loosening the laces before you put it on. After the corset is on, tighten the laces until the corset fits snugly, but it is not uncomfortable. There will always be a gap at the back of the corset, so this should not be a cause for concern. After lacing the corset, wear it for half an hour to an hour, going about normal daily activities. After the time has elapsed, tighten the laces of the corset a little bit further and continue to wear it for around another hour. This process should be repeated two or three times over the course of a few days. Never tighten the corset to the point where it is painful or difficult to breathe. When removing the corset, always undo the laces first, rather than the busk.
Consider the Skin Beneath the Corset
Two things can be done to further enhance the comfort of the corset. The first is to make sure that the skin underneath the corset is properly moisturised. Flaky or dry skin, as well as itching, should be addressed with a moisturising lotion or other skin care product, as this will contribute greatly to the comfort of the corset. In addition, wearing a piece of clothing underneath the corset, such as a tube top, a vest, or undershirt, can make the corset more comfortable, as well as protecting it from the body's natural oils, which can become trapped in the interior lining.
Buying a Comfortable Corset on eBay
When you are ready to buy a corset on eBay, visit the eBay home page, where you can enter the phrase that you are looking for, whether that is a leather overbust corset or a lace underbust corset. You can perform this search from any page on the eBay site. When buying corsets, research the seller by checking his or her feedback history. Good ratings and positive feedback indicates a reputable choice. eBay also recognises consistently excellent sellers by labelling them as Top-rated sellers. In addition, if you have any questions about the corset, for instance, the size or material, you can ask the seller by using the "Ask a question" link.
Payment Methods
Before you can make a purchase, you must choose a payment method. While the seller should accept a range of methods, PayPal is ideal because it is widely accepted, secure, and convenient. You can also manage your payment methods and feedback through My eBay.
Conclusion
If you are looking for a fashion corset or a costume, it is important to make sure that the garment fits well: whether a corset is comfortable or not is largely a matter of fit. To fit a corset, use the bust, waist, and hip measurements, as well as the bra cup size and torso length. A well fitting corset does not dig into the thighs, the underside of the bust, or the underarms. An authentic corset needs to be broken in, which helps to prevent damage to the garment and allows the wearer to become accustomed to it. To break in a corset, it should be worn frequently for short periods of time. However, never overtighten a corset. The back of the corset should still have a gap, and it should never be difficult to breathe.
The style of the corset also plays a role in the level of comfort. Overbust styles are more restrictive, but provide more support for the back and bust than underbust styles. Similarly, corsets with longer hips restrict movement more than their shorter counterparts, but they flatten the stomach and shape the hips. Finally, the construction of the corset also contributes to the comfort level, from the boning to the lining fabric. Steel boning is less flexible than plastic boning and therefore provides support. It also prevents the boning from bending and digging into the skin. The lining on the interior of the corset should use a natural fibre such as cotton, which breathes better and is highly absorbent. eBay has a wide selection of corsets, so every woman should find one that she can wear comfortably.