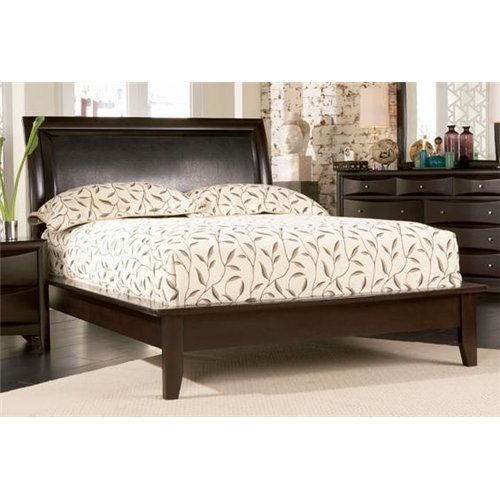 Beds do not last forever, and the owner will usually know when the bed has come to the end of its life. After years of use, a bed may stop providing the support and comfort it was intended for – and that can affect the quality of sleep. How long a bed lasts depends solely on its use, so factors such as changes in lifestyle, having children, and putting on weight can all contribute to a bed's lifespan. A bed has reached the end of its natural life when its owner wakes up with aches and pains; problems that can start affecting the person's general quality of life. Some people suddenly find they are not sleeping as well as they used to, or they may find that they get a better night's sleep in a hotel bed. Once this stage has been arrived at, it is time for a new bed. Choosing the best bed is, however, not a simple process.
Choosing the Correct Bed
A king size bed is five-feet wide, and it provides a large sleeping surface area that is ideal for couples. The purchase of a new king size bed is not going to cure all of a person's stresses and strains overnight, however, it will give the owner the best chance possible to get an unbroken night's sleep. Selecting the correct bed is a complex process, as there are currently thousands to choose from. Consumers should consider all of the options very carefully, and time should be taken to ensure a new bed caters for the individual's requirements. The easiest way to start a search is by deciding on the type of bed that is required. Issues surrounding the firmness of the new model should be considered, and the preferred frame should be decided on in advance. The size of a king size bed is considerable, so the measurements of the bedroom it is intended for should be taken before the search begins.
Shopping for a New Bed
Motorists test-drive cars before buying them, and consumers should try-out beds in the same way. Consumers should ensure that they take an opportunity to lie in the beds in order to get a feel for them; this process should also be undertaken for those who are buying a new bed online. A new bed will probably be a significant investment, so the product should be fit for its intended purpose. In order to ensure that the most suitable bed is chosen, there are a few tips that should be considered.
| | |
| --- | --- |
| Shop Together | If a new bed is intended for a couple, both partners should be present when shopping for a new model. The new bed will only be a successful purchase if both people are happy with it. |
| Set Aside Enough Time | The most suitable bed will only be found by trying and comparing a number of different styles and makes. Ideally, a full day should be set aside to try the broadest range of styles possible. |
| Get Some Rest | People who are tired when they are trying out beds may think every bed feels comfortable. |
The Mattress
Most king size beds are bought by couples, so selecting the most appropriate model with both users in mind is a complicated process. There will probably need to be a little compromise from both partners, but they should be aware of the different health benefits mattresses have to offer.
The General Properties of a Mattress
| | |
| --- | --- |
| Firmness | This is often a matter of preference, and many manufacturers will offer a choice of soft medium and firm mattresses. The main health benefit of a mattress is a good sleeping posture, so a firm mattress is not necessarily good for a bad back. |
| Support | The best beds mould themselves to the shape of the user, yet they continue to deliver excellent support at all times. The spine should be horizontal when the user is lying sideways, and turning should be easy. Some king size models can be bought with two different mattresses zipped together; these mattresses are good for partners with significantly different weights. |
| Comfort | Comfort is a matter for each individual, so it is essential that some beds are tried out in stores – even if they will be purchased online. Some people like to sink into a mattress; others prefer to be fully supported on the top. |
Types of Mattress Finishing
The covering of a mattress is referred to as 'ticking'. Manufacturers often cover their products with elaborately designed ticking, but this should never be a deciding factor when selecting the best mattress. A mattress will be constantly covered with bed-clothes, so patterns and designs are irrelevant. However, the ticking will need to be strong and resistant to tears and rips. The best quality mattresses on the market have knitted ticking made with a durable viscose or cotton yarn. There are two basic finishes to mattress coverings: quilting and tufting.
| | |
| --- | --- |
| Quilting | Quilting delivers a pleasing decorative effect to the mattress. The fabric is attached to the surface fillings; a manufacturing method that provides a flat and relatively smooth sleeping surface. |
| Tufting | Tufting involves the threading of tape through the surface of the mattress. Each tape is secured to the side of the bed with washers. |
Spring Mattresses
Most of the mattresses on sale in the UK offer 'core' support to the user. Weight distribution, tension, and the general feel can be altered by changes to the thickness, height, and quantity of springs. More advanced mattresses can have more than one tension-level, so users can enjoy extra support for the particular areas of the body that require it. King size mattresses are ideal for 'zoned' tension because of their relatively large surface-area. Spring interiors generally fall into one of three categories.
| | |
| --- | --- |
| | The springs in these beds are connected to each other in rows, and there are several different tension-levels to choose from. Open coil mattresses are the most common designs on the market. |
| Continuous Spring | This type of mattress is generally more expensive than the open coil variety, and it consists of one length of wire that is shaped into several inter-connected springs. These mattresses offer a higher level of responsiveness. |
| | Pocket spring mattresses are usually among the most expensive, and they deliver a superior level of support than other varieties. They consist of smaller and softer springs which are contained in individual pockets of fabric. Each spring works independently from the rest, and that protects a person from the movement of a partner. |
Types of Spring Mattress Filling
There are several type of fillings used in sprung-mattresses, and they all deliver different properties in terms of tension, absorption of moisture, and durability.
| | |
| --- | --- |
| Cotton | Cotton provides comfort and good absorption qualities. |
| Wool | Wool is found in the most expensive spring mattresses, and it delivers a high level of comfort. |
| Foam | Foam fillings are great at providing gentle cushioning properties. |
| Hair | Hair is fire retardant, and provides a really soft feel. |
| Coir Fibre | Pads containing coconut fibre completely mask the feel of the coils in a mattress. |
Non-Sprung Mattresses
There are three main alternatives to spring mattresses, and all three are suitable for king size beds.
| | |
| --- | --- |
| Foam | Foam mattresses are manufactured with different densities and layers of foam. Small changes to depth or density can result in very different levels of support. Memory foam will adapt to the exact contours of the user's body. |
| Flotation | A purpose-built frame houses a water-filled mattress, and the tension and movement can be altered by changing the amount of water in the vinyl bag. |
| Futons | Futons are most commonly sold as sofa beds, however, king size futons may be difficult to find. |
The Frame
There are two main choices to select from when it comes to the frame: a divan and a bedstead. Some mattresses are designed specifically for a particular type of frame, so it is essential that the compatibility of the frame is checked before a purchase is made. A king size frame is going to take up a lot of space in a room, so choosing a frame with storage is a sensible decision.
| | |
| --- | --- |
| Divan | A divan is a simple upholstered box that provides a sturdy base for a mattress. There are usually wheels attached to the divan for ease of movement. Some divans offer extra support for the mattress with springs and flexible slats. Storage can be built into divans with drawers, sliding doors, or hinged tops. |
| Bedstead | A bedstead is basically a frame in which a mattress rests. The most common design involves the use of slats. Rigid slats provide a firmer surface, but they are hard-wearing on the mattress. Flexible slats move with the mattress, and they share some of the support and cushioning properties; this can extend the life of a mattress. |
Finding a Comfortable King Size Bed on eBay
The eBay website is not only a huge online marketplace, it is also a functional resource that allows consumers to compare prices. Shoppers can make purchases with eBay in the knowledge that their transaction is safe, as a feedback scoring systems makes identifying reputable dealers extremely easy. Shoppers can also ensure that a particular king size bed is suitable, as eBay's messaging system allows direct communication between the seller and the buyer. For those in a hurry, the text-based search facility will deliver the fastest results. However, eBay's category search will ensure that shoppers narrow the results to only the items that match their exact requirements. The category search can be started by clicking the 'all categories' link near the top of the homepage. A drop-down menu will appear, and the 'home, furniture & DIY' should be selected, followed by the 'search' icon. The user will then be presented with a menu of sub-categories, and the 'furniture' link should be selected. A further menu will load, and the 'beds and mattresses' link will take the user to a list of search option involving frames, divans and mattresses.
Conclusion
A king size bed takes up a lot of space, so it is a good idea to mark out the dimensions of the bed in the room it is intended for. This will allow the user to ascertain the practicality of buying such a large item of furniture. This is a significant investment, and it should not be undertaken lightly. Many people tend to confuse price with quality; however, being comfortable and well-supported is far more important that the retail price of a particular bed.