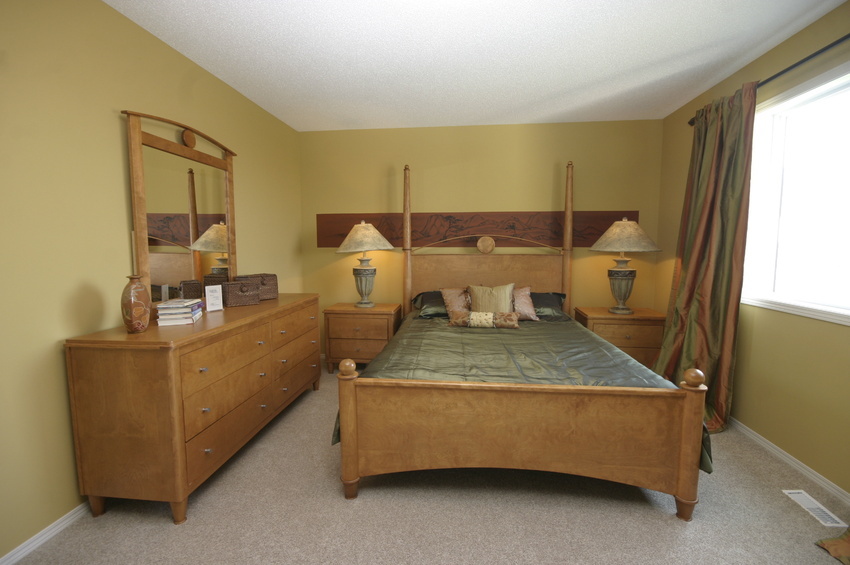 Choosing a new dresser is no simple task; shoppers must consider the furniture's material, size, and quality. Bedroom dressers are often made from wood, but the kind of wood affects its durability. In addition, every dresser has a particular style, be it contemporary or shabby chic. There are even different drawer gliders on dressers that determine how well a drawer slides in and out.
Bedroom Dresser Sizes

Bedroom dressers can be quite large, taking up as much room as a sizable desk or loveseat. Before buying a dresser, measure the spot you wish to place it to ensure you have enough room. Consider the height of the dresser to avoid covering windows. Make sure you can open all the doors, including closet doors, without hitting the dresser.
Bedroom Dresser Materials

Solid wood is a popular dresser material, but it is also heavy and sometimes expensive. However, a wood dresser can last for decades with proper care, and be repainted, refinished, or otherwise redecorated to suit any bedroom. Particle board dressers are more affordable in favour of trading durability, and they are less accepting of paint and finishes. In general, cheap furniture like this is not meant to be repainted. There are also plastic dressers that resemble storage containers. Plastic is perhaps the cheapest dresser material, and it is highly durable, but most people don't find it as attractive as solid wood or particle board furniture.
Bedroom Dresser Styles
Bedroom dressers come in many styles, including casual, contemporary, and traditional. Rustic, transitional, and shabby chic are just a few other options. If you're not sure what all this means, it's time to search the internet for pictures of dressers, or you can go to a local furniture store to browse. Take note of the dressers you find appealing, and then pay attention to the style of each dresser. Sometimes a person is very drawn to one particular style, but many people are attracted to several different ones.
Bedroom Dresser Drawer Gliders
The drawer gliders of a dresser help the drawers pull out. In budget bedroom furniture, these gliders are usually made of plastic. Moderately-priced pieces generally have metal gliders. Finally, upscale bedroom dressers often have wood gliders for the smoothest, quietest drawer pull. This is something to look for when assessing the quality of a bedroom dresser.
Bedroom Dresser Hardware
The hardware on a bedroom dresser includes the knobs or handles. These parts are often removable and replaceable with the hardware of your choice. If you fall in love with a particular bedroom dresser but dislike its hardware, don't pass on it. Instead, shop around for the perfect knobs or handles to go with your new bedroom dresser.