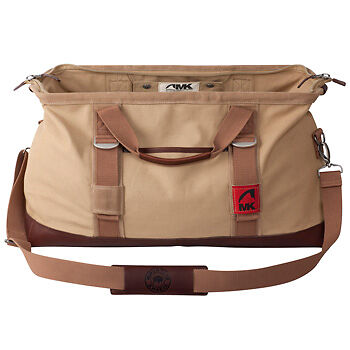 Whether you are looking for something to carry your sleeping bag when you go camping in the Lake District or just want something to carry a change of kit to the football pitch, you may want to consider a duffle bag. Popularised by the military and merchant seamen, these cylindrical cloth bags are an excellent way to carry all sorts of things, especially clothing and sports equipment. They are large enough to carry cricket bats with ease, and soft enough to fit into all sorts of places, which can be a huge advantage when trying to stuff things in the back of a car. This same flexibility does mean that they are better for carrying soft things like clothing rather than harder edged things such as books.
History of the Duffle Bag
Originally known as "Duffel" bags, these handy carryalls have been in use for centuries. The name comes from a town in Belgium, which has exported sailcloth with a particularly strong tight weave since the fifteenth century. By the seventeenth century, sailors from Spain and Portugal began using leftover scraps of this largely waterproof fabric to make bags to protect their belongings from the elements. These seabags, as they were often called, were very successful and became popular when they were used by the military during the First World War. They became even more popular after the Second, and now can be found almost everywhere.
Duffle Bag Basics
The key features of a duffle bag are the material it is made of and the shape. As a rule, most duffle bags are made of cloth, ranging from the thin nylon used in many of the smaller and less expensive bags to thick heavy cloth or even leather. They usually fasten with one or two zips, and may have one or more side pockets on the outside as well. Most also have two cloth handles, which may either fasten together, or in some cases serve as arm holes for people wishing to carry duffles on their backs. In all cases, the basic form is the same, a simple tube with handles.
Features of Duffle Bags
Even though the majority of duffle bags are quite similar, there are a few features that distinguish different ones. The most obvious is size, as they can range from some 50 or 60 centimetres in length to well over a metre; but size is only one factor. Some of the larger duffle bags, designed to take the place of luggage, even have an internal frame with wheels that lets the owner pull the bag along behind them rather than having to carry half their body weight through a train station. Duffle bags have also gone up-market, as can be seen by the plethora of leather ones marketed for the business traveller. These bags not only come with wheels, some also have internal sleeves and pockets for electronics.
Deciding on the Right Duffle Bag for Your Needs
The first step toward deciding which duffle bag would be right for your needs is to take the time to identify those needs, which usually means starting by determining your intended uses. A traveller looking for something they can put in the overhead for a flight to Brussels or Frankfurt is going to want a very different duffle bag than someone who needs something to carry all their sports gear in, or even a student who wants a duffle bag to carry all their clothes in when they go off to their first term at University. Every one of these people has a need that can be met by a duffle bag, but that is not to say that all their needs can be met by the same duffle bag. This wide variety of uses is why there is such a wide variety of duffle bags.
Camping With a Duffle Bag
While a duffle bag may not be the most appropriate bag to take hiking in the moors, it can be very useful for camping. The large size and flexibility makes a duffle bag both easy to pack and easy to transport. Many duffle bags also have a weather-resistant tight weave which makes it possible to leave them outside, at least for short periods. They can even hold a small tent if need be.
Taking a Duffle Bag to the Gym
Duffle bags are also popular with many people who like to work out at the local fitness centre. They are small enough to carry in the back of a car, but large enough to hold a change or two of clothing as well as a towel and all the necessary toiletries for after the workout. They can also fit comfortably in a locker. One huge advantage of using a duffle bag at the gym is that the vast majority of them are washable, which is a great quality for anything that has to hold sweaty exercise clothes.
Using a Duffle Bag for Sports
Duffle bags are great for anyone who enjoys sports. They make it easy to carry sporting equipment from the car to the pitch, and can be used for any sport from tennis, to cricket, or football. They can be thrown over an athlete's shoulder, turning what could be several trips from the car park into one. Tough weather-resistant fabric means they can be left on wet grass, and washed after the match.
Taking a Duffle Bag Travelling
Duffle bags have become almost synonymous with travelling. Their light weight means that the majority of the traveller's weight allowance can go to their belongings rather than being tied up in the weight of their luggage. Their flexibility makes them easy to pack and stow in places where a rigid suitcase might not fit, such as the overhead compartment in an aeroplane.
Using a Duffle Bag for Business
For some, a duffle bag is the new briefcase. Business duffle bags are available in rich leather that provides all the flexibility of fabric with the supple comfort of leather. They may not be practical for a day of sport, but they are eminently practical for an overnight flight.
The following table shows some of the features that make a duffle bag the perfect fit for so many different needs.
| Duffle Bag Use | Features |
| --- | --- |
| Camping | Size, weather resistant fabric, light weight |
| Going to the Gym | Flexibility to fit in lockers, washable |
| Sports | Large size, light weight, washability, room for equipment |
| Travelling | Light weight, available wheels, easily stowed in overheads |
| Business | Protective sleeves and compartments, variety of materials |
It is this wide variety of features in what would otherwise be a simple tube of fabric, that makes the duffle bag so useful. It is not only flexible in terms of its construction, but also in terms of its functionality.
Choosing Which Duffle Bag to Buy
Once you know your needs and intended use, choosing the right duffle bag becomes simple. The most important factors for most users are size and material. Those who will be throwing their duffle bags around may want a heavy canvas, while others may be fine with polyester or even nylon. Those wishing to make a statement with a duffle bag may go for leather. As for size, most users will want to err on the side of a more generously sized bag, while frequent air travellers may want to be sure theirs fits within the limits of an airline carry-on.
Where to Buy a Duffle Bag
As befits anything that has been around for as long as duffle bags have, they are very widely available. Those who prefer to shop locally can find them on the High Street as well as in a number of specialty shops. People who prefer a wider variety found on the web, can find duffle bags at most Internet retailers as well as online auction sites such as eBay.
Buying a Duffle Bag on eBay
The first step in buying a duffle bag on eBay is finding a duffle bag you want to buy. eBay makes this easy by providing a search box on every page, so you are never more than a click away from the search results you want. Just enter your search terms in the box and watch the results appear. If you get more results than you need, you can use the filters in the sidebar to narrow them down to just the results you want. You can filter by everything from whether you want a new or secondhand duffle bag, to price, size, and even seller location. You can also sort the results to put the bags that best meet your needs at the top of the list.
Once you know which bags fit your needs, the next step is to choose a seller. The best place to do this is the seller's profile page where you can see everything from their feedback and location to any shipping policies they might have. Some local sellers might let you save on shipping by picking your duffle bag up directly, while others may bundle two or three items together and reduce shipping costs that way.
Conclusion
Buying the right duffle bag is a simple matter of identifying the needs the duffle bag has to fill and comparing those needs to the bags that are available. It all comes down to the best tool for any given job, whether that job be camping, travelling on business, or taking a change of clothing to a late-night exercise session. For many, that best tool is a duffle bag, be it a small leather one that goes on a flight to the Continent or a large canvas one that carries half a dozen footballs and who knows what else from the car park to the pitch. The real work is in knowing what to buy. Once you know what you need, the rest is easy.