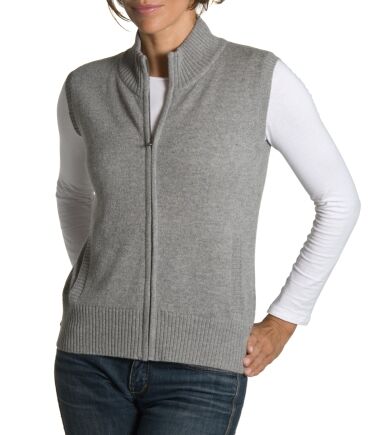 A gilet is a fashionable piece of clothing made without sleeves that both men and women wore as a waistcoat. The gilet was first worn in the 19th century. It was a dress garment made out of either silk, velvet, or brocade. As a gilet was a dress garment, detailed embroidery was featured on the front. A gilet would not have had pockets or collars as it would have been worn over a chemise and under a jacket. It had a more figure-hugging appearance. In the beginning a gilet was worn solely for style, but as fashion has evolved throughout the decades, it is also as a vest to provide the wearer with some added insulation for extra warmth.
The one thing that has remained the same over time is the basic shape and style of the gilet. Due to the gilet's ornateness, ballerinas sometimes wear it as part of their costuming. While the gilet may not have changed much in style over the years, the most notable change is its name, with most consumers referring to a gilet as a vest nowadays. A gilet has become a staple item in most women's wardrobes around the world as it can transform an outfit and allows for a layered look while being super practical as well.
Most Common Gilet Materials
A gilet can be made from a number of different materials, such as fur, faux fur, wool, cashmere, and leather. Since many people do not approve of using real fur, gilets made from real fur are difficult to purchase. If you are specifically after a full fur gilet you will have to search for a vintage gilet. Fleece gilets are usually longer in length and more commonly purchased to provide warmth to the wearer. They usually have a zipper at the front. The leather gilet is more common with those interested in hunting as it provides its wearer with warmth and protection from the elements and does not restrict the arms at all.
Gilets are also popular with cyclists and hikers for the freedom they provide while also providing warmth as well as being available in highly visible colours. A faux fur gilet gives the wearer a warm, cuddly appearance. If you are after a tougher look, then go for a leather gilet, which has more of a biker look. Lastly, the padded gilet gives the wearer a sportier look. Since the gilet is such a versatile item of clothing, you cannot go wrong with having one in your wardrobe.
What to Consider when Purchasing a Gilet
The quality of the material is highly important when purchasing any item of clothing. It might be slightly more expensive to do so, but if you purchase a gilet made from quality materials, it will last a lot longer. Therefore, it is better value for money. However, there are still good gilets out there at affordable prices, and women on a budget still have many options. eBay is a great place to find good quality gilets at an affordable price. If you are looking to purchase a gilet to be worn as evening wear it is a far too casual item to wear over an evening gown but can look great over a less dressy dress. If you have never owned a gilet before don't make up your mind on a gilet just from looking at a picture because like a lot of things pictures do not do a gilet any justice.
How to Wear a Gilet
If you are part of Generation Y, super skinny, or have an abundance of confidence, then you can try the Boho look and wear your gilet with a sheer floral blouse or dress and super long necklaces. If you are like the majority of the population out there, then the best top to wear under your gilet is a dark coloured, solid top that is not too baggy. A gilet is not always flattering to all body types and can make some people look short and stocky. Therefore, if you feel a bit self-conscious, then the best gilets to buy are those that are darker in colour. The dark colour helps your gilet blend in, preventing it from being the standout feature of your outfit so that you feel less self-conscious. A fitted undergarment gives the outfit a casual yet sexy look. You will feel confident wearing it all day long. A gilet is a versatile item of clothing and can look great when it is teamed with a pair of jeans, a long-sleeve white T-shirt, and a cute scarf.
If you want to wear a hoodie or other bulky clothes under your gilet, then you will need to consider purchasing a bigger size as the gilet is designed to give the wearer a snug fit. Of course, you can always purchase two of the same gilet in two sizes to pair it with either thin or thick undergarments. This way, you do not have to limit your options. When it comes to the bottoms, wear a pair of boot leg or wide leg jeans and a pair of wedges, or you can wear a super skinny pair of jeans tucked into a nice pair of ankle boots. The beauty of a gilet is that it can be thrown over anything last season and end up looking like it belongs in this season. It is a great way to add that extra touch to any outfit.
Sizing
Because a gilet is an outer garment, you have to take into consideration what you will be wearing underneath. Therefore, it may be wise to buy a larger gilet. Since you may want to purchase gilets from various parts of the country, the chart below shows four sizing systems to help the buyer choose the proper size regardless of where the gilet comes from.
| | | | | | | | | | | | | |
| --- | --- | --- | --- | --- | --- | --- | --- | --- | --- | --- | --- | --- |
| UK | 4 | 6 | 8 | 10 | 12 | 14 | 16 | 18 | 20 | 22 | 24 | 26 |
| Europe | 32 | 34 | 36 | 38 | 40 | 42 | 44 | 46 | 48 | 50 | 52 | 54 |
| US | 1 | 2 | 4 | 6 | 8 | 10 | 12 | 14 | 16 | 18 | 20 | 22 |
| Aust | 4 | 6 | 8 | 10 | 12 | 14 | 16 | 18 | 20 | 22 | 24 | 26 |
The next sizing chart is a dual sizing chart, which can be more helpful when buying online. A dual sizing chart offer measurements in both centimetres and inches to help with that perfect fit. Please note the chart lists centimetres first and then inches.
| Measurements | UK / XS / 6 | UK / S / 8-10 | UK / M / 12-14 | UK / L / 16-18 | UK / XL / 20 |
| --- | --- | --- | --- | --- | --- |
| Bust | 78.5 / 31 | 81-86 / 32-34 | 91-78 / 36-38 | 101-108 / 40-43 | 116 / 45.5 |
| Waist | 60.5 / 37.75 | 63-68 / 24-26 | 73-78 / 28-30 | 83-90 / 32-35 | 98 / 38.5 |
| Hips | 93 / 36.75 | 88.5-93.5 / 34-36 | 98-103 / 38-40 | 108-116 / 42-45 | 123.5 / 48.5 |
The two charts above provide you with all the information you need to find a perfect fitting gilet on eBay. Never take your own measurements, try to have someone else take them for you.
How to Buy Gilets on eBay
There are a vast number of gilets available for sale on eBay. Begin the search for a gilet on eBay by utilising the search box that appears on every page. The search bar is a tool that aids you in your search for the perfect gilet by allowing you to type in keywords and producing results that fit those keywords. For example, if you type in gilet, eBay will produce a wide range of results from your search request. You can look through them until you find the gilet you are looking for. Once you have found a gilet that you love, contact the seller and ask any questions you may have, such as whether they have a return policy in case the gilet does not fit properly, what are the shipping costs and do they ship to my country of residence. All the necessary information should be on the advertisement page, but if that is not the case, you can always contact the seller directly.
Conclusion
Gilets are made with a variety of different fabrics from denim to wool. Ballerinas, cyclists, hikers, and people who hunt for sport are just some of the kinds of people who all favour the gilet because it is versatile and provides warmth. Moreover, the gilet is also a popular item of clothing with fashionistas who are after a different look. It is a type of clothing that allows the consumer to be versatile and expressive with their outfits. One gilet can be worn with many different types of clothing. For example, a gilet can be worn with jeans, dresses, skirts, and shorts, and it is not limited to a season. A gilet is an extremely comfortable, practical piece of clothing. It is an item of clothing enjoyed by many different types of people around the world, from fashionistas and sports players to the more casual jeans and T-shirt person. eBay is a great place to purchase a gilet because it has a wide range of styles available.