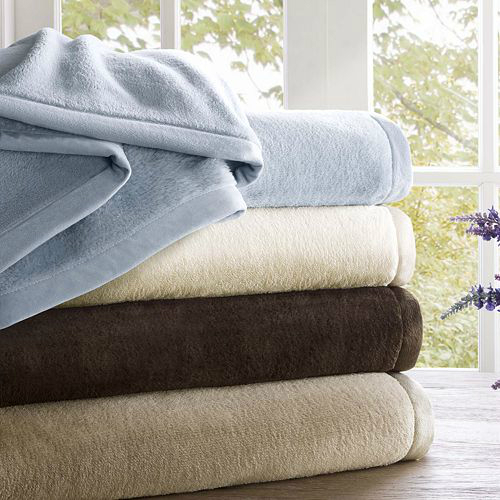 While real fur has a classic value, controversies surrounding its production lead some people to prefer the less expensive but equally attractive and plush alternative—faux fur, the perennial symbol of guilt-free fashion. Animal rights advocates approve of it, fashionable men and women wear it, and beds look great with it.
A faux fur blanket adds warmth and, with the right choice of colour, elegance to a bed. Fortunately, the advance in textile technology allows faux fur blankets to look exactly like the real furs they are copying, such as the expensive and richly coloured mink and fox furs. Faux furs are available in a variety of colours and prints, making it a little confusing, especially for first time buyers, to choose the best faux fur blanket to drape over a bed. A discussion about faux fur and the different types of this soft, plush blanket is needed in order to guide buyers in making an informed decision.
History of Faux Fur
Faux furs became a mass market commodity in 1929. The first faux fur was not decidedly fake animal hair because the main material is hairs from the alpaca. Faux furs then had dreary shades of tan and grey, but people who wanted inexpensive and warm covering prefer this version of fur. It was only in the 1950s when manufacturers successfully produced faux furs that were definitely fake but could rival real furs when it comes to quality, warmth, and shading.
Faux furs in the 1950s were chiefly acrylic polymer fibres, and they weighed almost exactly as real furs. Further developments created modacrylics, a combination of different polymers, which allowed faux furs to become fur-like and fire resistant. Today, there are faux fur blankets that mimic the feel and self-shadowing property of any real fur, whether mink, beaver, or some other kind.
Fibres for Faux Fur
The length of faux fur fibres can be short, looped, long-haired, or shaggy, and the fibres can be natural, synthetic, or a combination of both. Gone are the days when furs only come from animal parts. The most common fibres used for faux fur blankets these days are synthetic fibres, such as acrylics, modacrylics, and polyester, and there are also natural fibres, such as silk, cotton, wool, and mohair.
Synthetic Fibres
Acrylic, as a fibre used for faux fur blankets, are derivative chemicals of coal, air, water, petroleum, and limestone, while modacrylic is the end product of a reaction between vinyl chloride monomers and acrylonitrile. Faux fur blankets made from acrylics and modacrylics are lightweight and resistant to soot, smoke, heat, and mildew. Also, these fire-resistant faux fur blankets do not get wet easily and are quick to dry. Faux fur blankets can also have synthetic fibres, such as rayon polyester, and nylon.
Natural Fibres
Natural fibres, such as cotton, wool, silk, and mohair are also components of a faux fur blanket, and these fibres enhance the look and feel of a faux fur. Combining cotton or wool with polypropylene creates the backing of this type of fur. Rayon, a fibre blend of cellulose and cotton, can be an alternative to acrylic and modacrylic when making faux fur.
Designs for Faux Fur Blankets
Faux fur blankets come in different types of designs or patterns, and each pattern is available in different colours. The most common designs for faux fur blankets are mink, chinchilla, and beaver. Bengal or tiger pattern is also very popular, and faux fur makers produce this pattern with the typical black stripes of a tiger combined with another colour, including purple, pink, royal blue, lime green, or red. There are also patterns mimicking the fur of a giraffe, zebra, fox, and cheetah, and some are playful patterns that combine different colours like the black and yellow stripes of a bee. There are also monochromatic faux fur blankets, and they are available in different colours such as ruby, lime, and brown.
Caring for Faux Fur Blankets
Dry cleaning may seem the most appropriate way to clean a dirty faux fur blanket, but the process actually stiffens the fibres and lessens the softness of the fabric. If the faux fur blanket comes with a care label, it is best to follow its instructions to avoid damaging the fabric. Otherwise, you can load a soiled faux fur blanket in the washing machine with the cold water setting turned on. Pour a mild detergent without bleach, typically used in undergarments and delicates, and wait for the machine to finish the wash cycle. When completed do not load the faux fur blanket in the dryer, hang it or lay it flat instead. Using a dryer can ruin the fabric because the process usually plucks the fibres off the blanket.
Why Buy Faux Fur Blankets?
There are quite a few reasons why people choose faux fur blankets over real fur blankets, but the most important and the most popular reason is protecting animals. When choosing to buy a single faux fur blanket as opposed to buying the authentic type, you save an animal or two from being slaughtered for the sake of comfort and style. PETA, among many other animal rights advocates, shows how cruelly fur farms treat animals like rabbits, foxes, and beavers to harvest their furs. Buying real fur allows these farms to continue their operation.
Another benefit to get from buying faux fur blankets is value for money. Fake fur can be as comfortable and as warm as real fur, but it is less expensive than real fur. Most faux fur blankets available on the market look like real furs, exactly copying the colour, length of hair, and even the usual thread count. It is rather difficult to distinguish a faux fur from a real fur, so even if you adorn a bed or a sofa inside the house with a faux fur blanket, most guests are unlikely to know that they are not real fur.
Styling a Bed with Faux Fur Blankets
You can style a bed with faux fur blanket in different ways. One way is to fold a 200 cm x 240 cm faux fur blanket into three parts, lengthwise, and drape it across the end of the bed. If a faux fur blanket has a different colour compared to the bedding, draping it over a bed gives a nice contrast of colours. For instance, if a bed has a light-coloured sheet, drape a dark faux fur blanket over the bed, and if a bed has a dark bed sheet, use a light-coloured blanket.
Another style tip is draping at least three-quarters of a bed with thick faux fur blanket to get that decadent lifestyle look. Make sure that the blanket is wider than the bed so the ends reach the floor, then place silk sheet as a bottom cover to complete the look. You can also cover an entire bed with a thick, exotic faux fur blanket and enjoy the vacation cabin look and feel. A wide faux fur blanket also looks good on a sofa bed; just drape it as loosely as possible over the sofa bed to get the comfortable and casual look.
Buying Faux Fur Blankets on eBay
eBay is one of the leading online marketplaces in the U.K., and you can find any type of bedding on the website. eBay lists a wide variety of faux fur blankets with different designs, colours, and thickness to choose from, so whether you fancy an exotic pattern or a subdued design for a faux fur blanket you can find options on the website. Registering on eBay is free and takes only a few minutes.
To start your search just type "faux fur blankets&" in the search bar to see the complete list, and if you want to refine your search just add keywords like "mink&" or "king size". There are many sellers on eBay, and you can choose to buy from a seller that has an impressive feedback score. Do not forget to check if the seller has a verified payment method, and lastly, make sure to read the delivery information to know when the product should arrive.
Conclusion
Although not authentic, many faux fur blankets look and feel exactly like the real one. Advanced technology in textile production not only makes it possible to recreate any kind of animal fur but also to produce any colour for faux fur blankets. This type of blanket is made from a combination of synthetic and natural fibres, with manufacturers providing options for the length and style of fibres.
A faux fur blanket is also a commodity of socially responsible people. Many animal rights activists promote faux fur blankets in hope of putting an end to fur harvesting. A faux fur blanket adds design to a bed; for instance, draping a dark-coloured faux fur blanket over a light-coloured bed enlivens a bedroom. This soft and plush blanket also looks good on chairs and tables in the house. But most importantly, a faux fur blanket provides a person comfort and warmth to get a good night's sleep. Truly, a faux fur blanket is an inexpensive and very useful alternative to a real fur blanket.