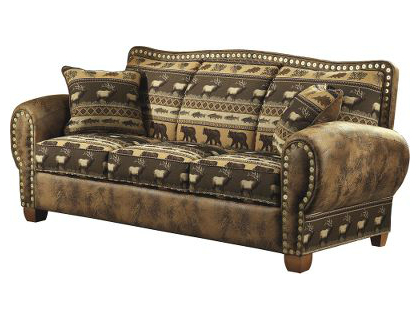 Sofas, also called couches, are defined as an upholstered bench-style piece of furniture that seats two or more people. They are universally known as the most comfortable piece of furniture in the house because most are designed to deliver the maximum amount of comfort and relaxation to those sitting in them. They are the perfect thing to come home to after a long day at work, school, or running errands. Usually they are elongated and larger than they need to be in order to give people ample room to move around when multiple people are sitting on the sofa.
Today, there are many styles, designs, and sizes of sofas because they have gone from being a simple piece of furniture to being the centrepiece in the room. Designers go out of their way to create couches that look like a piece of art in addition to being comfortable. They are also used in more areas than just the living room or family room. Many homes have sofas in the bedrooms and office as well. No matter where they go, though, they are a large investment and the average time that people have them in the house is ten years. This means that choosing a sofa carefully is important because it will be a long time before it is replaced.
Faux Suede
Faux suede sofas are made with a soft, semi-fuzzy imitation leather product that is affordable, durable, and easy to clean. Many people turn to suede products because they are as elegant as leather but their soft texture adds warmth to the room, unlike usual leather sofas. Faux suede is made entirely of synthetic products like polyester and it delivers close to the same amount of durability as real suede at a lower cost. The similarity between faux suede and real suede ends with the durability. Faux suede is actually far superior to real suede in a number of ways. It is water resistant and stain resistant and it is far less susceptible the signs of age. Real suede stains extremely easily and shows significant signs of age such as fading, cracking, and becoming stiff.
The Size and Shape of the Sofa
The biggest part of selecting a sofa is making sure that is proportionately sized to the room. A sofa that is too large will overpower the room, and one that is too small will make the area feel more spacious but also empty. The first step is to decide how many people the sofa needs to be able to seat. Then map out the area that is available for the sofa with painters tape. After the tape is down, measure to see what the dimensions are. This will give owners a good idea of what sizes they can look at. Also keep in mind that there are different shapes of sofas as well as sets that can be purchased. Instead of buying an L-shaped couch, it is also possible to get a traditional three-seat sofa and a loveseat.
Faux Suede Sofa Features
When looking at sofas, shoppers should be aware that there are a number of features that they can look for. Whether or not to get any is based on personal preference, but they can add more comfort and convenience to a sofa.
Arms
Sofas may or may not come with armrests. The ones without armrests have a sleek, contemporary look, while the ones with them are more inviting and comfortable. The armrests may can be upholstered or un-upholstered.
Cup Holders
Cup holders give people a place to place their drinks while they are lounging on the couch. They also help protect the sofa because they reduce the risk of spilling liquids.
Cushions
Sofas will come with the cushions to sit on as well as the back cushions. However, some may also have matching decorative pillows to place on the couch.
Feet
Sofas can come with or without feet. They will either sit directly onto the floor or have small feet that keep them a few inches up. Feet are considered to be more formal, but no feet is easier to keep clean because small objects do not end up under the sofa.
Ottoman
Some sofas come with a matching ottoman for people to put their feet up on. These add extra comfort but they can also be purchased separately for those who do not want all their furniture to look exactly the same.
Recliner
With recliners, people can lean their section of the sofa back and prop their feet up on the foot rest that comes out. They are considered to be the epitome of luxurious comfort.
Skirt
Skirts cover up the bottom of the sofas that have feet. They are more formal and they hide the underside of the sofa from view.
If the budget is tight, remember that things like recliners and ottomans can be purchased separately at a different time. Even an end table can replace the cup holders.
Types of Faux Suede Sofas
Sofas can be found in different shapes outside of the traditional rectangular couch. Be sure to look at all the options before picking anything out.
Type of Sofa

Description

Resemble a long chair that is upholstered; allow people to sit down with their legs stretched out

Convertible

Also known as sleeper sofas or sofa beds; bottom cushions come off and the base of the sofa pulls out to extend into a bed

Divan

Very formal and backless; more for looks than to be sat on.

Usually placed against a wall for back support

Futon

Consists of a mattress and frame that bend up to form a sofa; lies flat to become a bed

Minimal comfort level

Loveseat

Usually 5 to 6 feet long; designed to fit two people comfortably

Sectional

Come in separate pieces so that they can form different shapes; can be put in an L- or U-shape

Usually 9 to 14 feet long

Sets

Matching furniture set with multiple components;.may consist of a sofa, loveseat, and chair

A wooden frame and upholstered cushions; it may or may not have armrests

Traditional

Usually 6 to 8 feet long and sit at least three people; usually straight but may come with a chaise longue attachment
The shape and size of the sofa makes a big difference in the room. The sofas of non-traditional shapes can really add character but may also take up too much space.
Quality Verification
Since sofas are supposed to last up to ten years, it is important to make sure that they are quality built and will withstand wear and tear. Feel the cushions everywhere and make sure that the frame is never felt beneath the padding, particularly on the armrests. Also see if the sofa was constructed screws, dowels, and blocks as opposed to staples and glue. Lastly, stay away from super thin cushions and opt for the thicker ones because it will take them longer to lose their fluff.
Where to Find Faux Suede Sofas
There are more sofa materials out there than just faux suede, so it can be challenging trying to find a particular sofa that is also made with faux suede. Furniture shops will have a limited selection because the sofas are so big that they cannot stock a lot of variety. Warehouses typically have more but they are few and far between and it may require a lot of travel time to get to them. Many people have started shopping online for their couches rather than going from shop to shop, because they can look at many more options in one place without having to leave the house. Having options is essential to finding a sofa that perfectly matches personal tastes.
Shopping for Faux Suede Sofas on eBay
eBay is home to thousands and thousands of sellers who all compete for your business. On eBay, shoppers can browse through a nearly unlimited selection of sofas all for sale by different people. Being able to come to one universal location to shop helps eliminate the frustrations of going to several different local shops to find what you need, and then eventually having to settle for what's available. To start looking through the sofas for sale on eBay, use the search bar that is located on every page of their websites. It is simple, just type in the name of what you are looking for, such as "faux suede sofas&" or "faux suede loveseat&". eBay will then bring up all of the suede sofas or loveseats for sale and you can start looking through them.
Since sofas are more expensive items, it is a good idea to enter in your price range right off the bat. This way you will know that everything you are looking at is affordable.
Conclusion
Sofas are the largest pieces of furniture in the house that are viewable by everyone. They can create an enjoyable atmosphere with their design and appearance while still providing a relaxing place for everyone to hang out together. Sofas are a big investment and do become part of the house for a long time, so they need to chosen with care. This may be the one time that it is actually acceptable to go a little over a budget because shoppers will have to live with their purchase for a long time and they need to be happy with it. All buyers need to do to find a sofa that is perfect for their needs is measure their space, select the features and shape of the sofa, check its quality, and then go onto eBay's website to place their order.