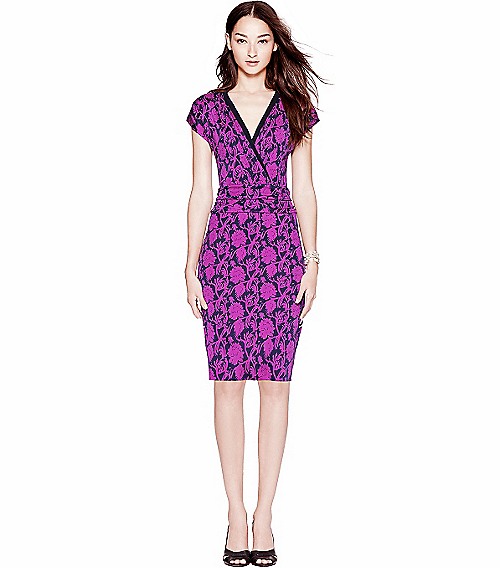 The wrap dress was first introduced in 1972 by Diane von Furstenberg and it quickly became a popular clothing item with celebrities and regular women alike. Some of the celebrities that have made the wrap dress a must-have in the wardrobes of women all over the world include Kate Middleton, Mischa Barton, and Paris Hilton. The wrap dress became popular mostly due to its versatility and flexibility. This kind of cut is ideal for curvy figures, as its design creates a more hourglass figure.
A wrap dress is so versatile that it can be worn with leggings for a casual, everyday look, or with an elegant bag and sophisticated court shoes at work. Wrap dresses feature a wide variety of designs, being available in plain block colours, horizontal stripes, or floral graphics. Knowing how to wear a wrap dress, what are the flattering fabrics, and how to choose one that fits well can be helpful for women who wish to invest wisely in this type of garment.
How to Wear a Wrap Dress
The best thing about a wrap dress is its design that flatters almost every body type. It is quite easy to create a multi-purpose outfit with a flattering wrap dress. The first thing to do when shopping for a wrap dress is to know your body type. Smaller-framed women should opt for a design that features less fabric on top, while those with larger body frames should consider a fuller skirt and some extra coverage on the top. By simply following this piece of advice, one can easily find a wrap dress that fits perfectly and is flattering at the same time.
Even though in many cases a wrap dress can look good on its own, it can become more interesting with some accessories. Perhaps the best accessory for a wrap dress is a belt. Many wrap dresses come with ties, but a belt can be still worn over them and look great. Another thing that looks good when paired with a wrap dress is a cardigan, especially one in a colour that complements the dress. Wrap dresses in solid colours can easily be accessorised with bold jewellery such as earrings and chunky necklaces. As for shoes, you should choose them according to the season, as wrap dresses can be paired with ballerina flats, sandals, and boots.
Flattering Wrap Dress Fabrics
When choosing a flattering wrap dress, there are several things that you should be taking into account, including colour and style. However, for this particular style of dress, fabric is of utmost importance because it may truly make or break the looks of a wrap dress. In order to be flattering, wrap dresses need to fall nicely and thus the fibre content, drape, finish, and ease of care all contribute to the success of the dress. Selecting the perfect fabric for your wrap dress should depend on your personal style, where you will be wearing the dress, and how much attention are you willing to pay to its care. Some of the most popular fabric choices for a wrap dress include cotton, velvet, chiffon, linen, and lace.
Cotton and Cotton Blends Wrap Dresses
Cotton and cotton-blend fabrics are lightweight and thus ideal for warm weather and wrap dresses that are part of casual outfits. One of the best things about a cotton or cotton-blend wrap dress is the fact that it can keep the moisture away from the skin. Cotton wrap dresses tend to get wrinkled quickly, but you can choose a cotton blend with rayon or nylon in order to minimise this problem.
Lace and Velvet Wrap Dresses
Wrap dresses made from lace are perfect for a night out with friends as well as for events that require an elegant outfit. Lace wrap dresses can be paired with leather jackets for a glam-rock look or with classic coats for a more sophisticated look. You can obtain a flattering look by accessorising the dress with a pair of ankle boots in the winter or high-heeled sandals in the summer.
Velvet is a fabric suitable for colder winter days and wrap dresses made from it are often a good choice for special occasions. Velvet wrap dresses look great with a pair of high-heeled court shoes and an elegant clutch.
Linen and Wool Wrap Dresses
Linen is a natural fabric that is also lightweight and ideal for hot summer days. A simple linen wrap dress can be paired with flip-flops for a day at the beach or with a blazer and some elegant sandals for a casual business look.
Wool and wool-blends are the ideal fabrics for women looking for a flattering wrap dress they can wear in winter with a pair of ankle or knee-high boots. In order for a wool wrap dress to be flattering, the fibres need to be rather thin. Alpaca and cashmere are great choices for wrap dresses that can be worn either casually or at formal events.
How to Choose a Wrap Dress That Fits Properly
A wrap dress is a wardrobe staple for many women and its popularity is mostly due to the fact that this style flatters almost all body types. Even though any woman can look great in a wrap dress, it is important to choose it in the right size because otherwise the nicest dress will simply look wrong.
When choosing a wrap dress, you need to pay most attention to the bust area, because the torso needs to be kept into proportion with the rest of the dress in order to look flattering. A wrap dress chosen in a size that fits perfectly can do wonders for bustier women, as it may enhance the bust while making the waist look slimmer and the stomach flatter. Slimmer women who wish to wear wrap dresses should opt for those with less fabric on top.
Taking measurements carefully and accurately is essential when buying a wrap dress. Even though you may know your regular size well, it is worth taking your measures every time you buy a new dress. Make sure you use a soft cloth measure tape, as metallic ones can provide inaccurate results.
| | | | | | | | | |
| --- | --- | --- | --- | --- | --- | --- | --- | --- |
| UK | 4 | 6 | 8 | 10 | 12 | 14 | 16 | 18 |
| EU | 32 | 34 | 36 | 38 | 40 | 42 | 44 | 46 |
| US | 0 | 2 | 4 | 6 | 8 | 10 | 12 | 14 |
| Bust (cm) | 75 | 78 | 83 | 88 | 93 | 98 | 103 | 108 |
| Waist (cm) | 55 | 58 | 63 | 68 | 73 | 78 | 83 | 88 |
| Hips (cm) | 82 | 86 | 91 | 96 | 101 | 105 | 107 | 112 |
Whenever you shop for a new wrap dress in high-street stores or online, remember that sizing tends to differ from one brand to another, so checking the sizing information for each dress is always a good idea.
How to Find a Wrap Dress on eBay
If you are looking for a new wrap dress for your next summer trip or simply to add one more dress to your wardrobe, there are so many places where you can do this, both in high-street stores and online. However, if you are one who loves to browse through dozens of styles before actually choosing a dress, eBay is the perfect place to 'hunt' your next flattering wrap dress.
With hundreds of styles to choose from, you can find a suitable wrap dress for any occasion. Starting your search on eBay is simple, as all you need to do is type the words 'wrap dress' in the search bar on the home page. If you are looking for a particular style or brand, you can enter other keywords in the search as well. After pressing the search button, you will get several pages of results and you can easily browse through them in order to find a dress that fits both your preferences and your budget.
You can refine the results by several criteria if you want the search process to be a quicker one. Simply select some categories and narrow your search by price, location, style, material, size, and more. You should also pay attention to the product description, especially when it comes to sizing information. It is always unpleasant to have to send back a dress because it does not fit properly, so avoid this by checking the sizing information twice.
Conclusion
Wrap dresses have become must-have items in the wardrobes of women of all ages because they can flatter any type of body type and in addition to that, they are extremely versatile. Whether you are looking for a new wrap dress for a special occasion or for a casual business look, there are numerous designs and colours to choose from. Regardless of your body type, wrap dresses can be used for creating relaxed, yet elegant looks.
Due to their popularity among women, wrap dresses can be found in a wide variety of stores, both high-street and online. eBay is the ideal place to start looking for a new wrap dress because the website offers a wide variety of styles as well as a user-friendly search system that makes the shopping experience a pleasant one. Regardless of the type of wrap dress you are looking for, it is quite likely you will find it on eBay.