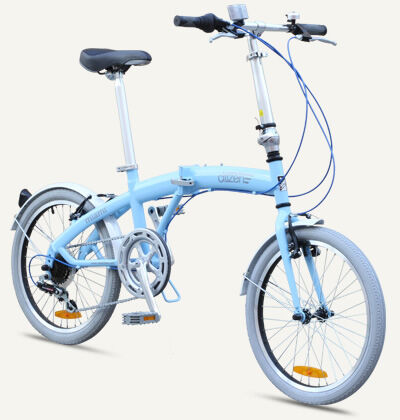 The folding bike is a mode of transport that differs from the traditional bicycle form in the manner that storage is its main design concern. Devised for the commuter cyclist who rides regularly to work, the folding bike can be reduced in size to help with using public transport and entering office buildings.
Folding bikes can differ in design and complexity but for the average cyclist then eBay can provide a quick and easy way of making a purchase, often at a more affordable rate than would be found on the high street. This guide will look at the specifications of folding bikes and also how to use eBay safely to make a purchase.
Characteristics of Folding Bikes
Folding bikes are generally made to be smaller in size than their traditional road or mountain counterparts. Although the size of the rider must be considered when coming to choose a folding bike, it is less of a worry than it would be with conventional models. This is because folding bikes are easily adjustable in respect to the seat and handlebar position. More flexibility is given for cyclists of differing heights.
On average, folding bikes will be more expensive due to their more complex nature so when coming to make a purchase then be prepared to pay a bit extra than normal. This doesn't mean that every folding bike will break the bank however and by checking on eBay then some second models may be found at affordable prices.
Some of the most well known brands of folding bikes on the UK market come from Brompton, Dahon and Shimano although these can be on the pricey side. Some Brompton designs such as the 2013 S2LX Model can be found for over £1,500.
Like all modern day bicycles, the aim of manufacturers is to make the bike as quick and sturdy as possible. Folding bikes are no different and so materials such as titanium and carbon fibre are used at the top end of the market to achieve the desired results.
There are some downsides of folding bikes that must be considered also; these are generally only picked up by the more fundamental and devoted cyclists however. One drawback is that they are often built to incorporate smaller wheels which mean less traction. The frame of a folding bike may also be on the stiff side compared to the traditional diamond shaped frame of a conventional bicycle.
Buying Considerations for a Folding Bike
Is a folding bike needed? The most important and also most obvious aspect to consider is if a folding bike model is needed in the first place. As noted previously it will be most useful for commuters who need to transport their bike through awkward journeys on public transport or who have storage concerns at work.
What will it be used for? Driving to a more desirable area to ride in will be helped tremendously by the fact that a folder can be stored easily in a vehicle without the nuisance of tying it to the top of the car's roof. Also for general everyday use, a folding bike doesn't necessarily need to be locked up outside a building. Worrying about the safety of your bike whilst you do some quick shopping can be eliminated if it can be taken inside.
Is it easy to carry? Carrying the bike around may become a feature of the working week. Investing in the lightest model possible will make life a lot easier. Folders will generally come with a bag if picking it up and carrying it is difficult. The awkwardness of the model is something to consider too along with the weight. For example is the chain on the outside on the bike? If so, then unwanted oil may potentially ruin clothes if pressed against.
Is it easily foldable? Also consider if the bike is easy to fold or if it requires a large degree of effort; something that may become a major nuisance if being used on a daily basis. This and the above considerations should be taken into account when coming to make a purchase.
Where will the bike be used? The type of journey is an aspect to take into consideration not just for folders but for any kind of bike. Think of the route taken and what sort of model is suited to it. By design, folding bikes are smaller and the usual wheel size of 20" is noticeably smaller than the conventional 26" size used by traditional models. This may make them unsuitable to deal with rougher terrain and potholes. By definition, more effort is also needed to travel with smaller wheels. However, some manufacturers such as Dahon have constructed full sized folding bikes. In addition if travelling over different terrains and over altering inclines then note that folding bikes don't include a wide range of gears. Whereas some mountain and road bikes can offer in excess of 25 gears, folders usually only have 6 gears as a maximum.
Are any accessories needed? If using the bike often it may be wise to invest in extras that can enhance its use. For example, if using the bike to travel to work, then a luggage rack may be needed to hold a briefcase or work bag when riding. Other useful add-ons include bottle belts, front and back lights and saddle bags. In addition, if something goes wrong with a part of the bike then eBay has plenty of components that will save buying a brand new bike.
To make sure that the above potential downfalls of buying a folding bike are avoided make sure to shop around the high street and visit a range of cyclist shops. Ask the store assistant for all the foldable bikes they have and try out each one. This will allow for a firsthand experience of a bike's accessibility. Alternatively go online and visit bicycle review sites; this will bring up the opinions of keen cyclists who can give their opinions and recommendations of certain models. Any discrepancies or negative points over the foldable bikes on the market will almost certainly be aired here.
When coming to make a decision, eBay has a wide selection of different folding bikes from all the leading brands to suit the requirements of any rider. After considering which type of folding bike is most suitable then browse the listings on eBay to see if it has been listed.
Using eBay to Purchase a Folding Bike
To find all the folding bikes on eBay then use the following steps to make the process as smooth as possible.
Narrow the Search
Visit eBay.co.uk and type in "folding bikes" into the search bar at the top of the page, which will bring up all the relevant listings. By using the menu bar on the left hand side of the page, it will then be possible to narrow the search in preference to the desired brand, condition and price of the bike. It is also possible to choose between the frame and wheel size depending on the size of the rider.
Read the Item's Description
Thoroughly examine the details of the bike that have been supplied by the seller. Make sure everything is noted down about that bike to ensure peace of mind when coming to make a purchase. If there is anything that seems vague then feel free to ask the seller a question which can eliminate any risks. This will also validate the authenticity of the seller by checking if they know what they are talking about.
Auction and Buy It Now Listings
Some of the folding bikes on eBay will be listed as a Buy It Now item where paying the advertised price will guarantee the purchase, whilst others will be listed in the Auction format. If using this then take into consideration when the auction is ending and how many other eBayers seem to be interested in the bike. Keep checking back ensure your bid is successful but don't pay get carried away and pay extra then what had been planned.
Postage
Be careful to check that the seller is prepared to deliver the bike in the first place. Some people may find the hassle of delivering their folding bike too much and list it as a 'collection only' item. This will mean the buyer needs to physically pick up the bike from the seller's location. Check if this is nearby. If they do offer the delivery service then take into consideration any additional costs on top of the bid being made.
Warranty and Returns Policy
Buying online through eBay requires a degree of trust that the bike is in suitable condition. Check if the bike is under guarantee and if so, what the terms are. If the seller offers a returns policy then this is highly beneficial, providing a sense of confidence and trust with the seller.
Know the Seller
Don't be scared to check out the person who has listed the bike and their previous history. Look at their feedback rating and only decide to follow through with the purchase if confident the seller is trustworthy.
Conclusion
As has been mentioned throughout this guide, there are many variables to consider before purchasing a folding bike for consumption on the streets of the UK. Folding bikes are definitely becoming more popular, and there flexibility undoubtedly makes them a worthwhile purchase for a specific target market.
This guide hopefully provided the specific information to help with the buying decision of whether to purchase a folding bike. As mentioned, eBay has one of the largest selections of bikes, including folding bikes, on the market in the UK and should be at the forefront of any potential buyer's minds.