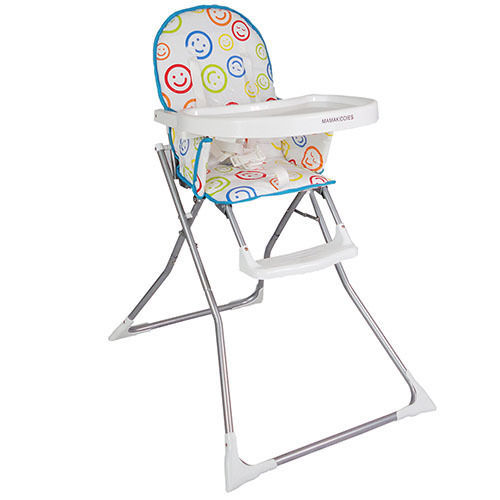 With a baby on the way, there are some items that need to be bought and ready from day one, while there are others that can be put aside for a short while until the child is starting to gain some autonomy. A high chair is one of these things. Babies generally acquire the ability to sit up straight between the ages of four to seven months, while they are ready for solid foods from about six months onwards.
From that time, a high chair is an invaluable asset at mealtimes, and not only that, the tray can also be used for playthings if need be. Choosing the right high chair is often a question of competing practical demands. As well as folding high chairs there are convertible or combination types, and multi-height or multifunction ones. However, when space is at a premium, a folding high chair promises to be the best solution. There are general design issues to take into consideration, such as stability, security, and ease of cleaning, along with more subjective topics such as comfort, adjustability and tray size.
High Chair Design Basics
As with all things related to the welfare of children, high chair design is subject to regulation. There are two standards that are relevant in Britain: one is BS 14988, which covers the chair, and the other is BS 6684, which covers the harness. The British Standard kite mark assures buyers that a given product conforms to the appropriate standard. Such regulations are often no more than the distillation of common sense. The safety and hygiene features that buyers look for include the following considerations below.
Wide Base
A wide base ensures stability, and minimises any chance of the chair tipping over. This is especially important with folding high chairs, because they are normally designed to be lightweight.
Adjustable and Removable Tray
There are two aspects of the tray that are important. One is that the child's convenience can be maintained over the life of the chair, meaning that they can continue to reach whatever is on the tray comfortably as they grow. The other aspect is that it is easier to clean the tray if it can be detached , and sometimes it is possible to swap trays over.
Harness
A harness keeps the child from moving around so much that they fall out of the chair or else cause it to fall over. Kite mark harnesses have five straps: two over the shoulder, two meeting around the waist, and a fifth one that goes between the legs.
Ease of Cleaning
Naturally, a high chair is going to get messy when it is used, more often than not. When it does, cleaning is easier when straps are removable, and similarly any cushions or linings should be easy to remove and replace.
D Rings
Some chairs are supplied without a harness. In these cases, D rings should be available to enable a separately bought harness to be fitted.
Types of High Chair
Before settling firmly on a folding high chair, it is a good idea to be clear about its advantages and disadvantages when compared to the other main types of design. There are three other main types, each of which offers flexibility of different kinds.
Folding High Chairs
Folding high chairs tend to be simple in design, or rather, the ingenuity that goes into such designs is geared to maximising convenience while minimising storage space. That usually means sticking to the essentials, and may mean that there is a price to be paid in limited flexibility. The main thing to look out for with a folding high chair is the ease with which it can be folded and unfolded. Preferably, this can be accomplished using one hand, leaving the other free to hold the child. Lightness is another desirable feature of a foldaway design, especially taken in concert with the aim of preparing the chair with one hand.
Combination and Convertible High Chairs
Usually, combination high chairs feature a chair and tray that is designed to perch on top of a base, which can be reconfigured to perform as a table. The idea is to lengthen the useful life of the purchase. Convertible high chairs are effectively the same thing as a combination high chair.
Multi- High Chairs
There are two kinds of multi- among high chairs. One is multi-height, and the other is multifunctional. Multi-height models can be adjusted as the child grows so that they remain at a similar height relative to whoever is interacting with them.
Often, a chair that is described as multifunctional offers more in the way of adjustability than others, but they are correspondingly more expensive. Multifunctional models can be equipped with storage space that establishes them as permanent fixtures rather than easily stowable resources.
Booster Seats
Booster seats come in various shapes and sizes and are the most minimal style of seating for small children. As they tend to come into the picture when a child is approaching the age when they are old enough to sit independently at the main table, booster seats do not normally come with a tray.
Desirable Features of a High Chair
Although the design standards assure buyers that essential safety features have been taken care of, there is still room for nuances that make the difference between the various genres and models available. For instance, the ease with which the child can be lowered into and later lifted out of the seat is in part a subjective matter and in part dependent on the particular character of an individual child.
There are several recurring topics that all high chair buyers consider, but those who are particularly interested in folding high chairs bring a specific perspective to them. They include ease of cleaning, adjustability, comfort, and the design of the tray.
Ease of Cleaning
When it comes to ease of cleaning, there are two ways of looking at it: One is about getting the task done quickly and that accords with the simplicity of a typical folding high chair; the other is about getting the task done thoroughly. That implies more time and a more substantial structure.
Adjustability
As the baby grows bigger and learns to coordinate its limbs, the tray changes from being the place for mum or dad to put food down while spoon-feeding and instead becomes the dinner table, not to mention the artist's studio. A chair that makes it easy to adjust the tray and seat height to accommodate these changes can extend the chair's useful life.
High Chair Comfort
Besides the functional aspects discussed previously, concerning the ease with which the chair can be set up and folded, the child's comfort is an important aspect. Folding high chairs are sometimes at a disadvantage in this respect because their functional design pares back on things like cushioning and upholstery. One solution in such cases is to get a lightweight high chair cushion to go under or behind the child.
High Chair Tray
There is a trade-off again with folding high chairs between a large tray and one that is convenient to store. Generally speaking, a larger surface area is more practical at feeding time. Special features, such as cup holders, can be an extra convenience, but they can also hinder the clean-up.
Buying a Folding High Chair on eBay
With so many baby feeding options to choose from, eBay's comprehensive listings are a great place to start sifting through them. If you are in the early stages of making a choice, then going through the different types of high chair to compare features while evaluating the pros and cons of each is made easy by the extensive filters and features like the watch list. Starting with a broad search can also give you some ideas about other things that you might want to buy at the same time, such as feeding bottle gear, cups, dishes and utensils,bibs, and so on. When focusing on a folding high chair, bear in mind that there are alternative words to ''folding'', which might be a successful search term, such as '' foldable''.
eBay's listings include plenty of used items, and one of these might fit the bill perfectly. One likely disadvantage of buying a used folding high chair is that the quality assurance documentation is unlikely to be available. In that event, look out for the indicators associated with the two British Standard kite marks, and if in doubt, make contact with the seller before completing a purchase.
Conclusion
Sometimes, when the time comes to think about getting a high chair, the variables that buyers think about end up making the choice a foregone conclusion, and on those occasions, more often than not, the conclusion is that a folding high chair can be the best solution. It is likely to be functional and unfussy, and the main things to pay attention to are the ease with which it can be set up and then put away, along with the practicality of cleaning it. Having said that, when choosing between different models, buyers can still go with personal preferences. Some people prefer simple and natural materials, while others look for striking colour schemes.
There is always the possibility of finding a bargain on the used market. With these, the main thing to be wary of is conformity to safety standards. So long as the chair offers stability and security, and is in good condition, it might be worth pursuing. If in doubt, carry on looking. eBay's listings are constantly changing, so the perfect item should only be a few clicks away.