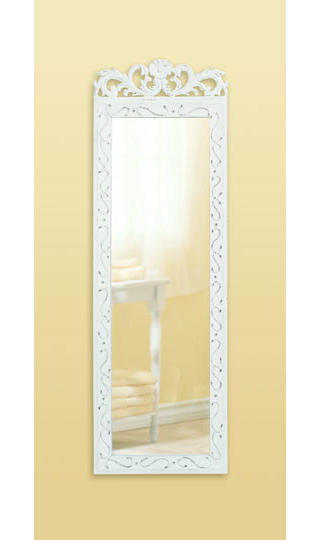 Mirrors provide a reflective surface to check appearance, reflect light and can make a room appear more airy and spacious. They come in various shapes and forms and are typically made by coating glass sheets with thin layers of metal. Because of its many various qualities, such as transparency, smoothness, hardness, and versatility, glass continues to be the standard material used. Full length mirrors can be used in any room of the house and, as their name suggests, they can be used to check the full length, or height, of a person's appearance. The choice over wall mounted or freestanding mirrors depends upon individual taste and practicalities, such as space and room layout. Wall mounted mirrors have the obvious advantage that they take up less space, and so they are often the best choice for small rooms or rooms with a difficult layout. They are also mounted safely out of the way, so there is no chance of walking into or tripping over them, and they free up space for other items of furniture. Wall mounted mirrors are also often cheaper than freestanding mirrors. Disadvantages include that they need to be fixed to the wall and cannot be angled or easily moved from one position to another. Aesthetically, some people prefer the clean look of wall mounted mirrors, while others prefer the more opulent design of freestanding mirrors. Of course, with the variety of styles available, there are many opulent, elegant, and ornate wall mounted mirrors to be found. Some mirrors come with both wall mounting and freestanding fixtures, and many full length wall mounted mirrors are suitable for hanging either portrait or landscape.
Choosing a Full Length Wall Mounted Mirror
Taking into consideration the following points is essential in purchasing the most suitable mirror.
Type
Full length mirrors are generally made by floating molten glass over molten metal, usually aluminium. This creates a mirror where the reflective aluminium surface is viewed through a sheet of glass. Silver glass mirrors are coated with silver and copper. They are more durable and give more accurate reflections. The reflections from aluminium mirrors tend to be more cool and bluish, while those from silver mirrors are more warm and reddish. Safety glass mirrors are silver glass mirrors with a protective film applied to the backing surface. If the mirror is broken, the film prevents it shattering into potentially dangerous shards. Another type of mirror is the silkscreen printed mirror. These are decorative mirrors with different patterns and colours printed onto the surface. They are durable and moisture resistant. They are generally used to create beautiful and appealing decorative effects. Not all mirrors are made of glass. Other materials are sometimes used, both for safety and economical reasons. Acrylic is stronger than glass and impact and shatter resistant. Polycarbonate is extremely strong and durable, even compared to acrylic. Stainless steel mirrors are durable, hygienic, and are capable of giving bright, clear reflections. However, these materials are more likely to be used in industrial and commercial applications than in mirrors designed for the home.
Size and Shape
Full length mirrors are generally a minimum height of around 160 cm and about a maximum of 175 cm, though shorter and taller mirrors are available. The shape is generally rectangular and designed to be able to reflect the full length appearance of an adult. Typical widths are about 60 cm to 70 cm, but narrower mirrors are available for tight spaces or where a wider mirror is not required. These may be around 25 cm to 40 cm and can look quite elegant. Some mirrors are also designed so that two or more can be placed next to each other. Most full length mirrors are rectangular, or rectangular with rounded edges, but some are oval.
Style and Frame Material
Full length wall mounted mirrors are available in a range of styles and finishes.
Antique
Antique style mirrorsare generally quite ornate. They often have wide, elaborate frames with metallic finishes in silver or gold. The embellishments may include swirls, beading, ridges, and floral and leaf motifs. Other mirrors may have black or other dark coloured painted frames, again sometimes with gold ridges or detailing. Full length antique style mirrors may be simply ridged around three sides with more decoration at the top. Antique style mirrors work especially well with traditional and formal interiors, especially in older and grander properties, but they can also add an interesting dimension to more modern properties.
Vintage
Vintage or shabby chic mirrors are similar in style. A shabby chic scheme might include wooden floors, large windows, creams and pastel colours, vintage furniture, and delicate soft furnishings. Shabby chic mirrors might have elaborate gold or silver effect frames or they might have delicate metal frames in creams and pinks. A weathered or distressed look is commonplace. They might also have screen printed glass.
Country and farmhouse
Country and farmhouse style mirrors are all about chunky, rustic wooden frames, perhaps oak, pine, or elm. They are usually plainer and simpler than antique style frames. Unusual items might incorporate reclaimed driftwood or similar materials. They work well in cottages and similar traditional properties.
Contemporary
Contemporary stylemirrors are often quite plain in design. They may have frames or be frameless with a plain or bevelled edge. Frames are usually simple and stylish, and popularly made from materials such as brushed steel and chrome. They might incorporate LED lights in various colours. Contemporary mirrors may be basic shapes or more quirky and unusual. They work well in modern flats and houses.
Frame materials
Frame materials include wood, metal and plastic. Wood can be expensive, especially if it is ornately carved. Both wood and metal can also be quite heavy, so bear this in mind when considering wall fixtures. Composite resin is often used and is lighter and easier to hang. The frame may either be glued or screwed to the mirror. Screwed construction gives durability and resistance.
Wall Mounting
When considering where to place a mirror, think about factors such as how far back a person can comfortably stand and how the mirror will interact with other items of furniture. Don't place it behind doors where it could be damaged. Mirrors should generally have integral hangers or strap hangers to enable easy hanging. They may or may not come with appropriate wall fixtures, or any at all. The type of wall fixture used will depend upon the type of wall, for example, whether it is brick or concrete, and the weight of the mirror. Some full length mirrors can weigh up to 20 kg or more, though simple frameless designs can weigh as little as 4 kg. If the mirror is for a bathroom or similar environment, check the product description to make sure it is suitable for high humidity areas. Safety glass is also often a good idea for these areas.
Mirror Care
Clean mirrors with a clean cloth and window or glass cleaner. Follow the care instructions provided in the product description or with the mirror.
Find a Full Length Wall Mounted Mirror on eBay
Go to the eBay homepage, scroll over the Home & Garden tab and click on Home & Garden. Scroll over the Furniture & Living tab and click on Home Decor. Click on Mirrors followed by Wall Mounted. There are then options to narrow the listings to make them more relevant, for example, by mirror width, style, shape, frame material, frame colour, and shape. Browse the listings to find full length mirrors of the type and style required. Alternatively, use the search bar and type in keywords such as "full length wall mounted mirror" or "full length wooden mirror".
Conclusion
Full length wall mounted mirrors are available in a range of different widths, shapes, frame materials, and styles. Which mirror is chosen will depend upon current decor and individual style. From ornate antique style mirrors to contemporary brushed steel mirrors, there is something to suit all properties and tastes. Bear in mind practical considerations such as appropriate wall fixtures and safety elements for bathroom mirrors. A full length wall mounted mirror can be a stunning addition to the home, not just serving a practical purpose, but also helping to create an inviting and homely atmosphere.