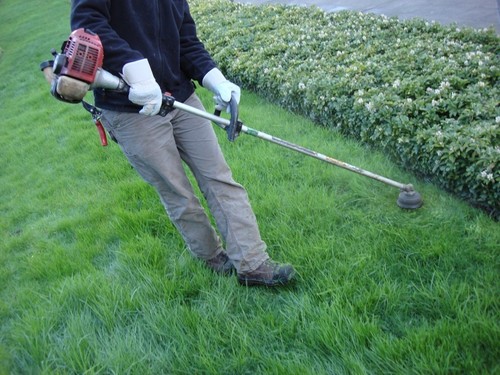 Garden strimmers, also called grass trimmers, have come a long way in recent years. At one time a rather expensive and not always reliable piece of equipment, they are now a dependable and affordable addition to garden sheds throughout Britain.
About Garden Strimmers
Garden strimmers are hand-held power tools that are used for trimming grass borders and also for cutting and clearing areas of rough vegetation. The cutting mechanism is a plastic line wound on a fast-rotating drum fitted to the base of the unit. The protruding end of the line rotates at high speed along with the drum and cuts cleanly through any grass and vegetation that it comes into contact with. The protruding cutting line gradually wears down through normal use, but the drum mechanism is designed to feed out more of the line as required, either automatically or manually. Eventually, the line and its drum have to be replaced, which, in most cases, is a simple and quick operation.
Types of Garden Strimmer
Although all garden strimmers do much the same job, there are three distinct systems in which the various models may be powered: electric (corded), battery (cordless), and petrol.
Electric (corded) Strimmers
Corded electrical strimmers are connected by a power cable to the nearest mains power socket, usually in the house or garden shed. Extension cables are normally required too in order to enable access to all parts of the garden. The main advantages of this type of strimmer include the limitless energy source from the house supply and relatively low cost. The main disadvantage is limited range and movement from the power source without using long, and often cumbersome, extension leads. Typical power ratings range from around 500 watts to 1500 watts. As with all mains-powered gardening tools, a residual current device (RCD) should be used at the socket to eliminate the risk of electric shock in the event of an accident.
Battery-Powered Strimmer
With a battery-powered strimmer, the power source for this cordless type of strimmer is a rechargeable battery. A fully-charged battery will usually power the strimmer long enough for most common gardening tasks. The power will eventually fail, of course, as the battery is constantly being drained while the strimmer is in use. Unless the user has a fully-charged spare, the battery has to be recharged before the strimmer can be used again. That is its main weakness. The advantage is greater range and freedom of movement as no cable to the house or garden shed is required.
Petrol-Driven Strimmers
Petrol-driven Strimmers are among the most powerful garden strimmers. Driven by petrol-powered engines they are especially suited to clearing rough vegetation patches, however tall or dense. Petrol-driven strimmers, like cordless battery-powered strimmers, are not limited to close proximity to the house's power supply. They can be taken anywhere.
The disadvantages of petrol-driven strimmers include the excessive noise they tend to produce when operated and also the running costs involved in re-filling them with petrol. Typical power ratings for petrol-driven strimmers range between 25cc to 52cc engine capacity. Featuring among the more powerful garden strimmers, petrol driven strimmers also tend to be among the most expensive. As many owners of small to medium gardens don't require the added power of petrol-driven garden strimmers to tend their gardens, they usually opt for a more moderately powered (and moderately priced) electrically-powered model.
Using the Strimmer for Grass Trimming
Garden strimmers enable the gardener to achieve very neat and uniform grass edges. They can work around immovable objects and can enable access to corners and alcoves that are inaccessible to lawnmowers or even, in many cases, to garden shears. Gardeners often use them after mowing the lawn to add neat finishes around the borders and edges of their lawn.
Using the Strimmer for Clearing Rough Vegetation Areas
As a labour saving device, garden strimmers are unbeatable when it comes to clearing patches of rough, overgrown grass and weed patches. Lawnmowers are generally unsuited to these tasks. Traditionally, garden shears or scythes, lots of muscle power and a fair amount of time were required. Garden strimmers, especially the more powerful models, have made that a thing of the past for many people. They make very short work of these formerly labour-intensive tasks.
Choosing a Garden Strimmer
Garden strimmers, these days, come in a wide variety of models, power ratings, and prices. A garden strimmer should be chosen not solely on the lowest price available, but on its ability to handle the tasks required of it. Some of the cheaper and less powerful strimmers, while suitable for grass trimming, aren't powerful enough to cut and clear the toughest of vegetation. This is one of the main considerations when buying a strimmer. Cost is still a major consideration too, however, and there is a considerable range of prices even among models of similar specification. Other factors to consider when choosing a garden strimmer include the following:
Reliability
Many garden strimmers are produced by well-known companies that rely on their reputation for quality and reliability as a major selling point. Less well-known brands, however, can, in many cases, offer the same quality and reliability, often for a significantly lower price. Online reviews of virtually every model of strimmer are available and easily found via search engines by entering the search term 'review' after the manufacturer and model name of any particular strimmer. These, mostly unbiased, reports are based on the experiences of previous buyers and can be very useful in informing of any hidden disadvantages or potential problems.
Repairs
Even the most reliable models aren't immune to the occasional breakdown and may need to be repaired. Some models of strimmer, however, are so cheap that if they are no longer under warranty, having them repaired would be unecomomical. The repair costs can easily outweigh the cost of replacing the faulty garden strimmer with a completely new one. Higher quality and more expensive models should be repaired if possible. Parts availability then becomes an important consideration, and check whether any particular model can be repaired, either locally or by returning it to the manufacturer's service department. It should also be kept in mind that one of the reasons for buying a more expensive model is the increased reliability offered and reduced chance of needing any repairs done throughout the lifetime of the strimmer.
Replacement cutting line
As replacing the cutting line is a routine operation, it's necessary that replacements for any particular model of strimmer are readily available. The drums on which the line is coiled are not interchangeable between different brands and often not interchangeable between different models under the same brand. Depending on the model, other accessories may also be supplied or available to purchase separately.
Buying a Garden Strimmer
As might be expected, garden strimmers can be purchased from a range of outlets, such as gardening centres, department stores and larger DIY shops. They can also be purchased online from various distributors and retail sellers. Prices tend to fall during the off-season months during autumn and winter and some excellent bargains can be found during this period.
How to Buy a Garden Strimmer on eBay
eBay is a large source of garden strimmers available for purchase, both new and second hand, from retailers and private sellers. Many models are available at any particular time. Search for garden strimmers within the power tools categories under eBay's Home and Garden section. More specifically, they can be found from eBay's home page by 'drilling down' through the following categories: Home & Garden/ Garden/ Power Tools & Equipment/ Strimmers. Many of the models are offered by the sellers as auction items that can be bid on; others are offered under the Buy it Now scheme. These can be purchased immediately and securely by whichever payment method the seller has stipulated, such as credit card or via PayPal, eBay's own reputable financial transaction company. With so many models available on eBay, it's often possible to locate a suitable model that's not too far from home, enabling easy pick up or delivery in person. Otherwise, standard delivery services can be arranged where personal pick up isn't practical. Delivery is arranged by the seller and offered free in many cases. If inexperienced at buying anything on eBay, there are useful and informative help guides available on eBay's site. They explain the buying process clearly and in-depth and make the whole process of buying any items simple and painless.
Conclusion
The garden strimmer, once seen as a luxury item, is now considered a useful, convenient, and affordable addition to any gardener's arsenal of powered garden-maintenance equipment along with lawn mowers, hedge trimmers, and others. They are safe, easy, and economical to operate and offer considerable labour-saving advantages. Every garden shed should have one.