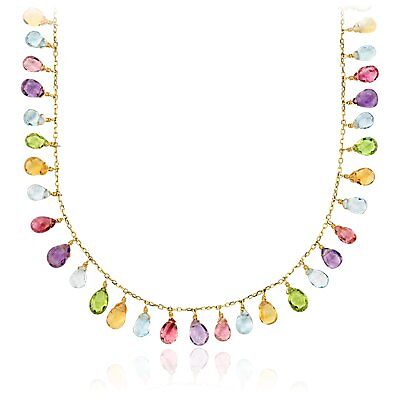 From the beginnings of civilisation, necklaces have been an integral component of jewellery collections. Throughout that history, both men and women have worn necklaces for decoration, as well as to denote status.
Today, necklaces are quite diverse, and are available in a variety of designs. Necklaces are made from many materials, including precious metals, fabrics, beads, and gemstones. This variety makes it possible for anyone to buy a gemstone necklace that is perfectly suited to their personal sense of style.
When you are ready to buy a gemstone necklace, rather than limiting your choices to the inventory available at traditional jewellery stores on the high street, one should consider searching the extensive selection available at eBay. Before buying a gemstone necklace, it is important to research the various types gemstone necklaces available, the types of gemstones used to craft necklaces, as well as the types of metal chains that secure necklaces around necks.
A Brief History of Necklaces
During the Middle Ages, necklaces held great influence. Prior to this time beads had been the most popular type of necklace, however when they were no longer considered fancy enough to suit those who were wearing them, chains were used, and pendants were fashioned to hang from these chains. Collars of gold, enamel and gemstones became quite popular at this time. Chains were considered to be a badge of office. Today, necklaces are made from a variety of metals, in a variety designs, with chains of varying lengths. They are adorned with gemstones like diamonds, as well as semi-precious stones.
The Types of Gemstones Used in Jewellery
Gemstones are used to make jewellery because of their unique physical properties. They are prized for their beauty and rarity. Many precious and semi-precious stones are used to craft jewellery. Besides the highly sought-after diamond, the gemstones used in jewellery range from amber to turquoise.
| Type of Gemstone | Features |
| --- | --- |
| | An ancient organic gemstone favoured for its beautiful colour; ranges from light to deep yellow hues |
| | A quartz stone that ranges in colour from light violet to dark purple |
| | One of the three major precious gemstones; ranges in colour from a light green to darker, bluish green |
| | Colours range from blue, lavender or mauve, to a range of green hues |
| | Jasper is from the chalcedony family and comes in many colours |
| | Types include rose quartz, smoky quartz, amethyst, and citrine |
| | Has an intense red colour; one of the three major gemstones |
| | Comes in shades of blue, pink, red, yellow, green, and brown |
| | Turquoise has a very attractive colour, from intense medium blue to a greenish blue |
Some types of gemstones, like pearl, coral, and amber are classified as organic gemstones, meaning that they are formed by living organisms. Other gemstones are considered inorganic, meaning that they are composed of minerals.
Necklace Style and Length
Sometimes it is hard to find the right length of necklace to go with a particular outfit. Women's necklaces are generally between 41 and 51 cms in length This corresponds to the area between the base of the throat and the collarbone on most people, although the length of the necklace one wears is really a matter of personal taste. To find the right length, measure your neck and add five to ten centimetres for a looser, more comfortable fit.
| Type of Necklace | Length (cm) |
| --- | --- |
| Choker | 41 cm |
| Princess | 46 cm |
| Matinee | 61 cm |
| Opera | 81 cm |
| Rope | 122 cm |
Keeping several sizes and styles of necklaces on hand allow you to wear the right style for any occasion. Men's necklaces should rest at the collarbone when a necklace is worn with an open shirt collar, and should be slightly longer if a pendant or medallion is being worn. A standard length for men's chains range from 46 to 51 cm. Children's size necklaces are generally 36 to 41 cm in length.
Gemstone Necklaces Available on eBay
Gemstone necklaces are available in a variety of styles, including chain, choker, pendant, and strand gemstone necklaces. Each type of necklace has different features, and can be worn for a variety of occasions, or casually on a daily basis.
Chain Gemstone Necklace
Chain gemstone necklaces can either be single chains or double chains, and can include a variety of gemstone. A diamond pendant on a silver chain is a good choice for occasions such as formal parties, or an anniversary dinner, and are generally worn by women. A birthstone is a good choice for a child's gemstone necklace. Many men wear gemstone necklaces such as rubies, jet, or turquoise. Chain gemstone necklaces can be worn for casual or formal occasions, depending upon the type of gemstone, the length of the chain, or the type of setting.
Gemstone Choker Necklace
Chokers are available in a variety of styles, from hammered gold, to lace and braided styles. Gemstone choker necklaces can include pearl, diamond, or jet beads. A formal choker may consist of an intricately patterned sapphires and diamonds, while a choker made using a mixed of semi-precious gemstones would make for a more casual looking choker necklace.
Pendant Gemstone Necklace
Gemstone pendant necklaces can be found in styles ranging from the very formal to the very casual. A gemstone pendant made with rubies, diamonds, emeralds, or a combination of any type of gemstone and diamonds is generally considered quite formal. Such a pendant would be a good option for occasions demanding formal attire be worn. For a less formal, or casual look, an unfaceted amethyst or a turquoise gemstone hung on a black cord is appropriate. This style of necklace is more popular among young women and girls.
Strand/String Gemstone Necklace
Strand gemstone necklaces can be made with gemstone beads of onyx, amethyst, turquoise, agate, and natural, unfaceted rubies. The beaded gemstones are strung on cords or strings, and can be interspersed with gold roundels to create patterns, or hung with a matching pendant. This style of necklace lends itself to a more casual ensemble.
Factors to Consider When Looking for a Gemstone Necklace
When looking for a gemstone necklace on eBay, look at each facet of the piece you are considering buying. Does it have a chain or is it strung on a cord or string? Carefully examine the components of the necklace to be sure that it is the necklace you are looking for. The specific type of gemstone, the chain and its clasp, finishes, faceting, colour clarity, and the brilliance of gemstones, as well as the types of settings are all be important factors to consider. Taking the time to carefully examine the photos and item description in the listings can be the difference between buying a gemstone necklace that will be treasured for a lifetime, or buying a gemstone necklace that will be left unworn on a shelf.
The Gemstone
What type of gemstone is present? Is it precious, semi-precious, or a diamond? Look at the pictures offered by the seller and examine the gems very closely. You should also read the seller's descriptions of the gemstones very carefully. Are the gemstones shiny or dull? Faceted or unfaceted? If the gemstone is set in a pendant, what type of setting does it have? Look closely to see whether there are any visible signs of wear and tear on the setting. Does the gemstone appear to be seated well, or are there noticeable gaps? If there is an obvious gap, the stone may not be well seated and could easily become dislodged from the setting. If the gemstone is faceted, consider the gemstone's brilliance. If the stone is dull, it could be that it has surface blemishes.
The Chain
Read the description of the necklace carefully. Is the chain made from a precious metal or a non-precious metal, like steel? Sometimes steel is used because it holds its shape well and is easy to care for. If the necklace has a precious metal chain, such as gold or silver, what grade of metal is it? For example, a sterling silver chain differs from a fine silver chain in terms of purity. With a purity level of 0.999, fine silver has a better shine than sterling silver.
Some chains have a specific finish. The most common finishes are high-polish, satin/matte, brushed, and hammered finishes. Be sure to look at the close-up photos of the chain closely. Does it have a finish? For example, does the metal shine? If it has a finish, is it worn? A brushed finish can rub off with repeated wear, so if the description states the chain has a brushed finish, but it appears smooth, that is a good indication that the necklace was worn a great deal.
The Clasp
Look at the clasp closely. Does it appear to be working, in that do the loop and slider meet well and leave no gaps? Read the description to determine whether the clasp has ever needed to be repaired. Before buying a gemstone necklace that has previously suffered damage and been repaired, it is a good idea to determine the extent of this damage. If the description does not clearly describe the issue, contact the seller to determine the repair history.
How to Buy a Gemstone Necklace on eBay
When you are ready to start your search, simply enter keywords describing exactly what you want into the search bar at the top of any page on eBay. For example, if you enter a search query like 'gemstone pendant necklaces' into the search bar, the search engine will only select the current listings that match the search query. If you want to narrow your search, you can filter results by categories such as style, metal, or condition.
As stated above, it is very important that you examine any photos of the necklace listed for sale and read the seller's description of the necklace. If the information you need to make a purchasing decision is not in the item description or the photos of the necklace are not clear or close enough, you can contact the seller by going to the seller's profile and clicking on the contact link to ask any questions. While on that page, you might want to look at the seller's feedback scores to see how other buyers have rated their experience with this seller. This information is important to determine if you want to proceed with the purchase or move on to a different seller.
Conclusion
Necklaces today are quite varied in terms of design, materials, and price points. They now come in a plethora of styles and designs, from corded necklaces with simple gemstone charms, to diamond necklaces with fine gold or silver chains. Some styles of gemstone necklaces can be worn with casual attire, and others are better suited to formal wear. While in the past jewellery, and specifically necklaces, were more a statement of class and wealth, today they are worn by all walks of people to express individual style.
When shopping for a gemstone necklace, be sure to do your homework first. Read the item description listed by the eBay seller, so you are clear on what you could be getting. Look closely at any pictures provided, and don't be shy about asking for better photos from the seller. As an eBay member, you have the option to reach out to other members. They may be able to help you in coming to a purchasing decisions. Along with its easy to use search tools, eBay must have what is the largest selection of gemstone necklaces to be found anywhere.