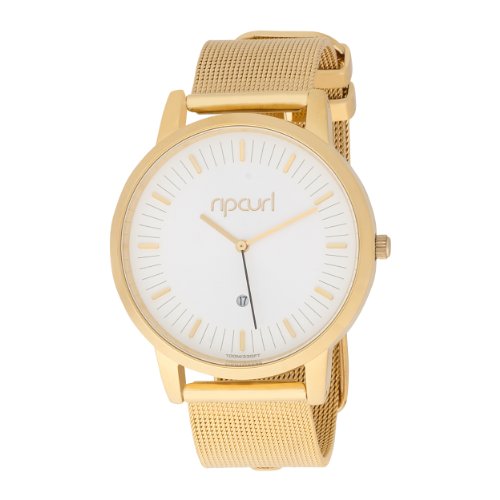 A beautiful gold wristwatch can be a lovely addition to any man or woman's wardrobe. The great thing about buying a gold wristwatch is that it can be a versatile piece of jewellery; a gold watch can dress up a pair of blue jeans and a T-shirt, or it can look elegant when paired with a suit and tie or evening dress. A quality gold watch can last you for years, and it can be an investment piece.
Before you purchase a gold watch, consider what you are able to wear it with. Is the watch an everyday piece that needs to be very versatile, or is it simply a special occasion watch for dressy events and holidays? A simple gold watch may be best for regular wear, while an occasion watch could have some extra additions like diamonds or an engraved band to make it even more special to wear for elegant events or occasions.
When it comes to buying a gold watch, there is not just one simple kind. There are many types of gold watches and it should be easy to find one that complements your taste and style, as well as one that fits into your buying budget. A gold watch can be digital, analogue, diamond studded, or have a leather wristband. Gold watches range from affordable to high-end, so it helps to have a budget in mind before you begin shopping for the perfect gold watch among all the styles and types that are available on eBay. There are various types of gold wristwatches that the buyer discovers when shopping, and choosing the perfect one can be a lot of fun.
Men's Gold Watches
Men's gold watches are essentially watches that have a gold face and are generally analogue watches, but there are some digital gold watches available, too. Most men's gold watches have a gold band, too, but there are a few exceptions, such as stainless steel. Generally, men's gold watches can be adjustable to fit a man's wrist more comfortably.
Standard Men's Gold Watches
Men's standard gold watches that have a gold band can either be real gold or gold plated. These standard gold watches may have extra features such as a date and day display, a jewelled dial, and times for other time zones. Men's gold watches generally have Roman numerals on the display or standard numerals. Popular brands include Omega and Rolex men's watches.
Watches With Leather Bands
Some men's gold watches have leather bands. They can either be made of brown leather or black leather, but the face of the watch is gold. Gold watches with a leather band may have the same features as a standard gold watch, such as date and day display and they can either be self winding or automatic winding watches.
Women's Gold Watches
There is a bit more variety when it comes to women's gold watches. Women's watches not only vary in colour, but also in style, too. You should be able to find the perfect watch for your personality and personal style when it comes to buying a women's gold wristwatch, whether you enjoy a more elegant, diamond studded gold watch or a basic gold watch that has a simple, timeless leather band that never goes out of style.
Standard Women's Gold Watches
A standard women's gold wristwatch have a gold face and a gold band, which can be similar to a man's gold wristwatch, but the watch face is be smaller, and the band is thinner and more delicate for smaller wrists. They may have all the same features that a man's gold watch has, such as date and day, but they are simply on a smaller scale. They can be diamond studded, or have an image or pattern on the watch face itself. Bulova and Geneva women's watches are popular brands. Sometimes women's gold watches have more elaborate bands than men's, and they may be engraved or have a filigree style band made of gold.
Watches With Leather Bands
Like men's gold watches, women's gold watches can also come with a leather band instead of a gold band. The leather band is slim, and can be brown, black, or other fashionable colours such as green or red. The leather strap may be braided. The face can be simple or elaborate, depending on your taste, and they have all the same features on the face and dial as a regular gold watch.
White Gold/Rose Gold Watches
Men's watches typically do not offer other types of gold, but women's watches do. Women's watches also come in either white gold or rose gold shades. White gold almost looks like silver, and rose gold has a pink or rose tone to it. These are both popular types of gold watches for women, and give you a little something different to choose from when you are buying a gold watch.
They can also have additional embellishments such as crystals or diamonds around the dial or on the watch face itself, or fancy straps with embellishments or engraving on them.
Bracelet Watches
Bracelet watches are exactly as the name implies: watches that have a bracelet style, which makes them easy to slip on and off, but they still have a watch face and can be used as a functional watch. These are very stylish and trendy and can go with a number of types of outfits and styles.
A gold bracelet watch can look more like a typical watch, or more like a bracelet. It really depends on what your style is. Some bangle bracelets have a discreet watch face hidden in them, and some gold watch bracelets have a dangling watch face charm. This type of watch comes in an endless array of styles and may have additional charms on the bracelet, too. Bracelet watches may seem a bit more casual than a watch with a traditional band or strap.
Comparing the Various Types of Gold Watches
Gold wristwatches come in several essential styles for men and women, so when you are looking for one, select a watch that includes the features you need as well as the style that suits your own taste.
| Standard Gold Watch | Leather Strap Watch | Bracelet Watch | White/Rose Gold Watch |
| --- | --- | --- | --- |
| Elegant and dressy | More casual style | Fun, unique style | Unusual colour |
| For men or women | For men or women | For women only | Women only |
| Slip on or clasp | Colored leather | Many styles | Diamonds |
| $$-$$$$ | $$ | $-$$$ | $$$-$$$$ |
When it comes to selecting a gold wristwatch, there are so many different styles. For women especially, picking the perfect watch can be difficult, because there are many beautiful and unique gold watches available. For men, there are not as many choices when it comes to style, but there are many signature brands and looks, such as the gold aviator watch, than you can choose from if you're shopping for a men's gold wristwatch.
How to Buy a Gold Wristwatch on eBay
Buying a gold wristwatch on eBay can get you a great deal on a quality timepiece. Search gold wristwatches and narrow your selection accordingly, or simply do a search for the piece you are looking for, such as gold Rolex watches or gold watch bracelets. A rose gold watch can be a unique addition to your wardrobe, but a man may want a gold aviator watch to complement an elegant suit. Buy a gold wristwatch from a merchant that is a Top-Rated Seller on eBay, and has a lot of really great feedback from satisfied consumers.
Communicate with the seller and find out if any extras come with your watch, or if the seller can offer any additional items to be bundled with your watch for a low shipping rate, such as watch batteries, a case or jewellery bag for your watch, or an extra strap. Check to see if the seller is located in an area close to you, and in that case, you could alleviate shipping costs by arranging a personalised pickup for your watch in person.
Conclusion
A great gold wristwatch can make a T-shirt look more elegant, and add beauty to a dress or suit. A quality watch can last for years and even be passed down to your children as an heirloom, and a beautiful gold watch can be a treasured accessory that can keep time for many years. Purchase a gold watch that is in your budget, but a true quality watch may cost a little more. Consider it an investment that is worthwhile, because if you have a great watch, the only expense you may have for years to come is new batteries.
Make a pretty gold watch part of your daily accessorising, or take a gold diamond watch out when a special occasion calls for a timepiece that is a little more high-end and elegant. Whether it is worn for everyday wear or simply for those dressy moments, a great gold watch is something that never goes out of style, and looks great with everything you own.