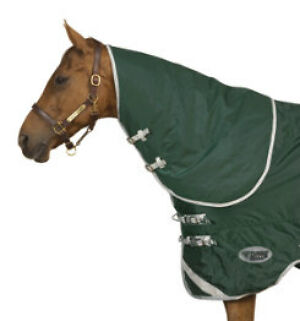 As any horse owner knows, horses need a whole range of equestrian accessories and equipment to ensure that they stay healthy and well groomed. It is important to keep a selection of horse rugs of different weights at hand for when the animal requires relief from the cold or heat, or needs to be protected from flies or dust. You can also layer two different rugs to achieve just the right degree of warmth and coverage for a sensitive horse, and then simply remove one of them when appropriate.
There are many different varieties of horse rugs and horse blankets available on eBay. Most of these are brand new, while others are second hand, but all are in good condition. It is actually quite common to purchase a used horse rug with minor repairs to the body (in the case of stable rugs), or the straps (turnout rugs). As long as tears or repaired sections are small and confined to the edges of the body, they should not affect the rug's performance or durability; even so, such flaws should be reflected in the price.
Most horse blankets are made from breathable manmade materials that wick moisture away from the horse's coat to keep him comfortable at all times. Many models contain various quantities of padding to suit different climates and seasons. Turnout rugs, which are made for outdoor use, tend to be waterproof, and some feature a neck cover or full hood for added warmth or protection from flies, mosquitoes and other biting insects. A horse rug is typically fastened to fit the body with straps around the belly, in the front, or in other appropriate locations to prevent it from slipping, while ensuring that the animal can move freely. Before you buy a horse rug on eBay, or anywhere else, there are a number of things you need to consider before making your final purchasing decision.
What Type of Horse Rug Should You Buy?
The first thing to figure out is what the blanket is to be used for. Here is an overview of the basic categories of horse rug and their respective uses and features:
Category

Uses and Features

Turnout rugs

Designed for outdoor use, when the horse is in pasture, after exercising, or travelling.

Available in a range of weights to suit winter conditions as well as spring and autumn weather.

Some are lined with fleece for extra warmth and protection against wind and rain.

Provide coverage from withers to tail; combo rugs also have neck pieces or hoods.

Usually made from waterproof material that is also breathable to prevent excessive sweating.

Designed for use when the horse is stabled, to provide warmth when he is standing still.

Available in various weights for different temperatures.

Cover the horse from withers to tail, sometimes also the neck.

Usually not waterproof.

Fleece rugs

Multi-functional rugs that can be worn while stabled or travelling, or under a stable rug or turnout rug in colder conditions.

Often used as coolers to wick perspiration away from the coat and allow the horse to cool down after a workout, or to dry him off after a bathcool down aftert following exerciseeck.ods.. overwhelming, eBay makes it easy to find a pair that suits.

Coverage varies by model.

Available in a wide range of colours and designs.

Fly rugs/Summer sheets

Thin, lightweight sheets designed to keep the horse clean and free from biting insects.

Also protects the coat from bleaching in the sun.

Normally breathable but not waterproof.
How Heavy Should a Horse Blanket Be?
You might be wondering how to tell how much filling needs to be in a rug in order to keep your horse warm and comfortable. Of course that depends partly on the air temperature and the length of the horse's coat, and whether the animal is kept out in the open, under shelter, or in a barn. Rugs that contain Polyfill or Fiberfill come in standardised weights that generally range from 100 grammes to 400 grammes. The following table will help you to determine the weight of horse rug you need to buy:
| Temperature | Horse With Natural Coat | Body Clipped Horse |
| --- | --- | --- |
| 10 - 15˚C | Sheet (no filling). | Light rug (100g). |
| 5 - 10˚C | Light rug (100g). | Light/medium rug (150-250g). |
| 0 - 5˚C | Light/medium rug (150-250g). | Medium/heavy rug (200-300g). |
| -5 - 0˚C | Medium/heavy rug (200-300g). | Heavy (300-400g), or medium (200-300g) with liner rug such as fleece. |
| Below -5˚C | Heavy (300-400g). | Heavy (300-400g) with liner rug. |
How Do You Measure the Strength of a Horse Rug?
Just like a pair of tights, the strength of a horse blanket can be determined by its denier count. The denier is actually a measure of the fibre density in the fabric. You might be surprised to learn that, for safety reasons, horse rugs are intentionally designed to be less tough than they could be. In other words, if the material catches on a fence, for example, or if it slips and the animal treads on a corner, it will tear rather than withstand the pressure and endanger the horse or rider. Nevertheless, a degree of resilience is a good thing, and helps ensure that you will get many years of use from a rug. It is therefore worth checking the denier count of a horse blanket before buying.
| Denier | Strength |
| --- | --- |
| 210 | Very light |
| 420 | Light |
| 600 | Medium |
| 1200 | Heavy |
| 1680 | Extra heavy |
| 2100 | Super heavy |
How Do You Know Which Size Horse Rug to Get?
If a horse rug does not fit properly it can rub and chafe, causing the horse a lot of discomfort. If it is too big it might slide off and trip the horse up. It is therefore important to measure your horse thoroughly before placing an order for a rug. If your horse already has a rug of the type and shape you want to buy, just measure the length of the bottom edge. If not, stand next to the horse and measure the side of his body from the middle of his chest to a point on his rump halfway between the top and bottom of his tail. Don't bend the tape measure to fit the contours of his body – you might need to find someone to hold one end of it while you ensure it is straight.
Horse blankets are sized in feet and inches, in 3" increments. If the measurement falls between sizes, go up the next size rather than down. If you are measuring for a turnout rug, you can add an extra 3" on top of the true measurement anyway, particularly if the rug has a neck cover. Horses come in all sorts of shapes and sizes, so if you find a brand that suits your horse, try to stick with it to ensure that the sizing works.
Buy a Rug for Your Horse on eBay
The convenience of shopping on eBay, along with the great selection of goods and competitive pricing, means that this is an excellent place to find horse rugs for every possible situation.
To view the selection of horse blankets on offer on the site, navigate to the sporting goods portal and look for the equestrian sub-category. If you pick the horse wear & equipment page here, you can see a list of item types at the top of the left-hand sidebar. Click on rugs & sheets and you will come to the listings page for all the different items of horse clothing you can choose from. From here it is also possible to select the exact type of horse rug you need, or to search by brand, price range, material or other criteria.
There is also a search box at the top of each page, where you can enter the keywords of your choice. To learn more about searching with keywords, click on eBay's finding items page. From this page you can also jump to other useful help pages that are designed to make your eBay shopping experience an easy and pleasant one. If you are new to the site you might want to start by reading all about buying, and then looking through the bidding overview to learn more about placing a bid.
Once you have researched the horse rugs that meet your requirements and decided upon a suitable item, you can either join the auction and bid on it, enter your best offer, or make sure you get it by choosing to buy it now at the seller's asking price. There are various ways to pay for your purchases, including PayPal. If you need more information before buying, it is always possible to contact the seller. In any case, the transaction will be covered by the eBay Buyer Protection policy.
Conclusion
Horses are sensitive animals that need to be protected from extreme temperatures and bad weather as well as mosquitoes, flies, and other irritating insects. The correct horse rug will help keep your equine friend at ease and in top condition at all times. For outdoor use, you need a rug that is breathable, and preferably also waterproof, so that the animal's skin remains dry in the rain, as well as when it is cooling down after exercising.
There are thousands of heavy, winter weight rugs, comfortable fleece blankets, light summer sheets, and many other types of horse rug to be found at www.ebay.co.uk. Once you have picked the appropriate kind of rug, make sure you get the right size, weight, and material density by using the various search options on the site.