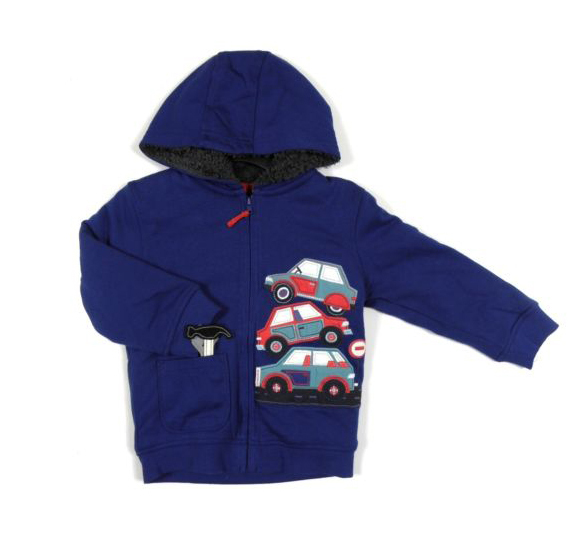 A jumper is one of the essential garments for a baby, keeping them warm when temperatures drop and providing an extra layer when going outside. This is especially true for newborns, who may have more trouble regulating their body temperature. Depending on the season and local climate conditions, parents may only need to purchase one jumper, although cooler weather may call for more frequent wear, necessitating a few items that can be worn and washed in rotation.
When selecting a jumper for a baby boy, there is an enormous range of options. With so many different styles, materials, colours, and designs, it can be daunting to make a selection. And while baby apparel is often irresistibly cute, consumers should keep in mind the baby's comfort and safety primarily. Fortunately, there are many tips for choosing a jumper that can keep your baby boy cosy and stylish.
Easy-On, Easy-Off Designs
Experts recommend dressing a baby in layers, which can easily be added or removed when moving between cooler and warmer spaces. Add to this the fact that babies often require multiple changes of clothes in one day, and it quickly becomes clear that one area of concern with baby clothing is how easily it goes on and comes off.
As one of the outer layers, a jumper is especially likely to be added and then removed repeatedly. A design that facilitates this process is a big plus. Cardigans are particularly easy, since they only require putting the baby's arms through the sleeves. Pullover jumpers can work, too, but should have a neckline that is stretchy and soft enough to fit easily and gently over the baby's head, without catching or pulling on the nose or ears. Finally, have a look at the sleeves: raglan sleeves are easiest to pull on and off, and the cuffs should not be constrictive.
Other Style Options
Boys' jumpers have additional style options, including sleeveless tank tops, collared necklines, and hoodies. Choosing a style partly depends on personal taste and the practical advantages of a certain style.
Tank Tops
Tank tops are a good option as a lighter layer. These sleeveless designs keep the torso warm while leaving arms free. They can be worn over another jumper for extra warmth, or layered over a long- or short-sleeved T-shirt.
Collared Jumpers
Collars can add a touch of style to a baby jumper, although it is a good idea to ensure that the collar is soft and does not add bulk. Turn-up collars keep the neck area warmer, rugby-style collars have a sporty look, and rounded shawl collars can be folded or turned up.
Hoodies and Safety
Hooded jumpers , or hoodies, can be a great choice for outdoor excursions, as they provide the option of an additional layer of warmth for the head. However, shoppers and parents should be aware that hooded jumpers pose a possible threat of suffocation to infants and toddlers. For that reason, the hood should never have a drawstring. Also, a baby should not be put to sleep in a hooded jumper, as the hood could twist and get tangled around the neck.
Decorative Touches
Baby boys' jumpers come with many different designs, including stripes, argyle, animals, cartoon characters, and other playful designs such as cars or trains. For budding sport fans, jumpers with a favourite team name also make a great gift.
Convenient Washing: Check Care Instructions
Caring for a baby is not always a tidy matter, and with multiple changes of clothes per day, it helps when laundering is simplified. Clothes that are machine-washable in hot water and machine-dryable are very convenient for busy parents. However, jumpers may require less washing than items like onesies, T-shirts , and trousers, so for some this may not be a deciding factor. A hand-knitted wool jumper that requires hand-washing may not be worn as frequently as a cotton jumper that can be thrown in the wash, but it may still be a treasured, and very warm, part of the baby's wardrobe.
Either way, buyers should make sure to check a garment's care instructions when shopping for a jumper. This information is located on the labels, or, if buying online, should be available in the product description.
Common Jumper Materials
The material a jumper is made of affects fit, comfort, warmth, and care requirements. Therefore, it makes sense to take a moment and consider what material one wants. The best materials for baby clothes are soft and breathable. One-hundred-percent cotton or cotton blends are generally regarded as the most comfortable for babies. Knits are convenient as they do not stretch or shrink, and do not require ironing. Fleece is also a good choice for jumpers, as it is lightweight and warm. Wool is a warm and naturally breathable material; some wool can be itchy, however, so buyers should use their judgement about whether it could irritate the baby's skin at the neckline or cuffs. Lambswool , cashmere , and angora are softer types of wool.
Choosing a Colour for a Baby Boy's Jumper
While tradition has it that one buys blue for boys and pink for girls, there are no hard and fast rules about what colour is appropriate for a baby boy. Options run the gamut from neutral greys and browns to bright hues to soft pastels. One consideration is that bright colours are much more visible than pastels or neutrals, which may be a particular concern with outerwear. Spotting a baby in a park or shop is much easier when they are in a bright top than when they are in a neutral one.
Sizing for Baby Jumpers
It can be quite confusing to pick the right size jumper for a baby boy. Baby clothing is sized according to age groups of three months: from zero to three months, three to six months, six to nine months, and nine to twelve months. However, sizing can vary from manufacturer to manufacturer, and, of course, from baby to baby. When in doubt, it is advisable to buy large, allowing the baby time to grow into it.
The following chart provides some guidelines about different common manufacturers' sizing based on a baby's height and weight. There are also recommendations for which babies each particular brand is best suited.
Newborn

0-3 Months

3-6 Months

6-9 Months

9-12 Months

Recommended For

None

56cm / 5kg

65-66cm / 5-7kg

66-70cm / 7-10kg

66-70cm / 7-10kg

All babies after the newborn stage

Adams

Four sizes from 44-62cm / 1.6-5kg

None

68cm / 6.5kg

74cm / 8kg

80cm / 9kg

Good selection of newborn sizes, particularly good for smaller newborns

Verbaudet

50cm / 3.3kg

54-60cm / 4-6kg

67cm / 7-8kg

71cm / 8-9kg

74cm / 9-10kg

More petite babies

Petit Bateau

50 cm

54cm / up to 6kg

60cm / 6kg

67cm / 8kg

74cm / 10kg

Slimmer babies

Petit Bebe

at Marks & Spencer

50cm / 3.2kg

53-62cm / 4.5-6kg

69cm / 8kg

72cm / 9kg

76cm / 10kg

Shorter babies

Mothercare

56cm / 4.5kg

62cm / 6.5kg

68cm / 8kg

74cm / 9kg

80cm

Bigger babies

Babies R Us

52cm / 3.5kg

52-62cm / 4.5-6.5kg

62-68cm / 6.5-8kg

68-74cm / 8-9.5kg

74-80cm / 8-11kg

Average-sized babies

Peacocks

56cm / 3kg

63cm / 4.5kg

69cm / 6kg

76cm / 8kg

76cm / 8kg

Long but light babies

Next

56cm / 4.5kg

56-62cm / 4.5-6kg

62-68cm / 6-8kg

68-74cm / 8-9.5kg

74-80cm / 9.5-11kg

Larger newborns and young babies
It is recommended to shop according to a baby's height and weight, rather than age group. Retailers can help shoppers sort out sizing for different brands, and manufacturers usually post sizing information on their websites.
Premature Infant Sizing
Manufacturers specialising in premature infants' clothes generally size their garments according to weight, and sometimes height, rather than age. It is best to consult the specific brand's sizing charts, since these are less standardised.
Avoiding Choking Hazards
While most manufacturers are very careful about ensuring the safety of their infant wear, buyers should always double-check a jumper for any potential choking hazard. These include drawstrings, appliques or embellishments that could be pulled off, loose zip pulls, buttons, toggles, or snaps, or anything else that could detach and be put in the mouth or get caught around the baby's neck.
How to Buy a Jumper for a Baby Boy
Infant apparel is available from a wide variety of sources. New jumpers can be purchased from shops specialising in children's clothing or the children's section of a department store. Online retailers are another convenient way to buy jumpers, and consumers have the advantage of a broad selection and easy price comparison. The disadvantage with Internet shopping is that buyers do not have the chance to inspect the item in-person; sizing and quality issues sometimes arise, so they may want to opt for places that offer a return or exchange policy.
Because babies grow so quickly, buying clothes second-hand is also a popular and economical choice. It is possible to find gently-used jumpers at much lower costs. Those interested in this option can look for local shops that specialise in used children's clothing.
Online auction websites like eBay offer the best of both worlds, since buyers can choose from a wide range of new and used jumpers, brand-name and handmade, all at competitive prices.
How to Buy a Jumper for a Baby Boy on eBay
If you've decided to peruse eBay's listings for jumpers, you find an extensive and diverse selection of items. Beginning on eBay's home page, enter keywords like " green baby boy jumper" into the search bar. Once you have your search results, you can narrow them by selecting a price range and more specific conditions such as material, size, etc.
When find a jumper that appeals to you, be sure to read the item description thoroughly, noting condition, sizing, and care instructions. Look closely at the posted photos and inspect for quality. Check what the seller's return policy is, and what the postage fees are. If you have questions, you can contact the seller through eBay for more specifics.
Finally, note the seller's feedback rating and take a moment to look through some comments left by past customers. This helps you assess how reliable they are. When you've completed your transaction and received your item, you can leave constructive feedback yourself.
Conclusion
Buying a jumper for a baby boy can be a fun process, as long as the buyer has adequate knowledge to help them navigate the range of choices. Key considerations include comfort, ease of care, design and style options, materials, sizing, and safety concerns.
For ease of putting on and taking off, a jumper should have a wide neckline that slips easily over the head, or be a cardigan style. It should fit comfortably without being constrictive, and of a breathable, soft material that provides the right degree of warmth. For convenience, fully washable and dryable garments are preferable, although as outer layers this may be of less concern with jumpers, and consumers have a wide range of colours from which to choose, from neutrals to bright hues. Sizes for infant clothes is measured by age, except for premature infant sizing, which is measured in weight and height. Sizes vary depending on the manufacturer, however, so buyers should use their baby's size to select. Finally, it is important to ensure that a jumper is free from any choking hazards.
Following these steps helps a shopper find a sweet, comfortable jumper that provides a lot of happy wear.