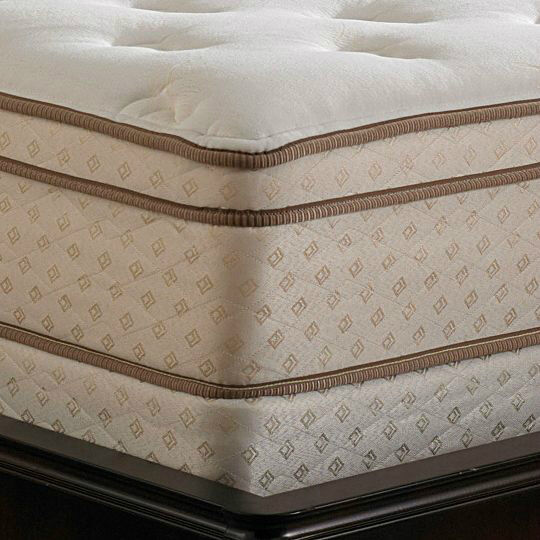 A person's relationship with a bed is very complicated, and different people will have their own preferences when it comes to aspects such as firmness and support. However, a poor or inappropriate mattress can lead to muscle stiffness and bad backs. A mattress that provides support and facilitates good posture will not only deliver a good night's sleep, it may also ensure that the user does not wake up in the morning with aching muscles and back-pain. Many sufferers of back-pain in the UK assume that a firm mattress is good for people who suffer with recurring back-pain. However, a recent study in Spain revealed that a medium-to-firm mattress provides the best results in terms of alleviating back-pain. Sleeping on mattresses that are too firm can actually result in more pressure being exerted on the lower back, but a medium-to-firm mattress strikes the perfect balance between comfort and support. Those who are concerned about the firmness of their king size mattress can perform a very quick test. The bed-user should lie face-up on the mattress, and an attempt should be made to slide a hand into the space that between the arch of the back and the surface of the mattress. If this proves very difficult, the bed is not firm enough; if this action is very easy, the mattress is too firm. In most cases, the number of individual coils in a sprung-mattress will dictate the level of support a mattress provides; comfort is determined by the padding – or filling – in a mattress. Where people require a particularly firm mattress, it is possible to add padding in the form of a mattress-cover for extra comfort.
How to Select the Perfect Mattress
The choice of mattress is a very subjective decision as there are several factors involved. Only by understanding the various benefits of different mattress-types is it possible to select the most appropriate sleeping surface.
| Selection | Description |
| --- | --- |
| Personal Preference is Relevant | In most cases, the mattress that a person prefers is the best mattress for their back-pain. This is usually a very simple decision to come to, as a good night's sleep and painless mornings are the best indicators of a mattress's suitability. |
| Research the Different Types of Mattress | Understanding the different properties that mattress-designs offer is essential to ensure that the correct decision is made. The filling and coils directly impact the properties of a mattress, but there are some alternatives to spring-based designs such as foam, water and futons. A king size mattress is usually intended for two people, so both users should try it out before a decision is made. |
| Try Mattresses Out | The best way to prevent back-pain from developing during sleep is by ensuring that the lower-spine is properly supported. The only way a user can be sure that a new mattress offers this essential support is by trying it out; this should also be done before online purchases are made. |
| Strike the Correct Balance | This may be a process of trial-and-error. There is little benefit in supporting the back with a firm mattress if the overall sleeping experience is uncomfortable. Mattress-covers may help in this regard. |
The Different Varieties of Mattress
Most mattresses sold in the UK have spring interiors; however, there are several alternatives that may be more suitable for certain people.
Spring Interiors
| Type | Description |
| --- | --- |
| Open Coil | This is the most common type of spring interior, and it is usually the cheapest. Individual coils are connected by vertical lengths of wire. |
| Continuous Spring | Continuous spring interiors are made from a single piece of wire which is woven into several coils. The coils are smaller and more plentiful than those found on an open-coil mattress, so they deliver a much more responsive sleeping experience. For those with consistent back-pain, the extra cost of these mattresses may be worth it. |
| Pocket Spring | Pocket spring mattresses provide the most responsive experience of all the spring interiors. They consist of many individual springs that work completely independently from each other. |
Spring Interior Fillings
In order to provide comfort, extra support and protection from the springs, sprung-mattresses are filled with a variety of materials. People who suffer from back-pain regularly should ensure that they try out as many different fillings as possible, as they all have very different properties.
| Type | Description |
| --- | --- |
| Cotton | Cotton provides a soft feel, and it absorbs moisture from the user very well. |
| Wool | Wool is a great fire-retardant, and it has a luxurious feel that works will with firm spring-systems. |
| Foam | Foam provides moulding properties which are ideal for aiding the support provided by springs. |
| Polyester | Polyester is a manmade fibre that is common in cheaper mattresses. |
| Hair | Hair provides a natural 'spring' that has a luxurious feel. It does not degrade over time like other fillings. |
Foam Mattresses
Foam-based mattresses are not as common as those with spring interiors, and they are usually a little more expensive. However, they do hold some benefits for back-pain sufferers, as many foam mattresses provide natural support in line with the user's individual body-shape.
| Type | Description |
| --- | --- |
| Latex | Latex makes a great foam mattress, as it is extremely durable. Many people develop back-pain because their mattress becomes misshapen over time; however, latex recovers its original shape after every use. Its elastic properties also help to evenly distribute the user's weight across more of the mattress, and that can take much of the pressure away from the lower-back. |
| Visco-Elastic | This is one of the latest developments in mattress technology, and it can be an expensive one. However, it is one of the most intelligent sleeping systems on the market today. Like latex, it recovers its original shape, however, it also uses heat in order to adapt to the person's body-shape and weight. |
| Polyurethane | This petroleum-based foam is cheaper than most other foam mattresses, yet it provides a similar sleeping experience. |
Other Types of Mattress
Water-filled beds deliver many benefits that might help people with bad backs, but they are usually very expensive. A strong, vinyl mattress is filled with water, and the amount determines exactly how firm the mattress is. This type of mattress provides pressure-free support, and that can really help a person alleviate back-pain when it is combined with a medium-to- firm sleeping surface. Futons are also available in the UK, however, they are rarely found with king size dimensions. They are manufactured from layers of fibre-wadding which are designed to mould to the contours of the body. In the UK, they are most commonly found in sofa-beds.
Finding a Suitable Mattress on eBay
There are literally thousands of mattresses of all varieties on the eBay website, and most of them are extremely easy to find. A simple search term can be entered into the text-entry box towards the top of the web page, however, eBay has thousands of mattresses categorised by different types. In order to start a search, click on the All Categories link near the top of the page. A scroll-down menu will appear, and the link to Home, Furniture and DIY should then be clicked, followed by the search icon. A list of sub-categories will then appear on the left of the screen. One of those sub-categories will be entitled Furniture; that link should then be clicked, and a link to Beds and Mattresses should be visible on the next page. From there, users will be able to select from a range of different mattresses with many different support-systems.
Conclusion
When it comes to buying a bed in order to alleviate chronic back-pain, there is no right and wrong answer. The general belief is that firmer beds support the spine more, however, that is not always the case. The only certainty involved in the selection of a mattress is that people have their own preferences. The only way to ensure that back-pain is not a result of a mattress is by gauging levels of pain and discomfort being experienced after a night's sleep on different mattresses. This can be done by sleeping in the guest room of a friend's house, or it may be done with a night in a hotel bed. The purchase of a mattress is likely to cost a significant amount of money, so that investment should not be made without first checking each support-system for its suitability. There is a commonly-held belief that expensive mattresses provide the best support. However, every person's body-shape is slightly different. If the cheapest mattress on the market provides a comfortable and supportive area for sleep, that is the mattress that should be purchased. Unfortunately, far too many people are buying mattresses before trying them out in stores. People who plan on purchasing their bed online can first visit local retailers who always allow customers to try out the display models. A friend or relative may be able to recommend their bed, and that will provide a great opportunity to try it out. Whatever purchasing decision is arrived at, the best mattress for the individual is an entirely personal matter.