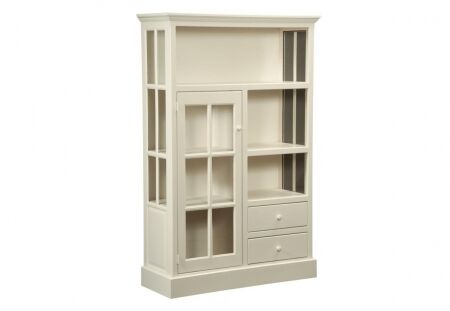 A kitchen cupboard functions to store food, dishes, pots, pans, and more. Cupboards keep kitchens looking neat and tidy by organising all of these items and hiding them in drawers or behind doors. The quality of kitchen cabinets varies greatly, so shoppers should do a little research before shopping to save time in the store and save money by selecting just the right cupboards the first time.
Before heading to the shops, shoppers need to know if they will need a freestanding cupboard to be placed against a wall in the kitchen or attached cabinets to replace existing cabinets in the kitchen. A shoppers then selects cupboards with features that best meet their needs. A shopper should consider the appearance of the kitchen cupboards and ease of installation before committing to the purchase. Shoppers can save money and find a wider range of cupboards by shopping for kitchen cupboards on eBay.
Freestanding Cupboard vs. Attached Cabinets
When shopping for a kitchen cupboard, a shopper needs to decide whether they need a freestanding cupboard or attached cabinets. Both types of cupboards serve the purpose of storing items in the kitchen, but each has its own advantages and disadvantages. A shopper might find the need for one over the other, or they might decide that both types have their place in the kitchen.
Choosing a Freestanding Cupboard
A freestanding cupboard has a combination of shelves, drawers, and cabinets and can be used to store dishes, food, and other kitchen items. This piece of furniture is not attached to the wall so the cupboard can be moved around the kitchen as needed. A freestanding cupboard might be a good option for those who do not have enough existing cabinet space or those who are looking for a new piece of furniture to decorate their kitchens.
Choosing Attached Cabinets
Attached cabinets are installed directly into the wall above or below the kitchen counters. These cupboards also use a variety of shelves and drawers to store items in the kitchen. Doors are installed over the cabinets to hide the items inside and provide a cleaner and less cluttered appearance. Because attached cabinets are installed in the wall, they cannot be moved around easily. Additionally, installation and removal of these cabinets is a longer process than simply placing a freestanding cupboard in the kitchen.
Types of Cabinets
When shopping for attached cabinets, shoppers will find the the prices vary greatly. At first glance it can be hard to tell what the difference is between each type of cabinet, but there are many distinct characteristics that must be considered. A shopper can find basic, straight out of the box cabinets with a simple design and no frills. They can also purchase completely custom cabinets made from the finest materials and in the latest styles. When choosing a type of cabinet, shoppers should weigh their needs against how much they are willing to pay.
Basic Kitchen Cabinets
Basic cabinets are the least expensive type of attached cabinets that people can buy. They have a simple design, standard size, and are easy to put together. While they are available in a wide variety of finishes and colours, they aren't the most stylish cabinets. Rather than being made from solid wood, basic cabinets are usually constructed from a lower quality particle board, or chipboard. Shoppers who aren't looking for anything fancy and simply need cabinets to store their kitchen items should consider basic cabinets. They serve their purpose and are relatively inexpensive.
Mid-Level Kitchen Cabinets
Mid-level cupboards are a step above basic cabinets and use solid wood construction with more decorative design elements. While basic cabinets are only available in a standard size, shoppers can customise mid-level cabinets to fit their kitchens perfectly. The inner boxes and shelves of mid-level cupboards might still use particle board, but the doors, frames, and mouldings are made from solid wood. This provides a more elegant look, making these cupboards best suited for people who want to the finest quality without having to pay the high prices for fully bespoke cabinets.
Premium Kitchen Cabinets
Premium cupboards are the top of the line in terms of kitchen cabinets. They are custom fitted to the kitchen and made from solid wood. Because they are completely customisable, shoppers can choose the placement for drawers, shelves, and doors, making the cupboards easier to use. Premium cupboards are the highest quality cupboards available in terms of construction and design. Shoppers can expect to pay more for these types of cabinets.
Kitchen Cupboard Features to Consider
All types of cupboards offer various features, and these features can cost the shopper extra. However, they can maximise the storage space inside the cabinet and make stored items easier to reach. If the height or depth of the cabinet is too much, then features such as pull out shelves or a lazy susan should be considered.
Pull Out Shelves
It can be hard to reach items that are placed on the back of a shelf or see all of the items on a shelf without having to move things around. Shoppers can find both freestanding cupboards and attached cabinets with pull out shelves. Like a drawer, these shelves roll out so that users can see everything on the shelf without having to remove other items. These types of shelves make it easier to organise kitchen items, saving time in the kitchen.
Lazy Susan
A lazy susan is another feature that helps users reach items located on the back of a shelf. A lazy susan is round and spins all the way around so that a person can easily access items on a shelf. This feature is ideal for smaller kitchens that might not have the space for fold out drawers. Since lazy susans spin around to show all of the items, they don't take up any more space in the kitchen than a regular shelf.
Other Kitchen Cupboard Factors to Consider
In addition to the type of kitchen cupboard and various features, shoppers need to consider the appearance and the ease of installation before finalising a purchase. A person doesn't want to end up with cabinets that clashes with the decor in their home. Likewise, they don't want to invest in cupboards that are too hard to install or that require hiring a professional to do the job. If neither of these factors are considered, then the shopper may end up investing more time and money than they need to.
Appearance
Kitchen cupboards are available in a wide range of colours and finishes. Shoppers may opt for painted cabinets or they might prefer the appearance of natural wood. When shopping for cupboards to add to the existing cupboards in the kitchen, shoppers should look for cupboards that have the same design as those already in their kitchens. When replacing all of the cabinets with new ones, shoppers can choose them based on any style they prefer.
Ease of Installation
The complexity of the installation process can cost one time and money. If each cupboard has to be measured and custom fitted to the kitchen, then a lot of time is needed for the installation process. Additionally, a person may have to hire professionals to install the cupboards to ensure that they are installed correctly and not damaged during the process. Basic cabinets are usually the easiest attached cabinets to install because they don't need to be custom fitted and use standard parts. Freestanding cupboards are the easiest to install overall because they don't need to be attached to the wall.
How to Find a Kitchen Cupboard on eBay
If you're looking for a kitchen cupboard on eBay, then start with a basic keyword search. Simply enter a description of what you are looking for into the search bar on the home page. If you know exactly what kitchen cupboards you want, you should try doing an Advanced Search. On the results page, you can narrow down the selections by choosing options such as type, material, colour, and features that you're interested in.
Delivery Options
Kitchen cupboards can be large and heavy, especially when they are already put together. This means that the postage fee can be high depending on the seller and delivery method. Be sure to include the cost of postage in the overall price of the cupboard when looking for the best deal. Search for sellers who are located near your postcode and see if local pick-up is available. Simply enter your postcode on the results page, select the radius to search within, and submit your search. Many sellers only offer local pick-up to avoid the hassle of having the cupboard delivered to the seller. Avoiding postage fees altogether allows shoppers to invest more in the cabinets themselves.
Conclusion
A kitchen cupboard stores items as well as adds to the decor and atmosphere of a kitchen. When shopping for a kitchen cupboard, a person needs to consider its appearance to ensure that it matches all of the decor. Shopping for cabinets for a kitchen can be a bit of a challenge since more than just the appearance needs to be considered. In order to save time shopping and find the right cabinets on the first attempt, a shopper needs to know what to look for and what to stay away from.
Once a shopper has decided between a freestanding cupboard and attached cabinets, they can do a bit of research to determine the type of cabinet and features they'll need to best suit their needs. Those who wish to make a small investment and want something with a simple design will find basic cabinets at a reasonable price. Those looking for cupboards made from the finest materials can find cabinets that are completely custom built. No matter what type of kitchen cupboard a shopper is looking for, they'll find new and used kitchen cupboards to fit all budgets on eBay.