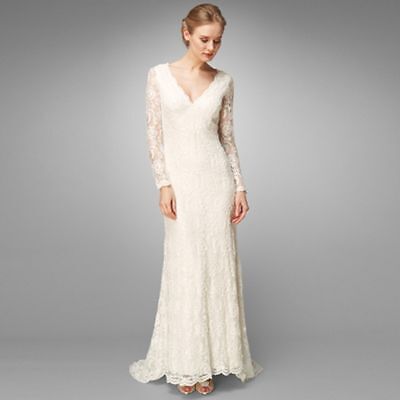 The wedding dress is a garment upon which over the decade the attentions of top fashion designers and dressmakers has been famously lavished. Today's bride-to-be has at her fingertips the most breathtaking array of variations on the theme. Often looking to royal weddings around the world, discerning future brides realise that lace tends to be the preferred finish. Given the exceptional nature of a wedding, and the extent to which her outfit will be photographed, the purchaser of a wedding gown normally spends many days, if not weeks, pondering the decision and in many cases arriving at the conclusion that lace, with its vintage or romantic associations must form at the very least a substantial part of the dress. No wedding dress purchase can be taken lightly, it is a big decision that must be properly planned out and executed. This guide outlines the factors to consider when selecting a lace wedding dress.
Characteristics of Lace
As a choice of material, lace for wedding dresses has a lot to recommend it.The floaty appearance and the rare intricacy of lace mark it as special. Lace can be either antique or modern. A dress design ideally should contain only one of these. Antique-effect lace is usually the finer of the two in texture and is relatively more expensive, tends to have a greater amount of contrast between the openwork sections and denser sections.
Above all, antique lace looks best in an off-white, ivory, cream or faded colour such as smoky rose or sepia. While it is important to avoid the Miss Havisham look (unless the couple are going for a gothic theme), the impact of a richly lace-endowed ivory wedding gown is considerable.
Varieties of Lace
While lace-making is thought to date back to Roman times, the open-patterned lace we use today has its origins in the first part of the sixteenth century.
Handmade Lace
Hand-made lace is rarely used for large-scale items, such as a whole wedding dress. However, a dress design which incorporates handmade lace at neckline, wrists or in the decolletage is an option. Hand-made lace is most often made from cotton. The process is time-consuming, based on a large number of bobbins. Irish lace is renowned as being of high quality
Crocheted Lace
Crocheted lace is made by hand. The nature of the craft means that a thicker yarn is used, the result inevitably less fine, but very individual.
Chantilly Lace
One of the best-known types of handmade lace, originating in the city of the same name, original Chantilly lace was rarely white in colour, but today the term is used for a reproduced version of this fine-textured fabric. Vintage chantilly lace wedding dresses often date back to the 1960s, or in some cases to the 1950s, and are sought-after items. They have a delicate appearance,the folds creating a subtly frothy effect.
Machine-Made Lace
Machine-made lace is far more common in wedding dresses and is usually made using synthetic yarn. Endless variations are possible, including the incorporation of embroidery, beading, and metallic threads, all presenting a great assortment of motifs, from classic and floral to abstract, woven into the mesh. Consequently, brides can choose whether they wish a subtle or bold look. Machine lace tends to be shown to its best advantage in pure white. A modern lace wedding dress is generally lower in price than its handmade counterpart.
The Basic Dress Shape
Sifting through the various prospects available, tomorrow's bride in search of a lace wedding dress could do worse than to begin with the outline that in her mind she visualises presenting to the world on that special day. This is technically referred to as the 'silhouette', and fortunately a number of designated silhouettes have evolved to meet brides' exacting requirements. Within each of these standard classifications there is scope for variation on each silhouette theme. Hence, a good starting point is to explore the standard silhouettes which exist. Each has its merits and demerits.
Guide to Wedding Dress Silhouettes
The table below offers a brief summary of the pros and cons of each of the principal silhouettes in terms of the wearer's height and body shape.
| Silhouette | Description | Advantages | Preferred Body Shape |
| --- | --- | --- | --- |
| A-Line | Gradually fanning out from a natural waistline becoming wide around hem; usually consisting of panels of fabric | Conceals large stomach and hips as lacks waistline | Taller, amply proportioned brides |
| Ballgown/Duchess | Basque bodice, cinched waist and very full skirt | Emphasises the waist and bust while drawing attention away from wide hips | For much shorter, petite brides that have more of an hourglass shaped figure |
| Empire | High waisted Regency style. Fitted bodice ending just below bust, with either an A-line or slim skirt | Makes a small bust fuller while concealing a larger stomach; suits low-heeled shoes | Any height, square-shaped figure |
| Column/Sheath | A figure-hugging, narrow full-length often strapless style | Flatters most figures, tending to draw attention to hips | Short, slim brides, and taller brides of most shapes |
| Mermaid | Tightly figure hugging style with a skirt that fans out below the knee | Very flattering, dramatic, vintage (1940s) look | bigger-busted brides of most heights, ideally longer-legged |
As you can see, there are many options when it comes to choosing a wedding dress style. From empire to mermaid, there is a lace wedding dress design to suit any woman's needs.
Choosing a Neckline
The options when it comes to necklines are both fascinating and confusing to say the least. Any future bride should consider spending time on working out the most flattering neckline for herself. She should take into account a few different factors when it comes to choosing a neckline. These factors include the hairstyle in which she is planning to wear, the width of her shoulders, and the length of her neck.
The advantage of lace when used for the neckline is that it provides an elegant but flattering appearance. Lace against the skin of the cleavage has a particularly seductive appearance, while when used across the shoulders can present a more classical look. Additionally, the line is less stark than that of a solid material. An all lace back panel filling in an otherwise backless design that can be a real attention grabber, and can help to ensure that no matter from what angle photographs are taken, the bride always looks her very best.
Neckline Classifications
There are many different styles and designs of wedding dress necklines. These styles include the following:
Boat
Sabrina
Square
Rectangular
Scoop
Halter
Jewel
Portrait
Sweetheart
Queen Anne
Wedding Band Collar
Finally one of the most popular wedding dress designs is that of the strapless wedding dress. While necklines can be catered for in lace, the strapless dress is sometimes done by that of a lace yoke.
Lace Sleeves Options
Many brides to be will also find that sheer lace sleeves are a feature of many wedding gowns. A popular trend is that of the half sleeve. Sleeves are one of the areas where sheer lace works very well at enhancing the arms. This can be a good choice for any winter wedding. The more daring brides may opt for contrast black lace sleeves, accompanied by matching black trim around the neckline and possibly around the waist.
Where short or sleeveless styles are preferred, the alluring accessory of fingerless gloves in the same lace as in the dress can be a cunning way to extend the lace accent.
Find a Lace Wedding Dress on eBay
eBay is a very convenient way to buy a lace wedding dress and there is no shortage on the eBay website. A simple approach to searching is first to type the term 'Fashion.' This will reveal the Categories bar near the top of the screen. Within 'Fashion', choose 'Women', then select the Wedding and Formal Occasion category, from here you will find the option of 'Wedding Dresses'. By typing 'lace wedding dress' in the search field, you will then have access to a plethora of styles and lengths.
A usual next step in narrowing the search is to select from the list of standard UK dress sizes which can be seen on the left.These run from Size 6 to 30. Alternatively, some sellers list their dresses according the scale from XS to XXXL. It is also possible to select the term 'Custom Made'. This normally means that on selecting the garment, the buyer sends her measurements, and the dress is then 'run up' to suit the wearer's own dimensions.
Further narrowing of the search is advisable. Buyers who have made a decision about their choice of silhouette are at an advantage, as on eBay, wedding dresses are helpfully grouped according to silhouette. Equally, the buyer can select from a list of brands and designers. To ensure that only lace dresses are yielded by the search, it is important to continue to type the term 'lace' into any refined search. A final, wise precaution is to scroll down to the seller's conditions, checking here what exchange or returns policy they have in place, in the event that the wedding dress is the wrong fir or in some other way unsatisfactory.
Conclusion
No bride to be who has set her heart on a lace wedding gown should allow herself to be deterred from attaining her goal. With adequate research and careful browsing, she should be able to build a picture of the dream lace dress for her wedding. Bearing in mind that even though a wedding dress is likely to be the most expensive item of clothing to be purchased within a lifetime, it is well worth obtaining a unique dress that your budget will allow. Nevertheless, the more mass-produced wedding dress ranges often contain exclusive-looking lace varieties for a slightly higher cost.
Lace generally is used in one of two ways: either overlaid on top of the underlying material of the dress, for example satin or in the form of see through panels in selected areas. In either case, really intricate patterns in lace of various weights, often interwoven with jewels, can be achieved, in a range of shades, such as gold or silver, as well as ivory and white. While visits to specialist shops can help in the decision process, an online purchase is likely to be just as satisfactory. Ultimately the lace wedding dress continues to shine above all the other designs and styles of wedding dresses out there.