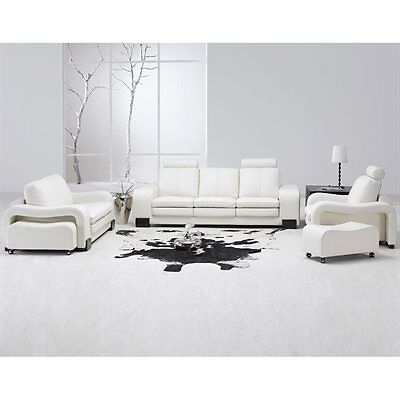 The first thing to consider when choosing living room furniture is the role of the living room in the household. Some families use their living room mostly for watching television, while others use it for reading, listening to music, and socialising with guests. A single living room may be used for all of those purposes at different times. Watching television, playing video games, reading, and visiting with friends may each have to be considered when planning the furniture arrangement. An alternative is to choose furniture that can be rearranged easily.
Choosing a Living Room Furniture set
Knowing what the living room furniture set will be used for can help to clarify exactly what needs to be included. For example, is it better to have two sofas, or a single sofa and two armchairs? Keep preferences in mind, thus making the search easier.
Prioritising Living Room Furniture Features
A family's preference for sitting straight, sprawling, or laying on the furniture will affect the ideal size and softness of the sofas and chairs. If the living room doubles as a guest room, then sleeper sofas may be needed. Extremely soft, low to the ground sofas can be difficult to sit down onto and rise out of. If the living room is a place for guests as well as family, then perhaps the furniture should be neat looking and easy to use. This can especially be an issue for family members and guests who are elderly or disabled. For easy rearrangement, consider smaller upholstered chairs and two-seater sofas. On the other hand, some families absolutely love a large, sturdy, cushy sofa that everyone can cuddle up on. If meals are occasionally eaten in the living room, then careful consideration should be given to the placement of tables and the ease of cleaning the upholstery. If the living room is used for reading, then lighting will be an important consideration.
Finding the Right Fit
Of course, at some point the family's ideal living room arrangement needs to be reconciled with the space available. It is a very good idea to draw up the living room on graph paper before buying furniture. Assign a scale, perhaps one square per six inches or one square per fifteen centimetres. Begin by measuring the room and drawing the outline onto the graph paper. Then, cut out furniture outlines in the same scale from a second piece of graph paper. Create templates for the existing furniture first, and then make templates based on the size of the sofas, chairs, and footstools under consideration. Move the furniture templates around on the room outline to check for fit and arrangement. Don't forget to add non-upholstered furniture and accessories such as side tables, floor lamps, a coffee table, bookshelves, and an entertainment centre. Not only is this a useful method for choosing furniture that will fit, it can be used to work out the room's plan before the new furniture arrives. Rearrangement of the actual furniture will not be necessary.
Living Room Furniture Styles
Although living room furniture is often chosen more for comfort than for style, it is certainly possible to combine a flair for decorating with practical considerations. Below are a few categories that living room furniture is often divided into.
| Style | Description |
| --- | --- |
| Modern and Contemporary Living Room Sets | Modern and contemporary living room sets are generally upholstered in soft leather or cloth. They often feature simple lines and full upholstery coverage. They are usually neutral in tone and either monochromic or colour blocked. For example, the base and cushions may be different shades of grey or brown. |
| Traditional and Country Living Room Sets | Traditional and Country living room sets are more likely to feature prints, patterns, wood bases, curved shapes, and decorative flourishes. |
| Chesterfield Living Room Sets | This classic look, with leather upholstery pressed in by buttons at the backrest, is a good choice for a traditional home. Chesterfield-style cloth living room sets are less common, but also have a classic look. |
| Vintage / Retro Living Room Sets | Vintage and retro can mean anything from mid-twentieth century, clean modern design to new, quirky Victorian-style furniture. |
| Art Deco Living Room Sets | Art Deco style living room sets were popular in the early twentieth century, and most that are for sale today are used or antique. They feature streamlined shapes and are usually upholstered in velvet. In the 1950s, living room furniture with art deco shapes and printed fabrics was in style. |
It's worth noting that eBay's style options for living rooms sets do not include most of the living room furniture on offer at the site. This may stem from confusion over the definitions of the styles.
Issues with Living Room Furniture Sets
There are a few practical things to keep in mind when choosing a style and colour for living room furniture. If there are or may soon be pets or small children in the family, then stain resistance and scratch resistance are factors to take into consideration. Will the colour of the upholstery make stains easily visible? It's best to avoid white and other very light colours when small children or pets are going to be around. Treating cloth upholstery with a stain resistant coating can help. Leather can be problematic to clean, and inexpensive leather living room furniture may deteriorate quickly under heavy wear. If there are cats or dogs in the household, it's also a good idea to give some thought to claws. Cats like to sharpen their claws on furniture, and dogs can tear and puncture upholstery by walking on it. Pet owners will find that a living room set with thick, sturdy, stain resistant upholstery is less likely to be damaged. When sofa arms and bases are upholstered, then cats often find them irresistible for claw sharpening. Cat owners are advised to consider living room furniture with wooden or metal arms and legs.
Alternatives to the Ubiquitous Matching Living Room Set
Matching living room sets, often consisting of two sofas and an armchair, have been popular for close to a century. However, they do have their drawbacks, and they are not the only option available. A living room with furniture that coordinates but doesn't match can be a sophisticated choice. For example, consider purchasing a single sofa with a bold pattern, and then matching the rest of the pieces to the colours in the patterned sofa. The pattern won't be overwhelming if it's only used on one piece of furniture, but it will add a lovely accent to the room. When using coordinated rather than matched furniture, it's not necessary to replace the whole set at the same time. If a particular piece is stained or damaged, then it can simply be replaced with another piece. Alternatively, a cover can easily be added without ruining the room's look.
Conclusion
Finding the right living room set can be time consuming, especially when it's done through brick and mortar shops. However, eBay can make finding exactly the right living room furniture set much easier. For example, Laura Ashley offer a wide range of furniture that is available to buy on eBay. All kinds of sizes, styles, colours, and configurations are available, and it's easy to narrow the results to the local area, as well.